Grand Teton National Park 2018

In early August I went on a great hiking trip to Grand Teton National Park. I had been there (as well as Yellowstone) in 1992, but back then there were no cell phones or Internet so I didn't chronicle my adventures. Also I was able to do lots of research via the Internet this time, so I mapped out a bunch of hikes, driving directions, grocery stores, and a few brewpubs.
I trained most of July, doing hikes at nearby Kinder Park, the Baltimore-Annapolis Trail, and local neighborhoods. I didn't get to train at the elevations I would see in Teton (which starts at 6500 feet and goes up from there), nor the steep inclines/declines I'd be traversing, but any training is better than none.
Wednesday August 1. I drove to and parked in a small neighborhood in Linthicum Heights at dawn and walked to the Linthicum Light Rail station. Unfortunately it and a few other stations were closed due to the heavy rains we'd had in July that caused erosion on the tracks. So I Lyfted to BWI.
There was a nice aerial view of the Tetons as the plane descended into Jackson Hole Airport. It was pleasing to see that there are still vast swaths of uninhabited land in this age of overpopulation and massive use of natural resources.
When we landed the weather was great - in the 70s and sunny, and reached the 80s later in the afternoon, but it wasn't humid like it was in Maryland. There was a great mountain view but it was partially obstructed by airport equipment.
I went to the Enterprise desk and picked up my rental car (a Camry, because I drive one and the back seat is big enough to sleep in if necessary). Then I drove down to Jackson. (Click here for an explanation of the difference between Jackson and Jackson Hole.) Traffic was fairly heavy in town due to all the tourists. The town is surrounded by pretty mountains. Gas was $3.39 at the first station I saw, but businesses located at town entrances tend to jack up prices because incoming folks gravitate toward the first place they see. I stopped at Creekside Market, which is located at the town entrance, and as expected it was very crowded. It also didn't have much of a selection. Again, businesses at town edges aren't the best.
I drove into town, and sure enough, gas was $3.07. (Interestingly, Enterprise charged only $2.68. Usually rental car companies charge more than local gas stations.) There were plenty of eatin' places, some with rugged names like Bubba's and Sidewinders. Of course, there was also Wendy's.
I stopped at a great market called Smith's, which is 20 times better than Creekside. (It pays to do your homework.) Smith's has everything that Giant and Safeway have. I was surprised that the shrimp was only $8-$9 per pound; that's cheap for an area so far from the ocean. I loaded up my cart with all sorts of non-perishables for my hiking trip: canned corn, bread, peanut butter, nuts, canned mackerel, raisins, etc, plus a lot of water. I also got bear spray. They had two varieties: the $50 kind and the $60 kind. The former shoots up to 30 feet and empties in 7 seconds, and the latter shoots up to 32 feet and empties in 9 seconds. I splurged on the latter, as 2 extra seconds can mean the difference between life and death, and I think I'm worth the extra $10. (Apparently 9 seconds is a long time in Jackson. I should start dating women there.)
I checked into the Ranch Inn, where I used my AARP card for a discount, then walked around town for a bit.
I stopped at Snake River Brewing, which didn't get high ratings on BeerAdvocate, but what the hell, I might never be here again. Outside there was a yard and putt-putt golf. Inside the ambience was festive. They served food, played rock music, and had an upstairs and a downstairs. I went to the upstairs bar, which has a frosty strip for keeping your beer cold, and tried:
Earned It (fairly good NEIPA)
Pako's IPA (half-decent)
St. Stephen's Saison (fairly good white wine barrel-aged sour ale)
For a brewery that's been in business since 1993, their beers were marginal. The place was pretty though.
A few doors down from the Ranch In is Melvin Brewing. It is a dual business with a Thai Restaurant called Thai Me Up. It reminded me of The Answer / Mekong, a brewery and Vietnamese restaurant in Richmond VA that I'd visited a year earlier. Thai Me Up opened in 2000 and Melvin Brewing started in 2007. In late 2015 they opened a brewery in Alpine WY, and in early 2018 they opened another one in Bellingham WA. The Jackson location has a 3-barrel system called the Shaolin Kloset. I ordered the General Thai chicken, which wasn't very good (the "chicken" was mostly dry, crunchy breading), but I don't suppose people come here for the food. Melvin is known for their award-winning DIPAs. I sampled:
Chuck Morris (nice light DIPA)
Hop Shocker (good light DIPA)
Drunken Master (good DIPA)
*Asterisk (quite good DIPA)
2 X 4 (very good DIPA)
Melvin (good IPA, which they call an OGIPA (OG = original gangsta))
Ruckus (decent imperial stout; somewhat soy saucy)
Barrel-Aged Ruckus (Ruckus aged in a port/whiskey barrel; quite good)
Melvin Brewing has won many awards. They were named best brewery group at the 2017 GABF and best small brewpub at the 2015 GABF. Their 2 X 4 beer has won more awards than any of their other beers, including the 2012 and 2013 Alpha King Challenge (an annual competition held during the GABF for hop-forward beers). For a complete list of all their awards, click here. Many of their awards are proudly displayed:
They have two flat-screens that continuously play Asian movies. One of Jackie Chan's Drunken Master films was being shown, with subtitles.
The brewery was named Melvin because one of the first beers they ever made was their Melvin IPA, and the owner liked to hear customers ask for a Melvin (which means front wedgie). At the time I visited, they canned some of their beers but their license didn't allow them to sell beer to go. My bartender directed me to a place a few blocks away that sold their beer.
Bin 22 is a combination tapas restaurant and wine bar that also sells hundreds of wines and many beers to go. Since 2 X 4 was my favorite Melvin beer, I bought some. It was $14 for a 4-pack of 12-ouncers, but worth it.
As evening set in the weather got windy and cooler. I walked back to the motel and turned in early.
Thursday August 2. Woke up in the wee hours and wrote for a while. Left early and took these photos north of Jackson:
I arrived at Grand Teton just before 7:00 AM and got to the Jenny Lake campground by 7:15. This is the park's most popular campground. There were eleven cars waiting in line ahead of me. Some folks were cooking breakfast in the road on their portable stoves. We all waited until the registration station opened at 8:00. The way registration works is a guy goes to each car and lets you know whether you're going to get in according to your place in line and how many campsites are being vacated. Then you drive in, find a site whose card says "Open", turn it over to the "Occupied" side, place your registration slip on top of the old one, and drop your fee envelope (cash or check only) in the fee box at the registration area. I got a site but unfortunately it was one of the furthest ones from the bathroom (which has cold water sinks and toilets only).
At this point I was ready for my first hike. Before recounting my hiking stories, I'll go off on a tangent and answer the question: Why do I hike? The short answer is: To enjoy the beauty of nature. But it goes much deeper than that. The worldly way of thinking, in which people strive, compete, and worry about everything from money to social status to belief systems, is what causes stress, anger, fear, division, and violence. People believe that accumulating "stuff" is going to make them happy. Even if they "succeed", all it does is reinforce their mentally fabricated false self (ego) and keep them from knowing who they really are. They cling to the idea that they are white / black / Christian / Muslim / Republican / Democrat / American / Swahili, which are not who we are but mere attributes. Most folks also like to wallow in the familiar: they watch the same TV shows, repeat the same religious mantras, and drink the same brand of beer. Hiking is an activity that transcends both worldly acquisitions and fear of the unfamiliar. There is an earnest willingness to explore new areas, undeterred by fear; there is nothing material or egotistical to be gained; and there is no trapping oneself in the idea of being defined by a particular skin color, nationality, career, or religious/political group. This loss of ego is precisely what must happen in order for us to find out who we truly are. Only then will we know inner peace. (For more on this topic, see my blog at stopselfing.blogspot.com.)
That said, long hikes should not be embarked upon without preparation such as training, gear, maps, food, water, and, in some areas, bear spray. Being "Zen" is all well and good, but we are operating physical bodies in a physical world that can easily damage these bodies. Inner peace does not mean negligence -- it means that we do what is necessary while not worrying about it.
Okay, on to my first hike. I had planned to go to the other side of Jenny Lake to see the popular Hidden Falls and Inspiration Point, but they had been closed for weeks due to a crack that had developed in the rock foundation, which could collapse. So instead I drove south on Teton Park Road...
...to the Taggart Lake trailhead and hiked toward Bradley Lake and Taggart Lake. Within minutes I came to the nicely cascading Taggart Creek.

Scratches on some of the trees reminded me that this is bear country...
...but I met a local woman who said that bear sightings near trails are rare. She said that moose are more numerous and more aggressive. According to her, grizzly bears are rare in the park but since some black bears have brown fur, people mistake them for grizzlies.
The trail offered some nice views such as this:
The lake views were great too. Check out Bradley Lake:
Here's Taggart Lake:
At one point it rained, but just as I got my poncho on, it stopped raining and became sunny again. Mountain weather changes quickly.
I hiked only 6-7 miles that day, but that was only the beginning.
By the way, the park got some smoke from the wildfires to the west even though they were hundreds of miles away. This happens every August. Also, the traffic wasn't bad. Compare this with Yellowstone Park and Glacier Park, where traffic can be crowded and slow. I guess this is because Teton Park Road is flat and straight, whereas roads in the other two parks are steep and winding. Nevertheless, all of Teton Park's points of interest get very crowded by mid-morning. When I returned to Jenny Lake in the early afternoon the parking lot was full and many cars were parked on the side of Teton Park Road.
At my campsite I set up my tent (and old piece of you-know-what), took a sponge bath (no showers here), ate and wrote a bit, and relaxed. The weather changed from sunny to cloudy to slightly rainy to somewhat windy. It's a peaceful place. Although there are 50 campsites, they're not spaced too close together and there are plenty of trees that offer some privacy and shade. Temperatures were great: 80s in mid-afternoon and slowly cooling off late in the day. Had a peaceful evening and crashed around 10:00.
Friday August 3. Walking a quarter-mile through bear country in the dark to take a dump was not as frightful as I'd imagined. Most of our fears are irrational and unfounded or at least overblown. The mind is very good at making mountains out of molehills. We've all tortured ourselves with anxiety, dread, anger, regret, frustration, struggle, and disappointment. Most of what we fear never happens, and most of what we regret isn't as damaging as we make it out to be. The vast majority of our suffering is self-inflicted. I look back on all the wanting, the worrying, the depression, and the stress I've caused myself. For what? Worldly rewards such as wealth, romance, or an ego boost, because I felt that I had to constantly obtain things in order to earn self-worth. Obviously it didn't work because no matter how many "victories" I tallied, I still felt empty inside. None of what I gained could hold a cnndle to the sweet peace of knowing and accepting myself just the way I am. I probably make no sense to those who are still caught up in the game of attempting to fabricate self-worth via competition and judgment, and if I had read this in my youth I might have considered it nonsense as well. We each travel our own painful path of gaining the world while losing our soul, and if we are fortunate, we eventually see that it was all just a bunch of thoughts that distracted us from who we really are.
All right, where was I? Ah yes. It was 44 degrees out as I prepared for the day's hike just before sunrise. I also posted the previous day's photos on Facebook. (Interestingly, I got Internet service in the early mornings only, perhaps because all the tourists overloaded the cell tower later on.) I left Jenny Lake at 7:15, which is the same time I arrived the previous day, and there were the same number of cars (eleven) waiting to get in.
It was a beautiful sunny morning as I drove to the Laurance S. Rockefeller Preserve, which is located just outside the park. I took these photos on the way:
The hike would take me around Phelps Lake. On the way there was some nice moving water:
Within 45 minutes I was at Phelps Lake.
I went up the east side. Most of the trail has obstructed views due to trees, but I was able to get a few shots:
A deer crossed my path right in front of me. Apparently it was used to humans.
North of the Lake I took a detour to to the Death Canyon Trail and walked westward on it for a while.
Then I doubled back and went up to the Phelps Lake Overlook. On the way I met a 21-year-old who was hiking barefoot. Barefoot! He said he would be hiking 17-18 miles that day. He didn't even have a first aid kit on him. Unbelievable. Anyway, it was a steep climb to the overlook. When I arrived I was huffing and puffing and sweating. The view was pretty good.
Then I descended back to the loop trail. On the way two marmots posed for a photo.
From the west side of the lake there were some nice views.
The trail from the lake back to the trailhead follows Lake Creek, which has some nice rapids.
I hiked more than 10 miles that day. When I returned to the parking lot it was full and there were people waiting for parking spots. All the parking lots for the trailheads fill up in the summer. Many of them have nearby roadside parking, but the preserve doesn't. This is one of many reasons it's good to get an early start. Also, I saw a lot more hikers each day than I saw at Glacier Park (maybe because it's a lot easier to drive to Teton's trailheads). Many hikers were European. It was mostly couples and groups but there were also quite a few singles.
Back at camp I spent the rest of the afternoon/evening writing, eating, bathing, preparing food for the next day, and relaxing. The weather was warm, mostly sunny, and breezy.
Saturday August 4. Got up in the wee hours after five hours of sleep. I'll mention here that I used the bathroom each day only for pooping and for preparing food (you're not allowed to dump any food-related substances, including dishwater, at your campsite because it attracts bears). Having the commode a quarter-mile away presents a challenge because you can't wait until you have to "go" to start walking. If you do, you'll never make it. It is not humanly possible, at least for me, to walk for five solid minutes while the gluteal muscles keep everything in. Something's gonna slip through. So you have to crystal ball it: take note of how your insides feel, and predict how they will feel five minutes in the future. Ten minutes is more realistic because you have to put your shoes on, unzip the tent, and zip it back up, plus the walk itself speeds things along.
It was 48 degrees out as I prepared for the day's hike. When I got to the Lupine Meadows trailhead at 7:30 there were already 50-100 cars there. Found out later that the hike to Amphitheater Lake, which was one of the day's destinations, is the most popular hike in the park. From the parking lot there is a great view of Teewinot Mountain.
When I got on trail at 7:52 it was still quite chilly out. There wasn't a whole lot of great scenery early on but there were a few decent sights.
In a little over an hour there was this view:
This got me thinking about why we enjoy big expansive spaces. Maybe it reminds us that we are limitless, dimensionless beings, not the limiting labels that most people use to define themselves and others (liberal / conservative / Hispanic / Asian / Protestant / Catholic / doctor / plumber). But what about agoraphobics? Why are they afraid of open spaces? Maybe they're frightened of finding out who they are. Or maybe I'm just talking out of my ass.
At the 3-mile point the trail splits. To the right are the lakes and that's where I went first. The two additional miles of scenery was nothing to write home about. First I arrived at Surprise Lake, which is at 9540 feet elevation. It's very small - more like a pond - but it has a good view of several peaks.
A little further is Amphitheater Lake, which is at 9700 feet. It has a nice backdrop.
Not to disparage Amphitheater Lake, but I spent three hours enduring five miles of mostly uphill climbing through marginal scenery to get to it. I'm surprised that this hike is so popular because there are other beautiful lakes that are more easily accessible.
As I descended back to the split I passed at least 100 people coming up. At the split I took the other trail up to Garnet Canyon. This trail is far less traveled and has better scenery, except for the old guy in the photo below right (a young woman from Montana took it).
At the end of the trail is a boulder area. I was told that there is a nice view on the other side. Several people traversed it. I did part of it until it got a little too treacherous for my taste. I didn't want to risk injury/death, which would ruin the rest of my vacation, so I prudently turned back (i.e., chickened out).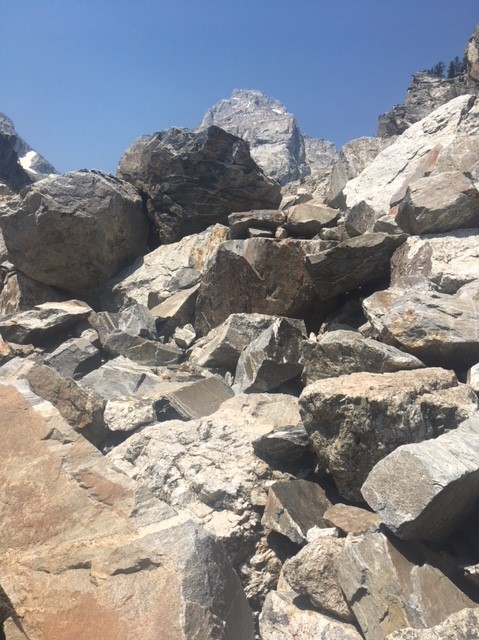 Dangerous part is just beyond top center boulder.
The weather was gorgeous: blue sky with temperature in the 70s. Returning was a pain because the trail is very rocky, and stepping on loose rocks while descending is more painful and dangerous than when ascending. Even the stationary rocks were a pain because sneaker soles aren't stiff enough to absorb the force of a rock edge. Boot soles are designed to spread the force over a large area. Some folks were coming up Garnet Canyon, but once I passed the split, I encountered about another hundred people coming up, most of them going to Amphitheater Lake no doubt. Eventually I made it back, tired, hot, and sore. Total distance was 13 miles, and it was a brutal 13 miles.
On just about any major hike, it takes hours to get to points of interest. Along the way there might be some good scenery, but the percentage of time you spend seeing things you find beautiful is fairly small. Plus you have to look down at the trail to keep from tripping. Why do we endure hours of straining, plus aching knees/feet and travel time/expense, for this activity? Because there's nothing like being there. A photo cannot capture the feeling of being immersed in nature, surrounded by mountains, lakes, trees, sky, fresh air, the sound of the wind and animals, and the smell of plants.
When I drove away at 3:00 there were hundreds of cars at the trailhead.
Back at the campsite it was very quiet and peaceful. My site was one of the remotest, and my neighbors were away. I was surrounded by trees, rocks, birds, squirrels, insects, sky, and dirt. All I heard were the wind and the occasional bird, squirrel, or insect. It was great not just because of what was there, but also because of what wasn't: no man-made noises, conflict, or stress. With no distractions, I was able to just be. This should be such a simple thing, but we have been so trained to think, that when all is quiet, our minds can run away with us, thinking a million thoughts. This is why we often indulge in distractions such as television, shopping, or creating drama - it gives the mind something to focus on so it doesn't go in all directions. If we could just put thinking aside, we could be at peace: not planning or worrying or regretting, but just aware.
I spent the rest of the day doing pretty much what I did the day before.
Sunday August 5. A balmy 55 degrees but overcast. When I left the campground at 6:30 there were already eight cars in line (the campground opens at 8:00). Drove to the String Lake trailhead for what would be the longest hike I'd done in over 25 years: the Paintbrush Canyon / Lake Solitude / Cascade Canyon loop, which is 20 miles long. This particular hike is the reason I trained so hard, and why I took this trip as soon as possible after retiring (I'm not getting any younger). I believe I did this hike in 1992, but of course I was much younger then.
Started this hike just after 7:00 AM in the rain. Some folks were coming the other way because they had camped overnight in the wilderness. As I neared the forest I saw some deer, and after entering I saw the bird pictured below (it could be a ptarmigan) and what appeared to be bear scratchings. The rain didn't ruin any views because because the mountains were mostly obstructed by trees anyway. Also, the dimness made the greenery appear more lush.
The rain stopped within an hour but it remained overcast until about 9:00 when I crossed Paintbrush Canyon Creek.
The trail became steep and would remain so for the rest of the morning. The sun ducked in and out. There was some nice scenery.
Eventually I made it to a small lake that has no name.
A little while later I ran into this little guy...
...just before arriving at Holly Lake, elevation 9410 feet.
As the trail kept climbing the views of Paintbrush Canyon got grander.
The trail is steep and rocky, and when you add the elevation and a mostly full backpack, it makes for a strenuous hike. At one point there is a section that is just loose rocks, i.e., no solid ground underneath. The angle is very steep, which makes it quite dangerous (none of the websites I'd read that describe this hike mention this part). Well, I wasn't going to let the chance of death spoil the most challenging hike of my trip. In fact, the danger would simply add to the challenge. So I climbed. It was very difficult for me to see which direction I was supposed to go. As a result I went too far to the left and got caught in an impossible-to-climb spot; everything I grabbed would slide down. I briefly pictured myself falling to certain injury or death, but I didn't panic. I was getting very tired because I was doing a lot of "climbing" with no progress, and the backpack didn't help. I pressed my entire body to the rocks in order to spread my weight out so that each rock would get less weight and maybe slide less. Over to my right were some bigger rocks, which I hoped would be more stable, so I maneuvered my way over, rocks falling beneath me as I went. I managed to scramble up the bigger, less slidy rocks until I reached the trail, escaping with minor abrasions to my hands, forearms, elbows, and knees. This episode made me glad I traveled alone. If I'd been with someone, maybe s/he'd have turned back. Then I'd have been in a predicament: miss out on a great adventure, or forge ahead and leave my friend behind. Or perhaps s/he would have made the attempt and gotten seriously injured or killed.
From there it was just a short distance up to the highest point of the hike, as well as my entire trip: Paintbrush Divide, at 10,700 feet. The views were breathtaking. This was the pinnacle of my trip. Just minutes earlier I was in a potentially dangerous situation, and now I was enjoying some of the most fantastic scenery I'd ever seen. Life is like that. We go through tough times, and just beyond them can be the most wonderful experiences. Sometimes we turn back when things get tough, never knowing that if we'd held on just a little longer we would have been rewarded. Of course, sometimes we endure tough times and no reward comes. Anyway, I'm glad I forged ahead when things got tough because this was my reward:
As I mentioned earlier, a photo cannot capture the feeling of being there. The above photos might not take your breath away, but being there would.
After this there was a steep descent. It was extremely rocky with lots of loose rocks that could easily turn an ankle. The scenery was nice though.
Then I arrived at Lake Solitude.
I turned south down the North Fork Cascade, which was also steep and rocky, much to my feet's chagrin. Eventually I came upon a moose who was eating vegetation near the trail. It was as big as a horse.
A little while later I crossed a couple of rapids.
As I returned eastward on Cascade Canyon it got sunnier and warmer.
As I neared String Lake a couple of mule deer crossed the trail right in front of me.
A few minutes later I reached the trailhead. My feet were very tired and sore, but the rest of me was okay, except for the abrasions from the rock slide incident. Maybe I'll invest in hiking boots someday.
This was the most challenging hike I've ever done. Although I did it at age 30, it was more difficult at age 56. Summary:
Length: 20 miles
Elevation gain: 4000 feet
Highest elevation: 10,700 feet
Time: 11 hours
Back at the campsite I washed my body and put antibiotic ointment on my wounds, then wrote for a while. I wasn't very hungry so I didn't eat much. Then I gave my achy body some much-needed rest.
Monday August 6. Slept over seven hours, which is a lot for me (five is normal). If I hadn't retired a few months earlier this would have been my 34th work anniversary. It was 45 degrees and clear. Thirteen vehicles were waiting to get into the campground at 7:15. Apparently the park is busier during the week than on weekends.
I walked down to Jenny Lake and hiked up the east side. It was a beautiful sunny day, and the lake views with the sun behind me were ... well, see for yourself.
I also encountered a mule deer.
Then I drove over to String Lake, where people were canoeing and paddleboarding.
I hiked only about 5 miles that day, which was plenty because my feet were still sore from the previous day. On the way back to the campsite I pulled over for one last mountain shot.
Back at camp I relaxed and packed. I threw away my old piece-of-crap tent, which, in case you were wondering, looked like this:
I was surprised how little appetite I had after 55 miles of hiking over the previous five days. I enjoyed one last quiet, peaceful afternoon and evening at this wonderful park.
As peaceful as any place can be, peace ultimately comes from within. From my teens through my forties I was restless, so I couldn't relax even in a peaceful place because of the storm in my head. I was always thinking a mile a minute, or looking for something external to appease or distract me. In recent years I've found my true self (with help from great writers such as Eckhart Tolle), which has quieted the storm and enabled me to be at peace in most situations. I can lie still, doing absolutely nothing, with no television or other distractions, and feel completely relaxed.
Tuesday August 7. It was 39 degrees when I left Jenny Lake before dawn. So many stars in the sky. At the airport, Enterprise wasn't open yet so I left the car keys in the drop box. My checked bag weighed 49½ pounds - how's that for cutting it close? Good thing I ditched my tent because the Melvin beers added 3 pounds. I had TSA Pre-Check, and this was the first time I'd ever seen the TSA Pre-Check line significantly shorter than the regular line. I changed from sweats into a T-shirt and shorts, and I was ready for Baltimore.
Had a brief layover in Denver and saw this item for sale:
On the second leg I looked out the window and saw these squares. Maybe they're farms?
Unfortunately I ws sitting next to the smelliest guy ever. I think he worked in a garlic factory. I breathed through my mouth all the way from Denver to Baltimore. A few times I tested the air for odor, and it was still there. I don't think he'll ever have vampire problems.
We couldn't land at BWI right away due to storms, so we landed in Richmond and waited there for an hour. Great. I got to enjoy Garlic Man even longer. Finally we arrived at BWI and I could breathe through my nose again.
After collecing my baggage I walked to the Light Rail stop. The trains still weren't running between BWI and Patapsco due to erosion. However, the Maryland Transit Administration provided free shuttle buses, so I hopped on one and rode to the Linthicum station. Then I walked to my car and drove home.
I could not have asked for a better trip. Loads of natural beauty, no mishaps, lots of exercise, nice people, and some craft beer. This is exactly how I pictured my retirement.