Peak Experiences

In the summer of 2016 we visited Glacier National Park, which is located in northwestern Montana. We'd heard great things and seen beautiful photos of it, so it was a major bucket list item.
The photos I've included really can't do justice to the beauty and expansiveness of what they try to capture. In some places I provided links to other Web pages that have better photos. Also, Andi put together a nice collage on YouTube that you can view here.
I started planning a year in advance. There are a lot of logistics involved in this sort of trip: flights, motel reservations, rental vehicle, mapping routes, choosing which trails to hike, and coordinating motel stays with proximity to trailheads. There is also the matter of acquring the right equipment: backpacks, hiking shoes, clothing, emergency blankets, water tablets, etc. Andi was instrumental here. She suggested that we go to REI. I was just going to buy budget stuff from Amazon or a local department store, but when you're hiking long distances, it's very important to get fitted for a comfortable backpack and shoes. You don't want to develop a sore back or feet halfway through your vacation with many miles left to hike. You will then regret having cheapened out. It is well worth the extra money to buy quality stuff from REI.
Thursday, July 28. We taxied to Reagan National Airport. The Delta agent who handled our check-in informed us that the name on Andi's ticket was wrong. I had absent-mindedly put "Andi" instead of "Andrea". The agent wanted to charge us $50 to change it unless I could get it changed by the booking agent. So I immediately called Travelocity (with whom I had booked our flights). While I was on the phone, the Delta agent made the change at no charge. So the $50 "fee" wasn't necessary at all. I wonder how many people have fallen for this scam.
We had acquired TSA Pre-Check known traveler numbers (KTNs) earlier in the year, so we got in the appropriate line. Meanwhile there was absolutely no one in the normal, cattle line. Well, at least we wouldn't have to take off our shoes or belts. Of course, we weren't wearing belts. TSA Pre-Check costs $85 for 5 years, and the only benefit we got from it was that we saved the 8 seconds that would've been required to remove our shoes. We still had to empty our pockets of our wallets, cell phones, keys, syringes, etc; have our bags X-rayed; and walk through the body scanner. TSA Pre-Check was probably invented by Delta.
We then proceeded to fly 3 legs: to Atlanta, Salt Lake City, and finally Kalispell Montana. I bet some of you never heard of Kalispell before. It sounds like a charm that Harry Potter might use to force you to do jumping jacks. On the 2nd leg we watched Whiskey Tango Foxtrot starring Tina Fey. We enjoyed it. On the 3rd leg Andi ordered a glass of wine. The credit card reader wasn't working, so the stewardess gave Andi her drink for free. Naturally I ordered a beer. The best they had was Samuel Adams Boston Lager, but hey, free.
After landing we got our rental vehicle and luggage, then went to Super 1 Foods for food, water, beer, champagne, and bear spray. The last item is highly recommended when hiking in Montana. There are a lot of bears, and if you get attacked, pepper spray is much more effective than punching, kicking, or running (you cannot outrun or outfight a bear). As long as you make noise (talk, clap hands, whistle) while hiking, bears will be alerted to your presence and avoid you. (Some people wear bells, but they're not very effective because they're not loud enough. Some folks believe that bells might even attract bears because they sound like birds.) If you forget to make noise, then when you round a corner you might surprise a bear, and this could result in an attack, especially if it's a mother with cub(s). In fact, a biker was killed by a grizzly just outside Glacier Park about a month before we arrived.
We drove to Columbia Falls and checked into the Western Inn. The first thing we (I) did was put the beer and champagne in the fridge. Then we unpacked and went to sleep early due to jet lag.
Friday, July 29. We got up a 4 a.m. It was nice and brisk out. There were lots of stars. The Montana sky is big, clear, and beautiful, just like you hear about. Shortly after sunrise we headed out. It was a beautiful morning. We had breakfast at Carolyn's Cafe, which is adjacent to a gas station in a tiny town called Hungry Horse. The walls had photos of people with big fish they had caught. The place had good food and a nice down home atmosphere. We noted that we were the only ones with our cell phones out. We wondered how many of the locals even had cell phones, since cell service in that area was spotty at best.
We drove into the west side of Glacier Park and traveled eastward along the famed Going to the Sun Road. There were lots of great views of mountains, valleys, trees, and lakes. Some sections had fire damage from previous years. It was a beautiful sunny day with crisp, cool, dry air. We stopped at many of the pullouts to take in the beauty. At around the 12½ mile point on the left side of the road we walked down to a nice rushing stream (photo below). Here is a video. There was another nice one at about the 14½ mile point.
Here's another little place we stopped at:
There were a lot of tourists, though the traffic didn't start getting heavy until after 11 a.m. We tried parking at the Logan Pass Visitor Center shortly after noon. Not a chance. There were 3 jillion cars and only 2 jillion spaces. We tried driving around looking for someone pulling out, but there were a jillion other motorists doing the same thing.
Below is the best overlook photo I was able to capture. You'd have to enlarge it 38,356,109 times in order to get an idea of how huge the area is.
We walked down to St. Mary Lake. It had beautiful aqua blue water and was bordered by mountains. The trees on our side of the lake were fire damaged. A lot of them were charred on just one side of their trunks. I took a photo but there's a much better one here that I swiped from the Internet. That tiny island in the middle is called Wild Goose Island.
If you plan to visit Glacier Park, some helpful information on Going to the Sun Road can be found here.
In order to get to our destination we had to go all the way to the end of Going to the Sun Road, exit the park on the east side, drive north for about 8 miles, head west, and re-enter the park at another east side entrance. While we were driving west we encountered a small herd of cattle.
We checked in at the Swiftcurrent Motor Inn and Cabins, put all our stuff in our room, and walked along a wooded trail down to the Many Glacier Hotel a mile or two away. Along the way we found no fewer than 3 piles of bear scat. Incidentally, there's an easy way to tell the difference between black bear scat and grizzly bear scat: black bear scat contains mostly berries; grizzly bear scat contains bells and smells like pepper spray. Anyway, the Many Glacier Hotel is a nice place adjacent to Swiftcurrent Lake (a panoramic photo of the lake appears later). We went to the gift shop, then walked back to our motel along the road instead of risking being mauled in the woods.
We showered and went to the main lodge for wi-fi and dinner at Nell's Restaurant. Andi got an emu burger. Just like at breakfast, we were the only ones looking at our phones. After dinner we walked back to our room (which was about a quarter mile from the lodge) and crashed at around 8 or 9 p.m.
Saturday, July 30. A fairly chilly morning. We filled our backpacks with provisions for our hike, had breakfast at Nell's, then donned our gear and set out at 8:30 for a hike to Swiftcurrent Pass. Within a mile or so, a couple of hikers a few hundred yards ahead of us spotted a bear on the trail, so we hung back for a while. Later we saw a couple of small snakes, ground squirrels, marmots, birds, rabbits, lakes, and waterfalls.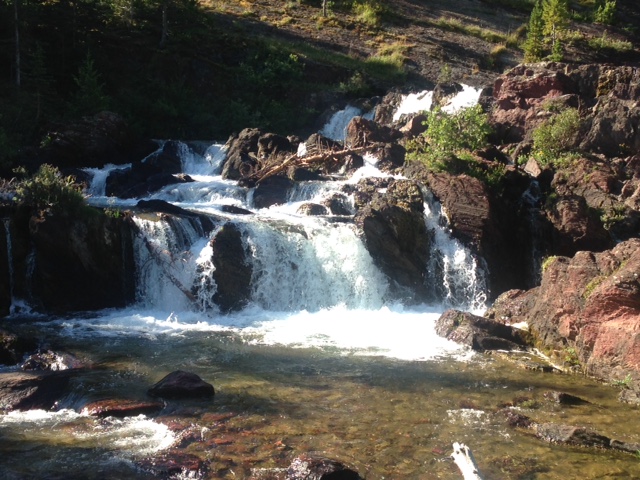 Red Rock Falls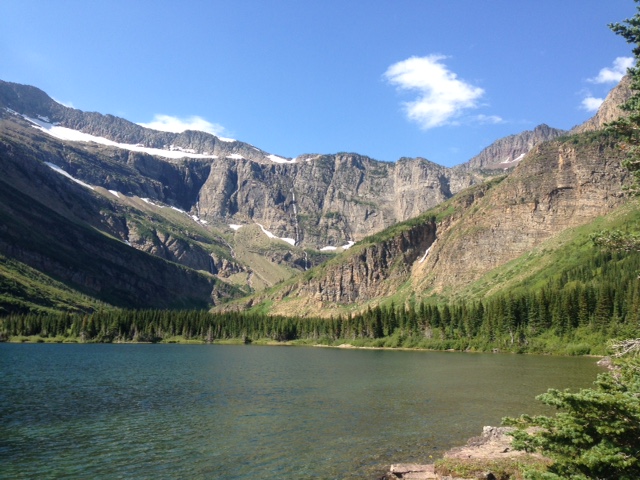 Bullhead Lake
It was a cool, sunny, beautiful day. As we climbed the latter part of the trail (which took us up more than 2000 vertical feet in less than 3 miles), we had gorgeous views of the valley with lakes, trees, snow, and waterfalls. We saw what appeared to be a moose in one of the lakes. The temperature rose substantially during the day, though it got cooler and windier as we climbed. We saw only a handful of hikers on the way because it's a strenuous hike, while down by the lakes there were considerably more people.
After about 4 hours, 3½ of which were spent hiking, Andi informed me that her iPhone app indicated that we had hiked more than 8 miles, while the trail map said that Swiftcurrent Pass was only 6.8 miles from the trailhead. Figuring we'd passed the pass (har), we headed back so as not to get lost or burn ourselves out on our first hike (the trail was still climbing and we were up at around 6000 feet). On the way back we encountered a hiker who told us that we'd turned back just a fraction of a mile before the pass. Obviously the iPhone app and the official maps don't jibe. More on this later.
On the way back we stopped at Red Rock Lake and soaked our feet in the cold mountain water. A lot of other visitors stopped here too. When we returned we were fairly but not too tired. We went to the lodge and had a few bottles of beer, both from Great Northern Brewing Company: Going to the Sun IPA, and Good Medicine. Both tasted good after a long hike. After a shower we had dinner and were asleep by 8:30.
Better photos, as well as good information on the Swiftcurrent Pass Trail, can be found here.
Sunday, July 31. We both slept well, arising after 5:30. My feet were a bit sore. It was cool and foggy out. After breakfast we hiked the Iceberg Lake Trail. There were a good number of hikers, so we did not have to make noise in order to scare off bears. The fog burned off and it became mostly sunny. The first part of the trail was an uphill climb, and we removed our fleeces within a half mile. Along the trail we saw lots of greenery and flowers, a nice waterfall/stream, and a fair amount of wildlife including ground squirrels, a rabbit, a deer (or elk?) with her fawn, and birds that I believe were white-tailed ptarmigans.
Iceberg Lake has icebergs, which is how I assume it got its name. It's half surrounded by mountains in a formation called a cirque. The cirque is 3000 feet tall, so it prevents direct sunlight from touching the lake in winter. This results in the accumulation of a tremendous amount of snow and ice, and it takes months for it to melt each summer. We put our hands in the water and it had to be 33°. The lake was peaceful and beautiful. As we ate our lunch, several golden-mantled ground squirrels came over for food. One of them ate right out of our hands. It was chilly out as the wind blew over the freezing lake so we put our fleeces on.
On our way back around midday we saw a lot of hikers coming up. We also met a ranger who gave us good information on bears and a few of the trails. He said that during the first half of August certain berries ripen and attract bears, which can cause the National Park Service (NPS) to close trails for a while.
Better photos, as well as good information on the Iceberg Lake Trail, can be found here.
When we returned we got a beer at Nell's. They let us try small samples from their taps: Flathead Lake Brewing Centennial IPA, Big Sky Brewing Moose Drool, Bitterroot Brewing Single Hop Pale Ale, and Lewis & Clark Brewing Miner's Gold Hefeweizen. We like Bitterroot the best so we got a pint of it.
We wanted to stay another night here because the next day's hike would begin at the nearby Many Glacier Hotel, but when I was booking rooms 10½ months earlier there wasn't a single room available here for this night. So we drove down to St. Mary Lodge, which is located at the east end of Going to the Sun Road just outside the park. On the way we saw a bear cross the road ahead of us. I had kind of hoped to see a bear on a trail rather than from our vehicle, but in retrospect, this was a lot safer. I don't need to see a bear in person. I can see all the bears I want on the Internet. It's the same reason I don't go to strip clubs.
We checked in. The lobby and restaurant were nice, our room not so much. The bathroom was tiny with a tinier stall shower, and the sink was the tiniest one I've ever seen outside of a doll house. We had dinner at the restaurant, called the Snow Goose Grille. I ordered bison stroganoff and Andi got a lamb burger. We went to bed at about 8 p.m. (well before sunset).
Monday, August 1. That's the last time I eat beans and corn on a hike. Or ever. Anyway, we left at 6:15 on a chilly morning and had a buffet breakfast at the Many Glacier Hotel, with a great view of Swiftcurrent Lake. By the way, a lot of the staff at the lodges and hotels are foreign exchange students. They live in dorms and work all summer, then go back to school.
We went outside to see Swiftcurrent Lake, which looked great with the morning sun shining on it. Here's a panoramic shot:
We walked the Cracker Lake Trail, which had some nice scenery, though not as much as the previous hikes. There was horse poop all along the trail because they give horseback tours. On the way up we saw a deer (or elk!), a marmot, and a large running stream. As we approached the lake it got windy and fairly cold so we put our fleeces on. There were good views both forward and backward.
Cracker Lake sits in a cirque and is a beautiful light blue milky color. Glaciers grind rocks into fine "glacial flour", which flows into the lake, and when the sun hits it, turquoise is reflected.

Panoramic shot.
There weren't as many hikers here as there were at Iceberg Lake, but while we were eating lunch a few did show up, as did 7 horseback riders. After a while we headed back, talking a lot in order to alert bears. Andi gave me some great insight into the dynamics of our relationship. For example, she told me, "I don't judge you, Ben - I correct you." Thanks, honey.
We saw an interesting tree with formations that looked like furballs:
Better photos, as well as good information on the Cracker Lake Trail, can be found here.
On the way back to St. Mary Lodge we stopped at Kip's Beer Garden and had a few glasses of Lewis & Clark Tumbleweed IPA. We met a young couple named Josh and Lauren who, coincidentally, were from the DC area. Earlier in the year they quit their jobs and had been living in a van for 3 months, traveling and hiking. There was another guy at the bar from New York City who had also quit his job and was living in Montana.
We returned to the lodge, showered, and had dinner at the Snow Goose. We ordered the same meals as the previous night because we'd enjoyed them so much. We were in bed by 8 p.m.
Tuesday, August 2. A nice brisk morning with clear skies and temperature in the 40s. We drove to Logan Pass to do our final hike, the Highline Loop, touted by many to be the best hike in the park, which is why I saved it for our final one. It goes 7.6 miles along the Highline Trail to the Granite Park Chalet, and then follows the Granite Park Trail for 4 miles down to a part of Going to the Sun Road called The Loop. On the way to Logan Pass we saw many vehicles parked in pullouts with no people in sight. It seems that they had slept in their vehicles. We saw a bighorn sheep just off the road who was very acclimated to humans.
The Logan Pass parking lot was mostly empty at 6:50 a.m. (it fills up by mid-morning, as we'd discovered on Friday). We got on trail at 7:10. Within about a half mile we encountered a mountain goat, who was as unconcerned with us as the sheep was.
The trail, which starts at more than 6000 feet, ascends and descends. There were beautiful, expansive views to the west almost the entire way.
We saw white-tailed ptarmigans, ground squirrels, and marmots. At around the 5 mile point we actually got cell reception as our phones alerted us that we had email or text messages.
At a little over 6½ miles we came to a junction with an optional side trail called the Garden Wall Trail that the couple we'd met the previous day suggested we take. It is very steep but short and leads to the Grinnell Glacier Overlook. I climbed it while Andi went on to the Granite Park Chalet to wait for me. The sign for this side trail says it's 0.6 mile long, but it seemed like 10 miles because it's so steep. I huffed and puffed and sweated as I climbed this sadistic trail at over 6000 feet. At one point I thought, if I have a heart attack up here, no one will carry my body down. I suppose the NPS would send a helicopter to airlift it.
The view at the overlook was great. There were snow and a lake and mountains. Behind me to the west was another great view.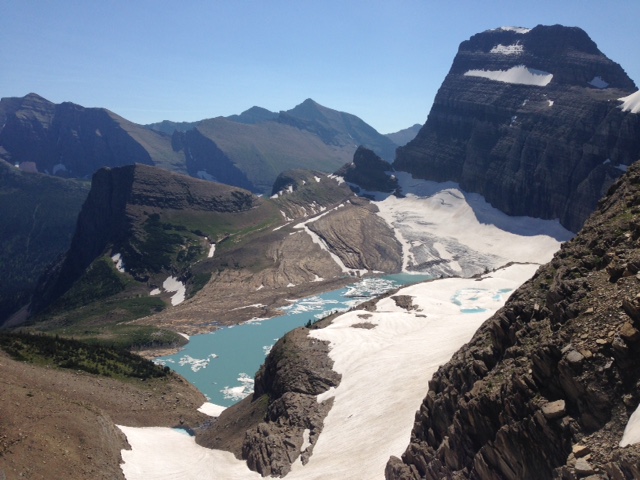 Mount Gould at upper right; Grinnell Glacier at the foot of it. Closer to us is Salamander Glacier.
I sent Andi a text to let her know I'd made it to the top and I hadn't died. As I went back down the trail a good number of people were coming up, several of them asking, "How much further?" It took me more than 20 minutes to get back to the junction even though I was going downhill, which suggests that this side trail is considerably longer than 0.6 mile. In fact, it seemed that all the hikes were longer than what the maps and signs told us. Not only did they take longer than we'd predicted, but Andi's and other people's phone apps recorded distances that were 20-25% longer than the official lengths. Maybe the NPS deliberately lowballs the numbers in order to attract hikers who would otherwise be deterred by the longer distances.
At exactly noon I caught up with Andi at the Granite Park Chalet, an old stone building that was built in 1914-1915. It has a seating area and the registration desk for 12 primitive rooms in nearby buildings which, like all rooms and campsites in the park, are booked during peak season many months in advance. Behind the buildings I saw what appeared to be horse poop. It turned out to be mule poop, as mules are used to haul supplies. There were great views all around. We ate our lunch inside the chalet, which was nice and quaint and had various foods and drinks for sale and books to read.

Panoramic shot of one view from near the chalet
By the time we finished lunch, clouds were rolling in. We descended more than 2000 feet along the Granite Park Trail, which had some nice views and lush greenery. It also had mule poop. It got pretty warm as the sun hit us most of the way, and we used up all of our water. There were lots of dead, barkless, silvery trees that looked like they were made of aluminum. What killed them? Fire? Some of them had bark that was mottled with a black substance, so maybe a mold or fungus killed them.
Near the end of the trail there was a nice little waterfall/stream where we and other hikers soaked our feet in the nice cold water, which felt great after a hot hike with a foot-pounding steep descent.
Better photos, as well as good information on the Highline Loop, can be found here.
Unlike our other hikes, this one ended at a different spot from where we started, which meant that we needed a ride back to our vehicle. There are free shuttles, which I'd read tend to fill up in the afternoon, but we decided to take our chances instead of hiking 7.6 miles back from the chalet to Logan Pass (which would have been 3.6 miles longer than going to The Loop). A shuttle arrived within minutes but only had room for 2 additional people. There were about 15 people in line ahead of us, and as the shuttles are staggered 15-30 minutes apart, it could have been hours before we got a ride. The Loop has a small parking area, so Andi went over to try to find someone who was headed to Logan Pass and might give us a ride. Well, luck was with us because she found a nice couple and their daughter who were going to Logan Pass. They gave us a ride, and the benefit to them was that we gave them our parking spot (the lot, as predicted, was full, and people were trolling for spots).
We returned to our room, showered, had dinner, and hit the hay around 8 p.m., exhausted.
Wednesday, August 3. It was cool, cloudy, and windy, with a bit of rain. A good day to not hike, so it's a good thing we hadn't planned to. We drove 50 miles back to the west end of the park. We stopped at a few pullouts to take in some views and a rushing stream. The rain increased as we got further west. We stopped at Lake McDonald Lodge, which had a nice wood interior, a topographical map of Glacier Park, and a restaurant. At the nearby gift shop we browsed some books. One book was about different animals' poop. Did you know that rabbits eat their own poop? They do this to extract as many nutrients as possible. Wow. I would never eat poop. Unless the alternative was Taco Bell.
Our last stop in the park was the Apgar Visitor Center. There was a nice view from the west side of McDonald Lake. People were canoeing and kayaking.
When we got to Columbia Falls we had lunch and brews at Backslope Brewing. The parking lot was full and the place was crowded. They had a sign saying that customers would be served no more than 48 ounces of beer. It turns out that Montana law prohibits breweries that operate a tap room from producing more than 10,000 barrels a year or serving more than 48 ounces to any customer on a given day. (Of course, this doesn't prevent people from visiting 10 breweries in one day.) Also, these breweries must close at 8 p.m. Anyway, we got a flight of 4 of their beers. The IPAs were okay and the saison and pale ale were quite good. The chalkboard said that they were 3-ounce samples, but as an experienced flight connoisseur I can tell you that they were 5 ounces. So Montana doesn't only underestimate distances - it underestimates volumes too.
We drove to Whitefish to visit my old friend Steve. We've been friends for about 30 years and we hadn't seen each other in 12. He lives walking distance from downtown Whitefish, so the 3 of us walked to some of the local spots. Our first stop was the Bonsai Brewing Project, a small local place with a nice outdoor area where lots of kids and dogs were playing. It had a great community feel to it. Steve had their Lil Blonde Honey and I had their Wort the Furnk, a very nice barrel-aged sour ale. Who'd a thunk there'd be a noteworthy sour ale in northern Montana? If you're ever near Whitefish and you like good beer, this place is a must. But don't take my word for it. Check out their reviews on Yelp and TripAdvisor.
Next stop: Great Northern Brewing Company. We got samples of their Wild Huckleberry (a lager with huckleberry juice), Dad Bod (a pale ale), Going to the Sun IPA (which we'd had bottles of in Glacier Park), Big Mountain TPA (a pale ale with Earl Grey tea leaves), Bluebird Day (a double IPA), and Selfie Stick (a saison).
We stopped at the Great Northern Bar (no relation to Great Northern Brewing Company). It had a sort of happy country bar atmosphere, a ping pong table, pool tables, and a band stage. We wanted food but the wait would have been close to an hour, so we went over to the Bulldog Saloon. The walls had images of bulldogs and photos of various champion sports teams from Whitefish High School through the years (the school's mascot is the bulldog). I got a Draught Works Brewery Scepter Head IPA and Steve got a Columbia Brewery Kokanee. We got food too. Folks were playing Texas Hold 'Em in the back (gambling is legal in Montana as long as people are playing against each other rather than the house). The men's room had female porn on the walls, and Andi reported that the ladies' room had male porn in every stall but one (this G-rated stall was reserved for all children, including boys). The place's website is fart-slobber.com.
Andi went back to Steve's because she wasn't feeling well. Steve and I returned to the Great Northern Bar. By now a live band was playing. I got a Deschutes Fresh Squeezed IPA and Steve got a can of Pabst Blue Ribbon (it was only a dollar). We hung out at the outdoor patio for a while and talked about old times, our present lives, and our plans for the future. Then we returned to his place where all 3 of us crashed.
Thursday, August 4. Andi and I got up at 3 a.m. because our flight out of Kalispell was leaving at 5:40. We packed, drove to the airport, and checked in. Just like on our trip out there, the TSA Pre-Check line was much longer than the regular one. But this time I was wearing a belt, so we saved 11 seconds instead of 8. As we boarded the plane I just had to snap a photo of our pilot cleaning the windshield.
In summary, it was a great trip. Everything went without a hitch: we didn't miss any flights; have car trouble; or get sick, injured, or mauled. None of the trails were closed due to fires or bears. The weather was great every day we hiked. We saw lots of great scenery and wildlife. We ate well, had some good beers, and got to visit an old friend of mine.
Glacier Park has hundreds of miles of trails. There is so much beauty to see, and we hope to return someday to catch more of it.