San Diego 2015

Wow. I thought Portland Oregon was America's best beer city. San Diego might have surpassed it.
The 2015 National Homebrewers Conference was held in San Diego, and since this city was on my bucket list, I figured why not kill two birds with one stone? Or drink two beers with one mug?
Sunday June 7. As I chose my seat on the plane (Southwest does not have assigned seating), it occurred to me that I'm getting older. I used to prefer window seats in order to get good views. Now I choose aisle seats so it's easier to get to the bathroom.
After landing I shuttled to E-Z Rent-A-Car to rent a vehicle, then immediately headed to Port Brewing, eating food along the way that I'd packed in order to lay a base (because when you want to slow alcohol absorption, it's all about that base, 'bout that base, 'bout that base...) It was a gorgeous sunny day with temperatures in the 70s. I'd heard that Californians are more laid-back than East Coasters. That might be true, but when it comes to driving, there are just as many crazies out there as there are back east.
Port Brewing is more commonly known as Lost Abbey. The actual brewery name is Port Brewing, and they use that as the brand name for their American and West Coast-style ales. They use the brand name Lost Abbey to refer to their Belgian, high-octane, and barrel-aged beers. Like many San Diego-area breweries, it's tucked away in a nondescript industrial park. I arrived at 2:00 p.m. hoping to get a tour (their website says that they give tours on Sunday afternoons), but the brewers were doing some catch-up work that day and they are not allowed to give tours while brewers are working. On the plus side, this would get me back on the road sooner so I'd have more time for brewery hopping.
Most of their 5-ounce tasters were only $1 apiece, which was the best deal I would find on my entire trip. I tried their:
Judgment Day (an Abbey quad)
Wipeout IPA
Mongo IPA (very good)
Great 70s music played while dozens of customers drank world-class beer. After sampling I bought to-go bottles of Mongo, Wipeout, and a triple called Inferno.
| | | |
| --- | --- | --- |
| | | |
| | | Translation: "We have faith in Brettanomyces." |

Just a few minutes away is Rip Current Brewing. It's a nice place with good beer and atmosphere. I only got 2 samples because I was driving and had more places to hit:
Lupulin Lust IPA
Take Off Triple

On a tip from someone at Rip Current I went to nearby Stumblefoot Brewing, which was supposed to have a nice sour ale. (I was glad to have brought my GPS because I hadn't mapped this place out.) The sour ale, called Questhaven, was aged in a barrel with apricots. It was great. I also tried the Stumble Double (made with raisins) and San Elijo (a semi-sour ale).
The place opened in March 2012. It's well hidden in a small industrial area, and you'd never find it unless you knew where it is. The brewery logo used to be a footprint, but it got a cease-and-desist from Barefoot Wines, who already uses a footprint for their logo, so as of this writing Stumblefoot is working on another logo. What I want to know is, how do you copyright a body part? Is there a government office that assigns body parts to businesses? One company gets a hand. Another gets a lung. Another gets a butt cheek.

Toolbox Brewing, located a few minutes away in a small strip mall, opened in October 2014. All the parking spaces in front of it are handicapped spots. Or is that physically challenged spots? They played punk music. Their tap handles are various tools and tool handles (saw, chisel, hammer, wrench, etc). They make several sours. I tried:
Tart X (a nice and refreshing sour blonde)
Grassfed Lettuce (a nice, hoppy, sour, grassy, refreshing dry-hopped version of Tart X)
Virgin Cherry
They bottle a small percentage of their beer. In order to buy some you have to go to http://brownpaperticket.com and order it right when it goes on sale because it sells out quickly. Other breweries also sell beer through this site.

Latitude 33° Brewing is walking distance from Toolbox. It's one of the many garage-type places with a roll-up door. I tried their 33 IPA, which was great, so I bought a bottle to go.

Next stop: Iron Fist Brewing. This place opened in 2010. They had a guy playing live music when I got there. The ambience wasn't much but they made a few good beers. I tried:
Uprising (a 12% ABV dry-hopped Belgian triple IPA)
Hired Hand Saison
Counter Strike Single IPA (nice, hoppy, crisp and refreshing)
Big Kahuna (Russian imperial stout with Kona, Ethiopian, French, and New Guinea coffee)

My last stop of the day was Pizza Port Carlsbad, one of Pizza Port's 6 locations. It had a festive atmosphere with over 100 customers, many kinds of pizza, 35 beer taps (20 of their own beer plus 15 guest), some video games, and an outdoor biergarten that had about a dozen more taps. In addition to beer they sold a lot of wine. It was the only brewpub I visited that day; all the others were breweries (no food). Inside the pub I tried the following (all but the last were Pizza Port beers):
Revelations (a golden Belgian)
Grapefruit Puncher (made with fresh grapefruit)
Poor Man's IPA (nice, hoppy, crisp and refreshing)
Eukaryst (a very nice imperial stout named after the band that the head brewer plays guitar in)
Knee Deep Breaking Bud
In the biergarten I tried their:
Simcoe City
Triple Lindy
La Flama Dorada
Adjacent to the biergarten is a bottle shop that sells beers from many breweries. I bought a few cans before heading down to the Best Western Seven Seas to check in and get some much-needed sleep.
Incidentally, Port Brewing spun off from Pizza Port. Two of Port Brewing's founders are the owners of Pizza Port, and a third founder (Tomme Arthur, who is very well known in the beer world) used to be Pizza Port's head brewer.
It might also interest you to know that I started Pizza Port's Wikipedia page in October 2006. If you go to the page and click "View history" at the top, you can trace the page's history.

Monday June 8. I normally wake up around 5 a.m. EST, so I was up before 2 a.m. PST. This gave me several hours to write, upload photos, and add places to my itinerary using the San Diego Brewers Guild Craft Beer Guide that I'd picked up the previous day. It's a great beer map. After a nice shower with water that came out of the shower head with force the likes of which I hadn't seen since the 1960s riots, I went to a supermarket called Von's to pick up some food for the room and the car. The place had a lot of beer, wine and liquor for sale. The citrus fruit was kind of expensive considering it's grown in California. I also stopped at nearby Del Mesa Liquor to peruse their beer selection.
The first stop of the day was Coronado Brewing. This is one of three locations. It opened at 10:30 a.m. None of the other places I visited opened before 11:00. This gave me an extra half hour to visit places. I was the first customer of the day. Shortly thereafter a customer came in with 4 dogs. I tried samples of Idiot IPA and Silver Strand Saison. The former was quite good so a bought a bottle to go. They were bottling so I took a short video of the bottling line in operation.

Next was Ballast Point's Little Italy location (they have 4 locations, and I would hit 3 of them). According to their website they give tours but there was some construction going on (I think they were putting in a patio or something), so they weren't giving tours. This brewery, which opened in September 2013, is their 3-barrel research and development (R&D) brewery; they try out their new recipes here before stepping up to one of their bigger breweries. I tried the following experimental beers:
Single Flag (a very good 11.7% ABV smoked Scotch ale)
All That Glitters is Gueuze (a slightly sour beer made with plums)
Wahoo White (a light witbier made with kumquats)

Then it was on to Stone Brewing at Liberty Station, one of Stone's several locations. Liberty Station is an old naval training area that has been converted to retail shops and housing. I was at my third brewery of the day and it wasn't even noon yet, so I spent some time taking photos. They use a lot of stone (mainly granite) in their décor. Both the restaurant and the biergarten are beautiful, the latter of which has many large stones, a few small waterfalls and ponds, some koi or goldfish (I can't tell the difference), and a 30-tap bar. There is also a courtyard for bocce.

The 10-barrel system is the smallest of Stone's breweries (they have two 120-barrel systems in Escondido). This is where they make their R&D beers. For example, their Go To IPA was developed here. As of this writing they are planning to open new breweries in Richmond VA and Berlin Germany in spring 2016, with restaurants to be added the following year.

This restaurant has large slabs of granite, a 40-tap bar, and a smaller bar with about 20 taps from which they fill growlers. I tried three of their R&D beers (available only at this location) and one guest beer:
Klaatu Barata Nikto (a very good imperial black IPA)
Wheat Surrender (a wheat IPA made with elderflowers)
Witty Moron (a so-so black wit)
Midnight Sun Berserker (a nice, plummy, 12.7% ABV imperial stout aged in red wine and whiskey barrels)
| | |
| --- | --- |
| | |
| Growler-filling station. | Bathroom sink. |

On a tip from a friend back home I drove to nearby Ocean Beach to a restaurant called South Beach Bar and Grill, which isn't a pub but is supposed to make great tacos. Unfortunately they were closed that day because they were doing some work inside. Fortunately there is a brewery just a few blocks away called Culture Brewing, which opened in November 2014. (Their beer isn't actually made here - it's made at their Solana Beach location, which opened in February 2013.) The décor consists mainly of skateboards, some of which date back to the 1960s, that were attached to the wall by a local artist. I tried two of their beers, both of which I liked a lot:
Sour Medley (a Berliner weisse made with apple, grape, cherry, and lime juice)
Double Black IPA

Ocean Beach is a classic example of a California beach area: hippies, tattoos, surfboards, skateboards, old crappy cars, motorcycles, palm trees, bike shops, tattoo/piercing shops, and a lot of restaurants. It was almost like being on a 1960s movie set. It was a cloudy, windy day, but nevertheless people were at the beach, surfing or lying on towels. The lack of sun is a frequent occurrence caused by the marine layer that comes in from the ocean, while just a few miles inland it's sunny.

I sallied forth to Modern Times's "Lomaland Fermentorium", one of its two locations. There were shelving units with lots of old books and the place smelled like coffee (they roast their own and use some of it in their beer). Their beer samples are 7 ounces, so I got just one: Hooloomooloo, a nice, hoppy, malty double IPA.

A few minutes away is Acoustic Ales Brewing Experiment, a cozy place with a relaxing atmosphere. I sampled a double IPA called Run for the Hills and a triple IPA called Hop Way to the Danger Zone. Both were good.

Drove in sucky rush-hour traffic to Modern Times's other location, the "Flavordome", which opened in summer 2013. Lots of lampshades hang from the ceiling, the walls have what look like old encyclopedia articles, the front of the bar is decorated with hundreds of VHS tapes, and the coasters are 3½-inch floppy disks. Like their other location, samples are 7 ounces, so I got only one: Booming Rollers, a good IPA with Citra hops.
| | | |
| --- | --- | --- |
| | | |
| | This photo is right-side-up. | |
| | | |
| --- | --- | --- |
| | | |
| | Counterpressure growler filler. | |

Less than a mile up the street is one of the two Belching Beaver locations (this is only a tasting room; the beer is brewed in Vista). I tried their:
Sour Kettle Saison
All the Way (a good triple IPA)


A couple at Belching Beaver told me about a nearby brewery that's not on the brewery map called Fall Brewing, so I went. It opened in November 2014. The atmosphere was festive. There were posters, made by one of the brewery owners, of ads for old alternative/punk bands. Their pint glasses are oversized and have a fill line, which allows for foam while not short-changing customers. Don't you hate when you order a pint and there's an inch of foam on top? I've done the math: if you get short-filled by just one inch in a standard tapered pint glass, you're losing 25% of your beer. You can see my calculations in this Word document. Anyway, I tried two of their beers: Spirit of 77 and Green Hat, which were both good IPAs. I picked up a "passport" that, if you got it stamped by the breweries Fall, Benchmark, and Societe by the end of the month, would get you a pair of drinking socks.

Less than a block away I found another brewery, also not on the brewery map, called Poor House Brewing, which opened in 2012. Their gimmick is that they give you felt-tip markers with which you decorate a dollar bill. Hundreds of decorated bills hang on the wall. I tried their Sterling Belgian Pale and their Experimental Batch #10 IPA.

Next I went to Blind Lady Ale House / Automatic Brewing. Normally they are closed on Mondays but since the FIFA Women's World Cup was going on, they were open so customers could watch there. Most of the taps had guest beers. Only one of their own beers was on tap: Beyond Mars, a so-so Belgian amber. I also got tastes of Mother Earth Big Mother, a good triple IPA; and Port Anniversary Ale, which was good. They don't sell beer samples; the smallest size they sell is half-pours. However, the bartendress let my try small tastes.

I came back to the motel room, and since it was still early, I looked up Benchmark Brewing (I was already planning to go to Societe the next day, so I would need to add Benchmark to my itinerary in order to get my "passport" completed). Benchmark was only a few minutes away, so I went. They opened in 2013. The owner/brewer used to brew at AleSmith. I tried their Talking Tree Saison, which was good. Afterward I picked up some healthful food at Trader Joe's, then returned to the motel. 12 breweries in one day. That's a record for me.

Tuesday June 9. After paying $3.72 per gallon to fill the tank, I drove to San Diego Brewing. This brewpub, located in a strip mall, opened in 1993. I sampled:
El Hefe (a so-so hefeweizen)
Twisted Manzanita (a good IPA)
Lagunitas Scarce City #4 (a nice imperial wheat wine)

Next stop: Ballast Point's Miramar location. The inside is very nice, with different décors in different areas. There is a big outdoor patio, as well as a cornhole court. I tried their:
Big Eye IPA
Dorado Double IPA
Tongue Buckler Imperial Red
All the beers were good. The brewery is visible through a glass wall. I got a tour. Ballast Point was established in 1996. A lot of the beers are named after fish. They brew at all 4 of their locations. They started brewing at their Home Brew Mart location in 1996. They opened their second location in 2004; their third in 2013; and finally this location in 2014, with its 150-barrel brewing system. As of this writing their beer is sold in 35 states and at least 7 countries, their canning line produces 320 cans per minute, and their bottling line produces 425 bottles per minute. They want both lines to ramp up to 520 per minute. They also make spirits here.


My friends Rob and Craig, who are fellow CRABS members, flew in from Baltimore. They taxiied to my motel and I picked them up. The first thing they wanted to do was go to an In-N-Out Burger, a fast food chain that a lot of people had told us makes great burgers. Our burgers were good and not too greasy, but I can't say that they lived up to the hype. This was the first burger I had eaten in probably 20 years.


We visited White Labs, a yeast company that supplies many breweries and homebrew shops. They don't sell beer in stores but they experiment with their yeasts and make beer that's sold for on-premise consumption. They had 25 beers on tap. We got 12 samples: several saisons, English brown ales, and Belgian strong ales; and 2 stouts called Frankenstout, one a regular stout and the other made with coffee, both brewed with 96 strains of yeast.
| | | | |
| --- | --- | --- | --- |
| | | | |
| | Erlenmeyer flask light housings. | | Yeast vial tap handles. |

One of our servers told us that AleSmith Brewing had just opened a new facility the previous day, so naturally we had to visit. When we got to the building there was no indication that it was a brewery; there was just a sign that said, "Observation room." The tasting room was rather characterless and had that "new place" smell, but we didn't mind because we were just after beer. They had 12 selections on tap. We tried:
Speedway Stout
Horny Devil
394 Pale Ale (very good)
IPA (nice)
Anvil ESB
Lil' Devil
Old Numbskull (a very good barleywine)

The "old" AleSmith brewery, located just blocks away, was still operating. Mikkeller was slated to take over the place after AleSmith shut down. This place had all the beers the new place had, plus some others. The ambience was nice and homey and there were close to 40 customers. We got samples of:
Summer YuleSmith (a very good imperial IPA)
Old Numbskull
Hall of Fame (an imperial version of their 394)
Nut Brown
Barrel-aged Nut Brown

We arrived at Green Flash Brewing just in time for the 5 p.m. tour. It was a great deal: $5 got us a one-hour tour and 4 beer samples, which were:
West Coast IPA
Hop Head Red
Le Freak (a triple / imperial IPA hybrid)
Double Stout
The brewery operates 24/7. It was named after an optical phenomenon that sometimes happens just after sunset or right before sunrise: a green spot is visible slightly above the sun for just a second or two. Their beer is run through a diatomaceous earth filter and then a plate filter. They brew with steam heat. Sometimes they let beer sit for a day with hops in it, then pump CO2 into it in order to put the settled hops into suspension, thus increasing contact with the beer. This procedure is called burping. The bottling line produces 300 bottles per minute.

After the tour we bellied up to the bar and sampled three of their beers. The one with the Alpine moniker refers to Alpine Beer Company, which Green Flash acquired in late 2014. Alpine doesn't have enough capacity to meet demand, so Green Flash brews some of it.
Alpine Nelson (a nice IPA)
Beach House (a saison)
Trippel

Next we hit Societe Brewing. First we sampled some of their beers:
Harlot Belgian Extra
Debutante Belgian Amber
Pupil IPA (a great IPA with Nelson hops)
Then we got a private tour. They use White Labs WLP530 for most of their Belgian ales. They have 3 yeast suppliers: White Labs, Wyeast, and Brewing Science Institute. They started in 2012. They claim to be the least efficient brewery in San Diego because they have a lot of space yet they produce only 3000 barrels per year. They don't bottle their regular beers. They have a tiny bottling line for their funky beers. They have a big barrel room with about 100 barrels in which they age their funky beers. Most of them contain Brettanomyces, Lactobacillus and Pediococcus. Some have Brettanomyces only. They get their barrels from a winery after they're considered "neutral" (i.e., most of the flavor has been leached out) so they don't impart wine flavor into the beer because they use the barrels only to achieve micro-oxidation, which feeds the microbes.
| | |
| --- | --- |
| | |
| Their private stash of gift bottles. | |
This was the final place where I needed to get my "passport" stamped in order to get my drinking socks.

Our last stop of the day was Council Brewing. It had a friendly, down-to-earth atmosphere. All the tap handles were gavels. We arrived shortly before last call and got samples of:
Belgian Triple
Bully Pulpit IPA
Bully Drop Double IPA (weird)
Pineapple Tart Saison (a great sour ale)
Peach Vanilla Tart Saison (a very good sour ale)
Our palates had been growing weary of malt and hops, but the two sour ales were quite agreeable. Our server said that the sours were made with Lactobacillus, Brettanomyces, and Saccharomyces (no Pediococcus). The brewer is a woman. Their brewing system is possibly the tiniest professional system I've ever seen.


Wednesday June 10. A somewhat cool, cloudy morning. We stopped at Trader Joe's to pick up some traveling food, then drove to Stone Brewing's Escondido location at 10:30 a.m. to purchase tickets for a 2:00 p.m. tour (in order to ensure that it wouldn't be sold out when we showed up at 2:00). They have 10-minute "growler fill" and 20-minute "keg pick-up" parking spots. The building is not marked with any sort of identification, so you'll miss the place unless you know exactly where it is. There is a nice path leading to the back door, but since they don't open til 11:00 it was locked. We went around to the front door, which was open even though it wasn't 11:00 yet, and looked around. Both the inside and the outside are nice. Outside there is a big, beautiful garden and seating area, with grass, trees, water, and koi/goldfish. I thought it was prettier than their Liberty Station biergarten.


At 11:00 we bought our tickets and drove to Pizza Port Bressi Ranch. Tucked away in an industrial park, it wasn't as crowded as the other Pizza Port I'd been to. There were video games, surfboards hanging from the ceiling, and what looked like a conical fermenter being used as an aquarium. Just like at the other location, there is one area to order pizza, and a separate bar to order beer. We ordered their Pizza Carlsbad, made with pesto, mesquite grilled chicken, sun-dried tomatoes, artichoke hearts, and feta. It was delicious. The beers we sampled were:
Beer Week Belgian IPA (very good)
Simcoe City
Export Stout
Poor Man's Double IPA
Swami's IPA (nice)
Jetty IPA
One Love
County Line English Pub Ale
A few minutes after noon the lunch crown came in, and there were about 15 people waiting in line for pizza. When you make good stuff, word gets around.


We headed toward Port / Lost Abbey, and since it didn't open til 1:00, we had time to stop somewhere. There were about a half dozen breweries on our way, but only one was open at that particular time: San Marcos Brewery & Grill. It's one of those places that seem to cater more to the masses than beer geeks, but it was convenient, open, and a way to pass some time. We sampled four of their pedestrian offerings:
California Pale (on a hand pump)
Pompous Ass (a double brown ale)
Hefeweizen
Two-Timing IPA

When we arrived at Port Brewing right at 1:00 there were already about 20 customers. We bellied up to the bar and got samples of:
Wipeout IPA
Shark Attack Double Red
Mongo IPA (great)
Old Viscosity
Lost and Found Abbey Dubbel
Judgment Day Abbey Quad
Dawn Patrol English Mild
Port Pilz (great)
Carnevale (French country ale with Brettanomyces)
Brewers were putting raspberries into barrels; you can see a snippet here. We ran into Steve and Keith from Midnight Homebrewers' League, and the five of us sampled some beers together:
Older Viscosity (a 12% ABV barrel-aged dark monster)
Hop 15 (an imperial IPA made with 15 kinds of hops)
Framboise
All 3 of these beers were wonderful. We would have loved to spend the rest of the afternoon there but we had to leave for the 2:00 Stone tour.


At Stone a lot of people were getting growlers filled. Stone had recently started selling 32-ounce can growlers ("crowlers"), which are large cans that they fill and then seal with a special machine.

The 2:00 tour was sold out, so we were smart to buy our tickets early. Stone was established in 1996, and they originally started brewing where Port / Lost Abbey is now. They've been at their current location since 2005. They claim to be the largest craft brewer in the nation; in 2014 they made 280,000 barrels of beer, and their production increases every year. As I mentioned earlier, they have plans to build breweries in Richmond VA and Berlin Germany. They use their own proprietary yeast strain from White Labs (who keeps proprietary strains for several breweries). They make 120 barrels per batch on each of their 2 systems. They have 400-barrel fermenters, and a separate building with a barrel room. They brew 24/7 and they've made as many as 80 batches in a single week. At the time of our visit, their best-selling beer was their IPA, followed by Arrogant Bastard, then Go To IPA; and Arrogant Bastard was the best-selling bomber in the United States.

After the tour they gave us samples of:
Smoked Porter
Pale Ale 2.0
Bourbon Barrel-aged Arrogant Bastard
Go To IPA
Believe it or not, there are no bittering hops in Go To IPA; all of its more than a dozen types of hops are added to the end of the boil, the whirlpool, and secondary.

We ran into Steve and Keith again, as well as Keith's mom (who lived in the area and was their designated driver), and we joined them for lunch outside. We sampled 5 more Stone beers and 3 guest beers:


Once again we had to cut our time with them short in order to visit our next brewery: Green Flash Cellar 3, which had just opened about 3 week earlier. It is a barrel house, with all the beer being brewed at their brewery in Mira Mesa, then transported here to be aged in foeders and barrels. We tried many of their offerings:
Fresco Sauvage (saison aged in red wine barrels)
Blanc Tarte Barrique (sour blonde aged in red wine barrels)
Silva Stout (black ale with Mostra coffee)
Flanders Drive (a Flanders red aged in bourbon barrels)
Flanders Drive with cherries
Flanders Drive with black cherries, served from a cask
Le Freak Barrique (Belgian imperial IPA aged in red wine barrels with Brettanomyces)
Le Freak Barrique with apricots
Protege Sauvage (a nice white IPA aged in Chardonnay barrels with Brettanomyces)
Funkless (a red saison)
Blanc Tarte (a sour blonde, not barrel-aged)
Divine Belgique (their Trippel aged in barrels)
Alpine Duet (not barrel-aged or funky)
Alpine Hoppy Birthday (not barrel-aged or funky)
Natura Morta (spiced ale aged in red wine barrels with boysenberries, curacao orange, coriander, and grains of paradise)
One of the servers was nice enough to give us an impromptu tour. At the time they had 526 barrels there, with about 400 at their main location for non-funky wood aging. Most of them are red wine barrels and the rest are bourbon barrels. The former are used many times, the latter 4-5 times. They bottle some 750s with a bottling line that fills 42 bottles per minute. Their funkification system involves storing beer in one of their four foeders (two have proprietary Brettanomyces strains, one is for sours [with Lactobacillus, Pediococcus, and Brettanomyces], and one is for Flanders beers [with the sour strains plus Acetobacter and Brettanomyces bruxellensis]) in order to inoculate, then transferring the beer to barrels for aging. They also have four 500-liter puncheons for non-funky aging. Their Flanders beers are aged in bourbon barrels. Almost all their barrels are medium to medium-light toast French oak.
| | | |
| --- | --- | --- |
| | | |
| Beer is transferred from brewery in these. | | Puncheons. |

The last stop on our whirlwind tour was Ballast Point's Scripps Ranch location. We sampled their:
Brother Levonian Saison
Grunion Pale Ale (nice)
Sculpin
Black Marlin Porter
Victory at Sea Coffee/Vanilla Imperial Porter (nice)
Tongue Buckler Imperial Red
Schooner (Cascade dry-hopped pale ale)
Dorado Double IPA
Grapefruit Sculpin
Grunion with experimental hops ("Hop 142") and lime leaves
Thus ended the brewery portion of the trip. If you're looking for lots of breweries in a small geographic area, you can't beat San Diego. There are more than 100 breweries within an hour of each other, and every place has something good, whether it's the beer, the ambience, or the waitstaff. They all do a healthy business. They allow dogs (at least in the places that don't serve food). They also allow kids. Many of them have water coolers by the door. Lots of them are just minutes from each other, so you can easily visit 8-10 places in a single day and hit all 100+ breweries in just 2 weeks. That is, if you survive.

Thursday June 11. Another somewhat cool, cloudy morning. Picked up some food at Trader Joe's to keep in the motel room, returned the rental car, and Ubered to the Town and Country Resort to sign in for the National Homebrewers Conference. The homebrew expo had the usual plethora of brewing-related stuff such as kettles, jockey boxes, burners, chillers, hoses, bottle labels, yeast, sanitization chemicals, fermenters, etc etc etc. Several breweries had beer on tap, and since I was no longer driving, I didn't have to watch how much I drank, so I sampled the following in addition to many homebrewed beers, meads, and ciders:
Ballast Point Sour Wench (a blackberry sour ale)
Ballast Point Knight Shift (an old ale with apricots and dates)
Ballast Point Fleet Admiral (a nice Belgian triple)
Ballast Point East to West (an IPA)
Stone Saison
Stone Hoppy Pils
Stone Ruination
Stone IPA
Green Flash Golden Naked Promise
Bell's Oarsman Ale (a sour mash wheat)
Samuel Adams Smokehouse Rauchbier
After a much-needed nap and food I returned to the conference for the welcome reception, which featured more than 40 breweries. There was some food and a live band. I sampled the following. The beers marked with an asterisk were commemorative beers made for the conference.
Lost Abbey Red Poppy (a nice Flanders red)
Lost Abbey Track 8 (a bourbon barrel quad)
Russian River Pliny the Elder (good but not worth the hype)
Russian River Supplication (a very good brown ale aged in barrels with cherries)
The Bruery Sour in the Rye (a nice sour ale)
Stumblefoot Questhaven (a nice sour ale)
Lagunitas IPA
Lagunitas Scarce City Rye Cocoa Porter
Coronado Stingray Point IPA
Coronado Pomegranate IPA
Ballast Point Homework Series Batch #5 Hoppy Belgian Pale Ale
Figueroa Mountain Lizard Mouth Double IPA
Green Flash Le Freak Barrique (a nice barrel-aged sour Belgian)
Samuel Adams Rebel Rouser (a good double IPA)
Mother Earth Bookoo Mosaic IPA
Mother Earth Peanut Butter Chocolate Imperial Stout
Ninkasi Tricerahops Double IPA
O'Sullivan Brothers English IPA
Pizza Port Swami's IPA
Lost Abbey Santo Ron Diego (rum barrel-aged strong ale)
Monkey Paw Tart Saison
Monkey Paw Double IPA
Rough Draft Stout Stout Baby
Rough Draft Southern Triangle IPA
Smog City Hoptonic IPA
Smog City Coffee Porter
MacLeod Ordinary Bitter
MacLeod Scottish Ale
Mike Hess Solis Occasus IPA
Mike Hess Habitus Double IPA
Mission Imperial Berliner Weisse
Valley Center Coyote Run IPA
Lost Abbey Lemon Yellow Sun*
Rip Current What Would Dave Drink?*
Karl Strauss "Home" Brew IPA*
Benchmark San Diego Dark Ale
Belching Beaver IPA
Bagby Dork Squad American IPA
Beachwood El Verano Belgian Saison
Belching Beaver Session IPA
AleSmith Double IPA
Kinetic Torque
Karl Strauss Mosaic Session Ale
Heretic Evil Cousin Double IPA
Hangar 24 Essence Double IPA
Fall Spirit of 77 IPA
Duck Foot Double White IPA
Coachella Valley Monument on Fire (IPA with mango, guava, hatch chiles, and habanero peppers)
Chuck Alek Archives 1850 Runner
Bagby Abockalypse
Allagash Odyssey
Heretic Evil Twil IPA
Russian River Ron Mexico Session IPA*
Beachwood Be Bold, Be a Homebrewer*
Ladyface Verückt Weizen (a great barrel-aged sour aged 2 years with Roeselare yeast)
Ladyface Trebuchet Saison (aged in sauvignon blanc barrels with Lactobacillus)
Ladyface Derailleur (biere de garde aged in Mourvèdre barrels with Brettanomyces)
Ladyface Chesebro Double IPA
Pizza Port Sharkbite
Rip Current Lupulin Lust
Rock Bottom Hoppily Ever After
Stumblefoot Apollo
It was a nice night to be drinking under the stars. Most of the breweries were from the West Coast. Russian River had a long line, but none of the other breweries did. I didn't take any photos of the event because there wasn't much to see other than dozens of beer tents.

Wil Wheaton was there. You know, the guy from Star Trek: The Next Generation. He has been a homebrewer for years, and even partnered with a homebrew supply company to create recipe kits.


Friday June 12. Cloudy and drizzly. Went to the homebrew expo. Looked at several of the product demonstrations and talked to some of the vendors. Sampled homebrews and commercial brews, including:
Ballast Point Homework Series #5 Hoppy Belgian Pale Ale
Ballast Point Sculpin
White Labs FrankenIPA (made with 96 yeast strains)
Ballast Point Calm Before the Storm
Ballast Point Ginger Big Eye
Saint Archer Mandarina Wheat
Edge Pale Ale
Edge Rosepetal Peppercorn Saison
Stone Barke Spider
New Glarus Berliner Weisse
Ballast Point Dorado
Ballast Point Grapefruit Sculpin
Club Night featured about 40 clubs, many with their own décor and/or costume theme, such as Star Trek, Legos, etc. The Maltose Falcons had a bunch of randalls with all sorts of flavorings such as cocoa nibs, hops, berries, raisins, and pineapple. Société du Lambic (which seems to be associated with Society of Barley Engineers) had more than a dozen sour ales, and hundreds of people lined up for their offerings. One club had a photo booth and props where people could dress silly and take photos. After the event a bunch of us Marylanders and others partied til the wee hours. The lighting at the event wasn't very good so some of my photos came out a bit dark.
| | | |
| --- | --- | --- |
| | | |
| | | Steve and I at the photo booth. |

Saturday June 13. My tongue was burned from all the sour ale. So of course my first beer of the day was Red-Eared Slider Berliner Weisse from Ballast Point. I walked around the expo one last time while drinking a number of homebrewed and professionally brewed beers. I looked at triclover ball valves, which are a lot easier to clean than the old-style ball valves my fermenters had, so I bought one. You should never have a dirty ball valve.
In the late afternoon jillions of people lined up for the banquet. Many folks brought beer with them and shared them in line. Some of the selections that graced my palate were AleSmith 394 Pale Ale, Russian River Blind Pig, Russian River Pliny the Elder, Russian River Sanctification, and Bear Republic Racer 5 IPA.
Lagunitas was the featured brewery at the banquet. Each course was paired with a different Lagunitas beer:
aged Gouda gougèries paired with Lagunitas Pils
grapefruit and avocado panzanella marinated in roasted heirloom carrots, radish, pea tendrils, and grilled levain paired with Lagunitas IPA
braised short rib of beef, wild mushroom barroto, asparagus, vanilla, braised endive, and cippolini onion paired with Lagunitas Sucks
dark chocolate hazelnut mousse and almond Florentine paired with Lagunitas Capuccino Stout
After dinner, awards for the National Homebrew Contest were given out. There were more than 7000 entries this year. Then there was one last party featuring the leftover competition beers. I spent hours drinking sour ales, barleywines, Belgians, German wheats, ciders, and meads.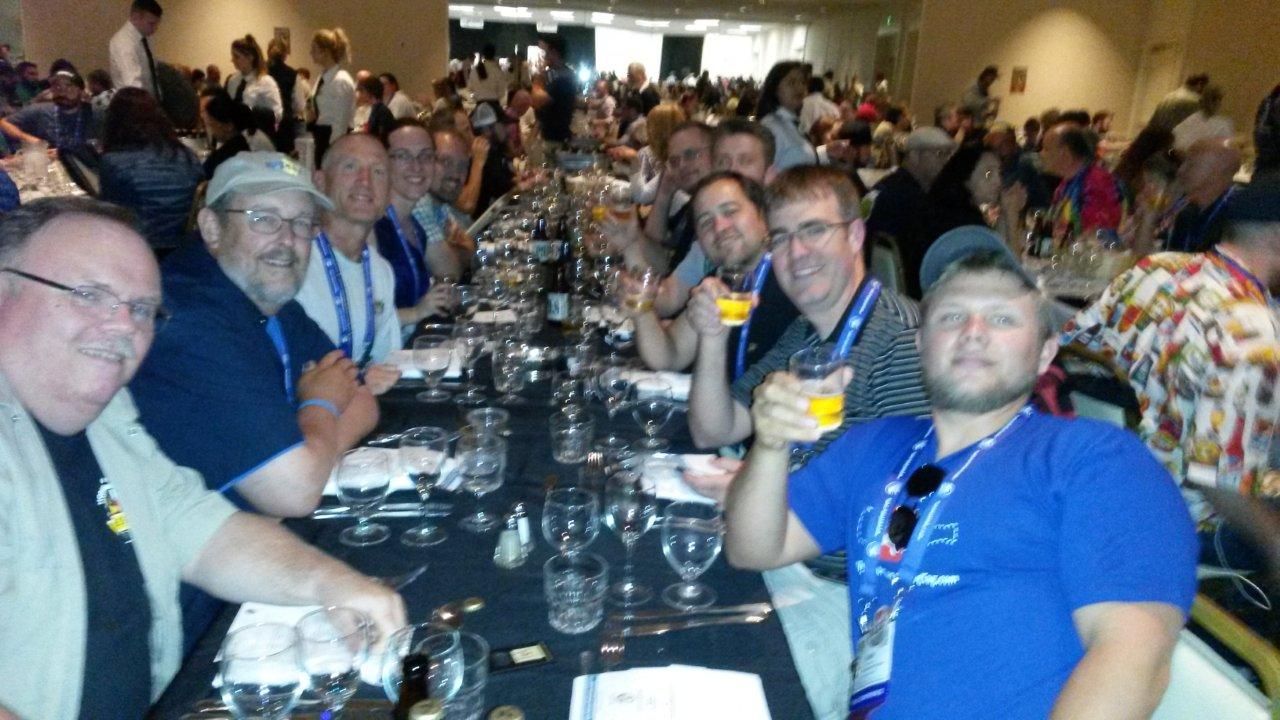 Most of the Marylanders.

Sunday June 14. Got up at 4:30 a.m. to catch a shuttle to the airport. I had packed a bunch of beers wrapped in clothing and bubble wrap in an old knapsack, but they wouldn't accept that sort of packaging. I had to buy bottle bags for $5 each and cram two bottles into each one. The good news is that none of my beers broke, and the bags are reusable.
What a great trip. I visited 31 breweries (if you count White Labs), had a great time at the conference, and sampled well over 200 beers. The 2016 conference is going to be in Baltimore! Woohoo!