Portland 2013

Another bucket list item checked off, and this one was major (for me). I did Portland Oregon, purportedly the #1 beer mecca in the U.S. Armed with a beer map that I'd created with information from the Beer Mapping Project, I flew to Portland International Airport on July 23 and took the MAX Light Rail to the Downtown Value Inn, one of the cheapest hotels in town. My few interactions with people on the train were pleasant, as it seemed that they were more laid-back than people back east. My friend Marty met me at the hotel.
Wednesday July 24: After picking up some delicious-looking wraps at a local convenience store, we walked along the Willamette River. Many joggers and bicyclists enjoyed the great weather. We stopped at Floyd's Coffee Shop, which had a carpet "poster" of each of the Golden Girls, and lo and behold they had a beer on tap. Apparently many coffee shops do this, so if you want to get a beer before the bars open, this is the way to do it. We enjoyed a glass of Racer 5 Organic IPA. Hey, it might only have been 10 a.m. there, but it was after noon on the East Coast.
We stopped at the Hotel Monaco to see if they had a bar. It didn't, so we sat and played some cards. We struck up a conversation with an employee named Joseph, who told us about five beer places that we hadn't known about, all of which we would visit over the next several days.
We walked around town to run recon on several pubs, and stopped at Kelly's Olympian. We tried Yellow Wolf Alameda, 10 Barrel OG Wheat, and Double Mountain Vaporizer. The place had motorcycles hanging from the ceiling. We learned a local acronym: VIP, which means Very Intoxicated Person.
Then it was time to head down to Tom McCall Waterfront Park and check in at the Oregon Brewers Festival to work the very first shift of the five-day event. We donned our festival T-shirts, which said "I served" on the back, and went to our respective beer stations. People flooded in when the gates opened at noon, and in no time lines formed in front of the taps. We worked constantly to slake the thirst of beer lovers from all over the country. I saw two people from BURP, a homebrew club I belong to. We were not allowed to drink while working so we could not even sample the beers we poured. It's frustrating to handle something that you can't partake of. This is why I'll never be a bank teller or a gynecologist. I thought of a new slogan for our T-shirts: "I'm sober. Help!"
After 4½ grueling, beerless hours, we were each rewarded with a free tasting glass and eight tokens. We then sampled the following beers:
Burnside Marionberry Berliner Weiss
Breakside Float
Gigantic "& Juice" (our favorite)
Lompoc Elevendy-One CDA
Omission IPA
Boulevard 80-Acre Hoppy Wheat
Fort George Brewery + Public House Hop Contract
North Coast PranQster
Ohio O'Hoppy Ale IPA
Fire Mountain Bogart NW IPA
Rock Bottom 50 French Clovers
Laht Neppur Peach Hefeweizen
Mount Shasta Skip and Go Naked
Old Market Dilution of Grandeur (mixed berry lambic)
All in all the beers were actually disappointing. Each of the 84 breweries only had one beer on tap, and apparently they didn't bring their A-game. We were done in about an hour. Marty went off to watch his sister sing in a choir and I returned to the hotel to doze off. He met me there around 10 p.m., and we went out to a local pub called the Cheerful Tortoise, which had 18 taps. We tried Widmer Hopside Down India Pale Lager, Bridgeport IPA, and 10 Barrel IPA.

It was a great place with very nice décor, friendly people, and a nice atmosphere. They had Karaoke that night, so I sang Drift Away. Later on they had a competition, and we got to enjoy some great singing. So here we were in a random bar in an obscure part of town having a great time with fun people, and for more than a few seconds I contemplated ditching the uptight East Coast and moving to Portland. According to Marty (who lives near Seattle), the entire Northwest is that friendly.

Thursday July 25. We had planned on spending this day and the next at the festival, but we had already tried most of the beers we wanted to try in only an hour, and since we had been disappointed by all but a handful of them, we decided that our time would be better spent going to pubs, including a few of the places Joseph had told us about.

We took a bus over the Willamette to the east part of town. It was quaint, pretty and peaceful, reminiscent of the 1960s. There were lots of cafés and food trailers (both are popular in Portland). We stopped at a café that has Internet terminals. Marty read some e-mail and we shared a bottle of Elysian Immortal IPA. Upon seeing a beautiful woman in there (in addition to the many others he'd already seen that day), Marty declared, "This place is awash with fantastically beautiful women." I didn't notice because I'm in a relationship.

We went across the street to Horse Brass, which has 59 taps. Our server, Hugh, let us try many small samples, including:
Migration Dry-Hopped Pale (cask)
Beer Valley Leafer Madness IPA (cask)
Rogue Younger Special Bitter (cask)
Mount Hood Hogsback Oatmeal Stout (cask)
Widmer Millennium Falconer Imperial IPA
Ambacht Belgian Strong Golden Ale
Hair of the Dog Blue Dot Double IPA
Columbia River Hop Heaven IPA
Pfriem IPA
Double Mountain Poseur Triple Pale Ale (nice)
Georgetown Lucille IPA
Russian River Blind Pig IPA
Boneyard RPM IPA (nice)
Firestone Walker Union Jack (nice)
Fort George Vortex IPA
Calapooia Chili Beer
Worthy Helles Bock
Pints Amerikaner Berliner Weisse
Laurelwood Berliner Weisse
Old Town Kolsch
We ordered glasses of about 5 or 6 of our favorites and played darts. Coincidentally, Hugh had worked many years ago in Needham MA, one town over from my home town of Newton.
A few blocks away is Belmont Station, which is a beer store and a pub. They have about 1000 beers for sale, including beers from 5 of the 6 Belgian Trappists. We tried:
Deschutes Pucker Pleaser
Moylans Hopsicle Imperial IPA
Schooner Exact Sour Peach Wheat
Loverbeer Madamin (from Italy)
Gueuze Tilquin
Double Mountain Devils Kriek (with Bing cherries)
Double Mountain Rainier Kriek (with Rainier cherries, which are yellow, so the beer was not red)
Next we took the bus to Cascade Barrel Room, the first brewpub of our trip. They make many types of beer, including more than ten sour ales. It is a garage-like place with a big rolling metal door, similar to many places I'd been to in Denver. They played 60s music. We tried the following:
Raspberry Wheat
Strawberry
Vine
Apricot
Honey Ginger Lime
Noyaux
Blueberry
Vlad the Imp Aler (10.25% ABV)
Cherry Bourbonic (direct from the barrel)
Lemon-a-Peel (direct from the barrel)
Kriek 2012
Elderberry
Down the street is the Green Dragon, which is one of the Rogue breweries. A salesman was doing a Spiegelau glassware demonstration - the same guy who I had seen do it at the National Homebrewers Conference in Philadelphia four weeks earlier. We got a brief impromptu tour of the brewery from the brewer, Joel. The main Rogue brewery is in Newport. There are three smaller ones, including this one, which is called Buckman. This location was four years old. We went back to the tasting room, exchanged some jokes with one of the waitresses, and ordered some beers:
Buckman Apple Beer
Buckman Wild Rice Pilsner
Buckman Oregon Brew Crew Murky Depths Cascadian Dark Ale
Buckman Camomalo
Buckman Ginger
Green Dragon Old Chaos Wheat Wine (brewed on their equipment by homebrewers)
On a tip from the folks at Cascade, we walked a few blocks north to another brewpub called Base Camp. We got a sampler rack including:
S'more Stout (with a piece of toasted marshmallow on the edge of the glass)
Intrepid IPA
In-Tents IPL (India pale lager)
Acclimator Doppelbock
Local Meridien ESB
Northwest FEST
Our last stop of the day was Hair of the Dog. I don't remember much because I was a VIP by then, but here are the beers we tried:
Lila
Blue Dot
Adam
Matt
Doggie Claws 2008
Doggie Claws 2009
Doggie Claws 2010
Doggie Claws 2012
| | | |
| --- | --- | --- |
| | | |
| | That's not me behind taps on right | |
Friday July 26. Another beautiful day. We were tired from the previous day but still felt good. We bused/walked to Hopworks Urban Brewery. They'd been in business for 5½ years. This was a class act: nice presentation, very good beer, and great food. Marty got an excellent Mediterranean salad. We got their taster platter, which consisted of:
HUB Lager
IPX Centennial ("salmon-safe IPA")
Velvet ESB
Hopworks IPA
Survival 7 Grain Stout
D.O.A. Deluxe Organic Ale
Belgian Pear Blonde
Evelyn Sunshine
Pig War
Ace of Spades
Memorial Huck IPA (cask)
The etymology of the last beer's name was thus: A year earlier there was a big homebrew contest. The last name of the winner was Huck. Hopworks brewed this beer using his recipe. He died in a motorcycle accident just six weeks before we arrived. A portion of the sales goes to his family.

We walked through some beautiful, quaint, greenery-filled neighborhoods...

...to Apex, a bar with 50 taps and lots of bottles. We tried:
Dupont Avec les Bons Voeux
Dupont Avril
Alameda Dire Wolf
Russian River Pliny the Elder
De la Senne Zinnebir
Crux Insider
North Coast Old Stock Barleywine 2012
Elysian Oddland (peppercorn saison)
By the way, Pliny the Elder is touted as being a spectacular IPA (partly because it's in short supply), and while it was good, I had some better IPAs during the trip. The bathroom had lots of graffiti. My favorite quote was "Vegans - the other white meat." The cash register had an interesting sticker (pictured below right).
Across the street was a four-year-old combination beer store and pub called Beermongers. They had eight taps and more than 600 bottles. The draughts were offered in 4-, 12-, and 16-ounce pours (most non-brewpub pubs don't sell samples). We got samples of all the taps, which were:
Anchor Christmas
The Out Cider (the bartender said it's the name of the cidery and the cider)
Widmer Sasquatch Wheat IPA
Ballast Point Dorado
Widmer Bitter Abbot
Elysian Ambrosia Maibock
Widmer X-114
Widmer Portlander Weisse (a Berliner weisse)
The bartender knows our friend Brian Strumke, brewer of Stillwater Artisanal Ales. Brian has been to Beermongers. One of the bottles they sold is a collaboration between Evil Twin, Westbrook and Local Option called Plastic Man, which has a sort of pixelated photo of Brian on it.
We walked through more beautiful green neighborhoods. On a tip we stopped at Lardo, which had more than 10 taps. We tried samples of:
Gigantic IPA
Pfriem Wit
Boneyard RPM IPA
Oakshire Amber
Upright Schwarzbier
Lardo is named after an Italian delicacy made from fat back. They played good music. The beer selection was not great but our sandwiches were delicious. Speaking of delicious, Marty noticed once again the extraordinary number of beautiful woman that Portland has. I still couldn't notice because I was still in a relationship.
Next we hit Lucky Labrador. It had many photos of Labradors on the walls as we entered. The atmosphere was very open. They'd been in business for 20 years. We got a sampler rack of their beers that included:
Super Dog IPA
No Pity Pale Ale
Anthem Pear Cider (made by Anthem)
Solar Flare
Quality Rye
Bavarian Crystal Weizen
The only beer I liked was the Super Dog. We played darts near the entrance, which was nice and warm due to it being a warm, sunny day.
We walked to the Commons Brewery. It was a warehouse-type place with a rolling bay door like many other breweries in the area. It was crowded. We saw a guy who had served us at the Cascade Barrel Room the previous day. I perused the beer list; Marty was too busy drooling over a gorgeous brunette to think about beer. Every beer was either a saison or a sour. We got samples of:
Urban Farmhouse Ale
Madrone
Flemish Kiss (barrel aged pale ale with Brettanomyces)
Petite Classique
Ortucky Common (dark rye sour)
Biere Royale (sour ale with black currants)
Myrtle
On the way back to the hotel Marty said that there were so many hot women in Portland that he couldn't turn around without knocking one over. He apologized a lot. Also, there were lots of beards and tattoos. And the men had them too.
Saturday July 27. The public transit system in Portland is great. You can hop on a train or bus just about anywhere. Maps at each stop tell you which trains and/or buses stop there and where they go. The website trimet.org has a trip planner where you can give a start address and an end address and it will tell you which train(s)/bus(es) you need to take. We took the train to a bar called Saraveza, which is a play on words combining the owner's name, Sara, with the Spanish word for beer, cerveza. They had nine taps and many bottles. It smelled smoky in there due to their smoker on which they smoke meats. We got samples of:
MOA Pinot Barrel-Aged Imperial Stout (from New Zealand)
De Garde Vieux Melange (De Garde was a new brewery doing all spontaneously fermented beers)
Logsdon Bergschund Series Aberrant
10 Barrel Cucumber Crush (cucumber Berliner weisse)
De Garde Mulligan
Widmer / Cigar City Gent's Club Old Fashioned Ale (with cherries, lemons and oranges, aged in a bourbon barrel)
Mad River Humboldt Haze
They'd been in business for 5½ years. We ordered their charcuterie board, which had pickled vegetables, cheese, flat bread, and wonderful smoked meats. The bar had thousands of bottle caps, sent to the owner by friends, glazed over with epoxy. There was lots of old beer paraphernalia on the walls. We got an Oregon beer map, which showed more than 200 breweries and brewpubs throughout Oregon (though 50 of them are from the McMenamins chain).
On a tip from Kate, our server at Saraveza, we walked to Amnesia Brewing. On the way we passed through some quaint neighborhoods and a bustling area called Historic Mississippi Avenue. Amnesia had a small garage door and a nice atmosphere. They had eight beers on tap and we tried them all:
Dusty Trail
Alt
Slow Train Porter
Desolation IPA
Copacetic IPA
Summertime Ale
Impale
Crystal Red
They'd been in business for nine years. I wasn't impressed with the beers but it was located along our beer route.
Next we walked/bused to Upright Brewing, which is located in the basement of a nondescript building. It had lots of barrels and tanks, and a picture of Frank Zappa on the wall. It is a brewery, not a pub, so all they serve is beer. It was 4½ years old. They played vinyl. We sat at a table with some other beer travelers who were also homebrewers and sampled:
Four (wheat beer)
Five (with caramel malt)
Six (rye)
Seven (Belgiany)
Yarrow Rose Four (the Four with yarrow and aged in a barrel)
We walked/bused to Burnside Brewing, which was 2½ years old. Marty noticed an extremely hot woman on the way, and two more once we got there. I didn't notice them because ... well, you know. The beers were okay, not great. We got:
Burnside IPA
Burnside Oatmeal Pale Ale
Sweet Heat (with apricots and peppers)
Burnside Stout
Alter Ego IIPA
Ivil Krushu Baltic Porter
_lowercase_ipa
Burnside Lime Kolsch
Smoked Rye IPA
Permafrost
Next we stopped at a drab bar called East Burn. It had eight marginal taps. We got a pint of Caldera IPA.
We walked to Migration Brewing, a 3-year-old place with a big garage door. We sampled:
503 IPA
Old Silenus Strong Ale
Luscious Lupulin IPA
Migration Pale Ale
Glisan Street Dry Hop
Clem's Cream Ale
As we were walking to catch the bus, a couple, who we must have met at some point but we couldn't remember, hailed us from across the street and told us about a nearby brewpub called Coalition Brewing, so we walked over there and tried four of their beers, none of which were great:
Double Dog Dare
Two Dogs IPA
Bourbon Loving Cup
Apollo Creed CDA
The place was 3 years old. There was a children's book for grown-ups on the bar called B is for Beer. The smell from the kitchen was heavenly, so I ordered the cod, which was great. We befriended a woman who had two dogs with her, one of which jumped in my lap.
Our final stop of the day was Produce Row Café, a classy gastro pub located in a seedy area. They had 24 taps. We got:
Boneyard Hop Venom
Breakside IPA
Epic Spiral Jetty
Elysian Super Fuzz Super Orange Pale
Worthy East Side Pale
Upright Four
Double Mountain Kolsch
Walking Man Homo Erectus
The place opened in 1974. They made all sorts of cocktails for the well-dressed, mostly 30s crowd. We got a great meatloaf dinner.
Upon returning to the hotel we weren't drunk enough after hitting 8 places so we drank a few bottles that we had stored in the fridge: Ninkasi Total Domination and Hobbybrouwerij Het Nest Turnhoutse Saison.
Sunday July 28. Marty decided he'd had enough hedonism, so he took off to visit family in nearby Hillsboro. I would be doing the rest of the trip solo. My poor liver.
It was a cool, overcast morning. Being Sunday, many businesses were closed. Portland has a lot of homeless people, maybe because the weather is not extreme. Some of them tried to bum money from me. One guy was so bold as to ask for money so he could buy drugs. At least he was honest. I stopped at the Portland Saturday Market, which sells all sorts of stuff by the waterfront every weekend.
I'd hit every place I wanted to on the east side of the river, and now it was time to focus on the west side. Walked to Deschutes. Most of their beer is brewed in Bend (since 1988), with some brewed in Portland (since 2008). They had 16 taps and I tried 6 of them. All of them were good:
Chainbreaker White IPA
Inversion IPA
Saison de Perle
Fresh Squeezed IPA
Double Impact
Super Jubel (barleywine aged in barrels)
Walked to Rogue. They don't actually brew at this location. Their main brewery is in Newport. They have a farm in Independence where they grow their own hops and barley for their "farm" beers. They had about 37 taps, most of them their beers. I tried 4 of their beers, 3 of which were good:
Mom's Hefeweizen
Fresh Roast (part of the farm beer series)
Dad's Black IPA
Brutal IPA
They have a distillery in Newport, which was the first rum distillery in Oregon. They also make whisky, vodka, and a chipotle spirit. Their bathrooms were marked "Hops" and "Barley". Men are hops and women are barley.
As I left I saw a place across the street with a big line of taps, so I had to stop in. It's called the Mellow Mushroom. They have 51 taps. They do beer sampler paddles, which most bars don't do (while all brewpubs do them). I got a very good Greek salad and tried a few beers:
Good Life Descender IPA
Epic Hopulent IPA
Heathen Son of Malice
Boneyard IPA
By the time I left the day had turned sunny. A couple sitting next to me at Rogue had told me about nearby Forest Park, which is supposed to be one of the biggest city parks in the nation, so I walked in that direction. I stumbled upon a Trader Joe's so I picked up some sushi and ate it at a beautiful area of Washington Park, then hiked to Forest Park up to Pittock Mansion where there was a great view of Portland and Mount Hood. The park is very green, hilly and pretty.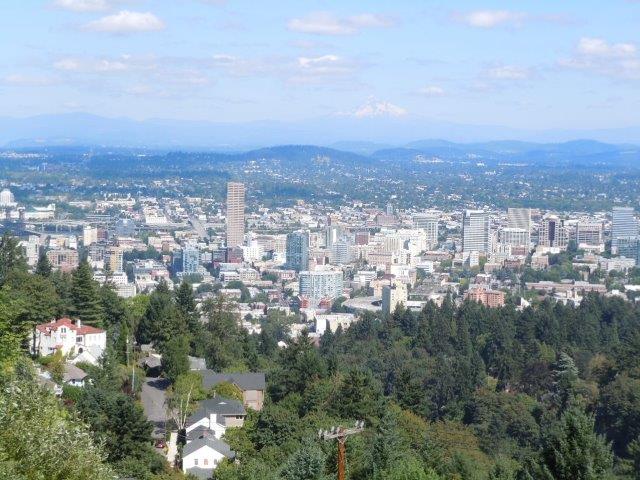 Snow-covered Mount Hood is just right of center in skyline
Got lost on my way back to town but by asking several people along the way I managed to make it back to the northwest corner in a few hours.
Northwest Portland is a very busy, thriving area. There are too many pubs and restaurants to count, and it seemed that every one of them was busy. I stopped at the Lompoc, aka the New Old Lompoc, so called because it had closed for a year while the building was torn down and rebuilt. The Lompoc re-opened in May 2013. Their beers were rather pedestrian. I tried:
Fool's Garden Golden Ale
Kick Axe Pale Ale
Proletariat Red
Eleventy-One CDA
C-Note Imperial Pale Ale
LSD (Lompoc Special Draft)
Stout Out Loud
Hickory Porter
The bartender gave me a phone number to call in order to get an estimate of when the local bus would be coming by. I called, punched in the stop ID, and it told me the bus would be arriving in 19 minutes. A while later I went to the bus stop, and the bus arrived exactly when it was supposed to. I rode it back to the hotel and got a restful sleep after a day of drinking and hiking.
Monday July 29. The day started out gray and cool but pleasant. Things were hustle bustle again as another work week started. I went to the local library for some free Internet time, then hung out at Pioneer Courtyard Square where there was a farmer's market, live music, and women doing "aerial dancing" on suspended silks and a hoop.
Walked over to BridgePort, a brewpub in a big open brick building a bit off the beaten path. They have a kitchen where they make their own bread. Tried all 8 of the beers they had on tap:
Long Ball Golden Ale
Chocolate Porter
Summer Breeze Bright Ale
Blue Heron Pale Ale
Kingpin Double Red Ale
IPA
Hop Czar Imperial IPA
Old Knucklehead (barleywine aged in bourbon barrels)
Stopped by Jamison Square Fountain where little kids were playing in the water.
Went to Henry's 12th Street Tavern. They had 100 taps, the most I saw anywhere during my entire trip. I tried:
10 Barrel Swill (a Berliner weisse)
Hop Valley Alpha Centauri Binary IPA (very good)
Alameda Yellow Wolf
Gigantic IPA
10 Barrel Apocalypse IPA
They opened in 2004. They have a frozen strip on the bar for keeping beers cold. They serve many kinds of booze. Their giant onion rings were great.
| | | |
| --- | --- | --- |
| | | |
| | | White strip is frozen part |
Next stop: Old Town Pizza / Old Town Brewing, which had just started brewing the previous year. They are open every day except Leonardo da Vinci's birthday (which is April 15). It's a small place that makes its own beer and pizza. The beer, which was so-so, is made at another location 2½ miles away. I tasted:
Frak Black Lager
Rye Baby Rye
Kolsch
Volks Wheat
Irish Red
IPA
Pale
Pilsner
Walked over to Bailey's Taproom, a bar with 20 taps. Got a sampler tray consisting of:
Terminal Gravity Tap Out Triple
Cascade Pay Czech IPA
Crux Impasse
Two Beers Crooked Belgian Wit
Fort George / Gigantic / Lompoc 3-Way IPA (a collaboration)
All the beers were good, clean and fresh. I met a friendly local named Nate. We went around the corner to Tug Boat Brewing. It is customary on Mondays to cheer people as they enter and boo as they leave. In addition to cheering we were greeted by a Welsh corgi named Oliver, who loved apples. According to our bartender, Tug Boat, which does open fermentation, is the smallest commercial brewery in Portland and also the oldest owner-operated one (there are older ones but they've been bought out). Unlike other brewpubs they don't do sampler trays. Nate and I tried their Hop Gold, Day Tripper, and Chernobyl Stout.
We walked back to the area of town I was staying in because it was on the way home for Nate. On the way he bummed a few cigarettes. People are good about sharing their smokes here. We went to the Cheerful Tortoise. I didn't get any beer because I was still intoxicated. We then parted ways. Adjacent to my hotel was a corner bar called Schmizza Pub & Grub. I stopped in and tried some Vertigo Razz and Worthy Saison. When I started dozing off I hit the hay.
Tuesday July 30. The day started out cloudy and mild. I had been to every pub I wanted to go to, so this would be a day without an agenda, to just go wherever and do whatever. Over the Morrison Bridge is Hair of the Dog. I returned there because I was so inebriated when I'd gone with Marty the previous week that I'd forgotten everything about it. I got samples of:
Blue Dot
Adam
Doggie Claws 2009
Doggie Claws 2010
Doggie Claws 2012
Peach Bourbon Fred (golden strong with peaches, aged in a bourbon barrel)
They'd been in business 20 years, and at this location for 3 years. All the Doggie Claws beers are barleywines. Talk about Christmas in July!
I walked back over the bridge to Pioneer Square and listened to a band called The Sale (the square has bands every Tuesday and Thursday). Went to the library to print out my boarding passes for the next day's flight home. As I was walking down the street eating a bag of tortilla chips, a woman proclaimed, "I'll take a chip." So I let her have one. People sure are into sharing around here.
I accidentally found Rock Bottom, which I had avoided because it's a chain and I knew the beers wouldn't be good, but what the hell, I was already there, and I hadn't had a beer in two hours. I tried an array of their pedestrian offerings including:
Kolsch
Belgian Style White
India Pale Ale
Red Ale
Specialty Dark 54°40' or Fight! CDA (has to do with a presidential campaign slogan referring to the original latitude separating the U.S. from British Columbia)
Summer Honey
Hildegard von Bingen (sour wit)
50 French Clovers
As I left it felt great to wander around with no particular goal, not in a hurry. I wondered whether homeless people felt that way. I walked along the riverfront and stumbled upon this:
At South Waterfront Park there is a shopping area that includes Full Sail Brewing at McCormick & Schmick's, which no one had ever mentioned, so I figured the beers would be bland. I was right. They included:
Helles
Berliner Weisse
English Pale
Amber
Barleywine
Slainte Stout (on nitrogen)
This location is an experimental brewery. The main brewery is in Hood River. They've been in business since 1988. The bartender told me that Portland is known not only for its brewpubs but also for its plethora of strip clubs and swingers clubs. I told him about my bar with 12 taps, and he gave me a Full Sail pint glass.
Afterward I happened upon one of the myriad McMenamins locations, which, due to being a large chain, I just knew would be disappointing, but in order to give the place a fair chance, I went in. The beers I tried, which were probably the worst of any brewpub I'd visited, included:
Jam Session India Session Ale
Ruby Ale
Hammerhead Ale
Orange Goblin India Pale Ale
Porter
Terminator Stout
They have 57 locations throughout Oregon and Washington, 23 of which have breweries. My server said he would be opening a place called Creative Beer Works in the northern part of Portland. He told me that not a single place in Portland has a dress code, and also that San Diego has almost as many breweries and brewpubs.
Wednesday July 31. Took the train to the airport. Ate a hearty breakfast consisting of a vegetarian wrap and a 16-ounce can of Hopworks IPA, which I had bought the day before.
The long trip back got me home at midnight. It had been a very successful trip consisting of 20 brewpubs, 14 bars, one beer festival, and well over 200 beers.