Pawleys 2010

In the summer of 2010 I went on a beach vacation, the first time I had spent more than a few days at the beach since 1981. I'm happy to report that after all this time the Atlantic Ocean is still there.
Traci, Bianca and I left on July 30. Traci and I listened to music while Bianca played travel bingo and other games. You remember travel bingo, don't you? You had this card with pictures of houses, cows, etc, and each time you spotted an item you'd exclaim, "House!" or "Cow!" or whatever the object was. There is a Washington DC version of the game, and as kids play it they shout things like "Lawyer!" and "Lobbyist!"
We followed our friends Dan, Leslie, and their son David, as well as their dog and guinea pig, to Pawleys Island SC. Located about 20 miles south of Myrtle Beach, it has all of the benefits of a beachy area, such as a beach, plus many restaurants and shops, without being nearly as crowded. It also has lots of golf courses, which you can play on for merely the price of a kidney.
After more than 9 hours we arrived at our destination: a beautiful condo owned by Leslie's parents. The first thing I did was stock the fridge with Ben Beer. Then I attended to less important matters such as my family. We all unpacked, got some take-out pulled pork and other comfort food, and ate and drank ourselves into a good night's sleep.
| | |
| --- | --- |
| | |
| Inside... | ...and outside (note turtles sunning themselves). |
Saturday July 31. We headed to the beach. On the way we passed the Pawleys Island town hall and police station, which are located in a shack about half the size of an average house. I expected to see Barney Fife sitting out front. Down the road was the Pawleys Island Yacht Club, an even smaller shack that didn't seem to be in use. Also, you know how people name their boats and display the names on them? Well, folks by the beach name their houses (e.g., Rudy's Roost).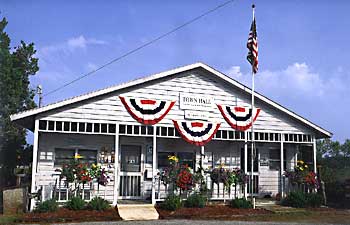 Town hall / police station.
Once at the beach, the ladies read while Dan, I and the children (or, as Traci and Leslie referred to us, the four children) played in the water. I "boogie boarded" for the first time ever. In case you're not familiar with this activity, it's exactly like surfing, except that the board is smaller, you lie down, and children can do it so you feel like a simpleton when you do it. Despite its simplicity, I still flipped over many times. It was a lot of fun, and it reminded me of that Beach Boys song. No, not "Surfin' USA". It was that other song, "Try Not to Drown", written by Dennis Wilson ironically.
We relaxed the rest of the afternoon with Ben Beer until it was time to head back for the first of many happy hours we would have on our trip. We packed the 387 pounds of stuff we had brought and walked back to our vehicles along the hot sandy trail. When we first arrived it wasn't much trouble, but now that we were tired and hot it was the Bataan Death March.
After a few drinks we went out to a brewpub called Quigley's Pint and Plate. The food was good but the beer was marginal, supporting my long-held theory that the further south you go, the more difficult it is to find good locally brewed beer. The best breweries tend to be located in the colder states. It's not that brewers down south can't brew; it's that most southerners aren't interested in good beer. Beer is made to cater to the public, not to try to educate their palates. The lack of public interest in the brewing craft was evidenced by the fact that this place didn't even have a beer menu. In fact, when the waitress rattled off the kinds of beers they had, she didn't even call them by their names - she listed commercial "equivalents". For example, instead of listing their lager or their kolsch or their witbier, she said Budweiser, Heineken, and Blue Moon. I asked her which beer was the hoppiest, and her reply was, "I have no idea."
Anyway, we got samples of most of their beers. Shakedown Wheat was a lawnmower beer. Neck Red was light and dry with a few flavor molecules and a somewhat bitter aftertaste. Summer Pilsner was dark, nutty, smooth and light. It tasted like it had Munich malt in it (the brewer later confirmed this). Swamp Fox IPA had a somewhat hoppy aroma and a pretty good hoppy flavor. Peach Wheat had a nice, very peachy aroma and a pretty good peachy flavor. White had a fairly good fruity aroma and flavor. I talked to the brewer after dinner. His name is Josh Quigley and he's been brewing professionally for 20 years. He opened this place in 2007. He uses a 7-barrel system. There are a couple of oak barrels in the brewhouse, and during the winter he will occasionally age an IPA or a stout in them. He used to brew at the Liberty Steakhouse and Brewery in Myrtle Beach, and he won a few medals at the Great American Beer Festival around 1997.
Sunday August 1. I jogged and did some exercises. My first morning workout in more than 20 years. The area has a lot of beautiful greenery, which is probably due to the 187% humidity. The many ponds in the area are chock full of frogs, turtles and fish. There are also snakes and alligators, though we didn't see any around the condo the entire time we were there. Although an occasional person or pet will get snatched by an alligator, for the most part they don't bother you. They're just mindless creatures that eat and poop, like Congress, the difference being that alligators don't misspend your money.
We spent the afternoon at the pool, which is in a nice secluded area surrounded by greenery.
After several hours drinking Ben Beer and piña coladas, we headed back for happy hour, because why stop drinking when you don't have to? We didn't feel like going out so we had a late dinner of leftovers.
Monday August 2. I normally never read newspapers, but since I had so much free time I decided to peruse the local rag. The front page had a story about plans for a road that will come uncomfortably close to a church's front door. If you can imagine. This is the sort of place I want to live: nothing bad happens, so this kind of story makes the headlines.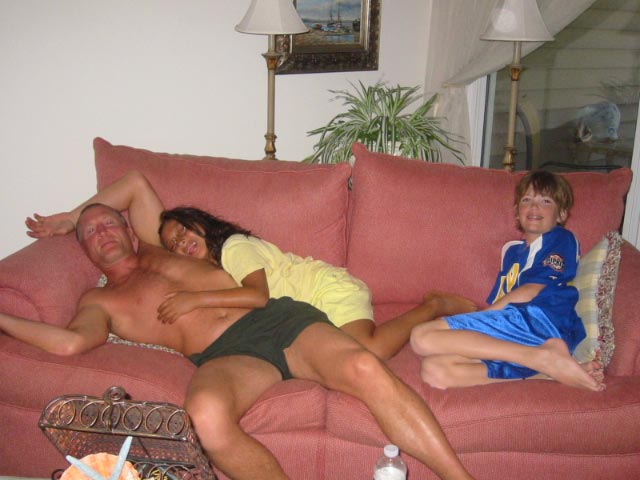 Bianca, David and I relaxing.
After a lazy, relaxing day doing whatever both indoors and at the pool, we had dinner at the Island Bar and Grill. The food was good, and reasonably priced. We sat outside where there was live music, and also a calico cat that had wandered onto the premises several months earlier and made its home there. Most of the beers on the menu were, shall we say, "less filling", but there were a couple of halfway decent ones. I got a bottle of New Belgium Fat Tire Amber Ale. After dinner we went putt-putt golfing, which was a lot of fun. I didn't do too badly. Tiger Woods has nothing on me. Unless you count the fact that he's way richer and better looking.
Tuesday August 3. Worked out in the morning again, in an attempt to purge some of the extra calories I'd been consuming. We went to the beach, and this time I stayed under the umbrella due to having gotten sunburned the day before. Then it was back to the condo for happy hour, dinner and 350 cable channels. You know, I'm not a sit-around kind of person, but I could get used to this.
| | |
| --- | --- |
| | |
| I stayed in the shade... | ...while Bianca enjoyed the sand. |
Wednesday August 4. A relaxing morning. We got our lazy butts to the pool at 1:30. After several grueling hours of playing, reading and drinking we went back for happy hour and then out for marginal food at JD's Steakhouse. We then went to a touristy shop for T-shirts and trinkets.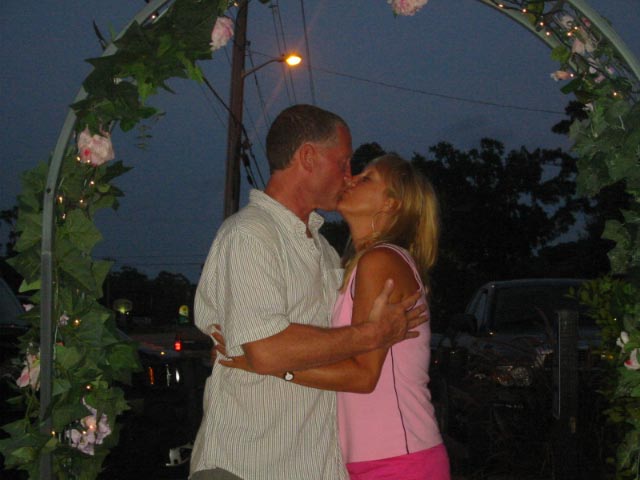 After dinner Bianca took this great picture.
Thursday August 5. Another day at the beach. Good news: The waves were bigger than usual, making for some good boogie boarding. Bad news: The bigger waves were caused by very strong winds, brought by Tropical Storm Collin, which wreaked havoc on our umbrella and made it difficult to relax while sitting around. Good thing we had beer.
| | |
| --- | --- |
| | |
| Funny caption, anyone? | David's and Bianca's treasures. |
We eventually left for an early happy hour consisting of margaritas, bloody Marys and rum-and-Cokes. Traci and I went to Quigley's and ordered take-out. While waiting we walked out back to the pond and saw an alligator and a lot of turtles. The gator seemed rather lethargic as it just floated in the water while the turtles bumped into it, as if it were on Prozac.
Friday August 6. Another morning workout. The weather was great until the monsoon hit. We spent the day indoors reading, watching cable, and of course drinking.
Saturday August 7. We went to Huntington Beach State Park, which had a nature center with a baby alligator and a few other animals. We walked along the boardwalk, over marshland that was pretty much stinky mud populated with millions of tiny crabs, tiny fish and a few birds. I hadn't been in such an unsavory place since I lived in Glen Burnie.
| | |
| --- | --- |
| | |
| The crabs were too small to show up on camera. | Where's Leslie? I think the crabs got her. |
Afterward we went to North Myrtle Beach. Our destination was a wildlife park located in a shopping center called Barefoot Landing, but first we had lunch at Bully's Pub and Grill. They had 32 beer taps, most of which were crap but there were a few good ones. New Belgium Ranger IPA had a nice hoppy aroma and flavor with light body. We also got a bottle of Orange Blossom Pilsner, made by South Carolina's own Thomas Creek Brewery. The orange blossom honey it's made with gave it a good light, refreshing, somewhat fruity flavor. Prices were very reasonable considering it was a touristy restaurant.
We didn't take any pictures at Bully's, but we passed this place on the way there.
The wildlife park, called Alligator Adventure, has hundreds of alligators, including two albino alligators. It also has some crocodiles, including Utan, a more than 2000-pound critter that is the largest croc on display in the U.S. (or so they claim). There are hundreds of turtles, several tortoises, some exotic birds, a couple of tigers, a few otters, a camel, a donkey and a zebra. The two reptile houses have many snakes (including two albino Burmese pythons), turtles, lizards, frogs, geckos, etc. We certainly got our fill of alligators. They were all over the place, lying around like they were hungover or something. We were hard pressed to find signs that they were alive, and we reported any sort of movement. "Look! That one moved!" "That one opened its mouth!" "That one gave me the finger!"
| | | |
| --- | --- | --- |
| | | |
| Albino alligators. | Alligators with tans. | "You know I can't feel that, right?" |
| | | |
| --- | --- | --- |
| | | |
| We got Leslie back. But the gators got David. | Alligator. Or crocodile. I can't tell. | Squirrels. (Just seeing if you're paying attention.) |
Sunday August 8. Hot and humid. Again. Got one last morning workout. We spent our final afternoon at the pool drinking Ben Brew, then had a margarita happy hour followed by packing and cleaning.
Monday August 9. Traci, Bianca and I headed out for the dreaded trip home. We stopped in Fayetteville NC for lunch at a brewpub called the Huske Hardware House Brewing Company.
The place was a hardware store from 1904 to 1970, then changed hands several times, and was turned into a brewpub in 1996. Imperial pints are only $2 on Mondays, so we were in luck. Rusty Nail Pale Ale (4.9% ABV) had a good hoppy, nutty aroma and a pretty good hoppy flavor but very light body. Farmhouse Ale (6.7% ABV), a bière de garde with spices, had a good estery, fruity aroma and a good smooth, somewhat fruity flavor. Sledgehammer Stout (6.2% ABV) had a good roasty, chocolaty aroma and flavor with a full body and creamy head provided by flaked oats and lactose. The brewer, Julie Baggett, who had originally intended to be a plastic surgeon but was steered into brewing by the beer gods, is the only professional female brewer I've met outside of Belgium. She gave us a tour of the glass-enclosed brewhouse that sits in the middle of the restaurant.
She does not filter any of the beers, but uses isinglass (a substance obtained from the dried swim bladders of certain species of fish) to help clarify them. There is no mill, so she dumps sacks of previously milled malt directly into the mash tun. Behind the bar there is a long, narrow room that holds the serving tanks, which feed the taps via underground glycol-chilled lines. Julie is a "minister" of the Beer Church (www.beerchurch.com). We got to talking about several brewing topics, and I brought in the one leftover homebrew from the trip so she could taste it. She noticed the Brettanomyces infection right away. She then gave me a bottle of peracetic acid, which is kind of like handing someone with halitosis a bottle of Listerine, but I was grateful because peracetic acid is difficult for homebrewers to obtain.
So that's my story and I'm sticking to it. Family, friends, beach, pool, food, beer, breweries, booze and sunshine. What more could anyone want?