Paris 2014

July 22, 2014. It was a typical summer day in Arlington as Andi and I hopped into the taxi. We had packed a total of approximately 23 metric tons of stuff because God forbid we go overseas without various dresses, blouses, make-up, high heels and boots. And I don't even want to mention the stuff she brought.
I wished that I'd had some air miles to cash in, but the way the credit card companies work this racket, you hardly get anything at all. They give you one "air mile" for each dollar you spend, but those "air miles" are not miles at all. What they do is convert each "mile" into one cent. So when they credit you with, say, a thousand air miles, it sounds great until you realize that it's only ten bucks. Here you thought that you'd be getting a free trip to Wichita, and instead you can barely afford the early bird special at Hooters. Not only that, they don't even let you use that money toward a flight until you accumulate enough for a whole flight. So for example, in order for me to earn my $1500 round-trip flight to Paris, I'd have had to buy $150,000 worth of stuff. Isn't that great? In order to get there for "free" I would have had to buy 7500 cases of beer.
We flew out of Reagan National because it is much easier to get into and out of than Dulles, which is not only more crowded but is also located in such a trafficky area that you might as well be in Singapore.
We walked into Reagan with our anvil-weight suitcases. Before we could check them we had to go to a kiosk that reads passports and dispenses luggage tags. I don't know who designed these tags, but it certainly wasn't anyone who likes people. The "tags" are long strips of adhesive plastic where you peel off the backing and wrap them around a luggage handle. That might sound simple, but you also have to save a portion as a claim check. Well, to make a long story short, Andi and I - who between us have two bachelors and one masters degree - couldn't figure out how to attach a friggin' luggage tag. We had to get a woman working behind the ticket counter to do it, effectively negating the time savings that the kiosks were designed to provide.
After weighing and checking our bags, we walked to our gate, passing at least a half dozen food vendors. With so much good food available at airports, I wonder why airlines bother to serve food, since the slop they dish out is so bad that passengers pray after they eat.
We go through the gate and walk the plank. Just when we think we've gotten on the plane without major incident, we are informed that all bags over a certain size must be checked because the overhead bins are very small, which makes no sense at all because we're flying American Airlines, and everything in America is super-sized: sodas, burgers, fries, Michael Moore, etc. Andi has one of those rolly-pully bags that most people seem to have and that are so large that they take up half an overhead bin and should therefore be checked anyway. They are the reason that I can never find space for any of my stuff up there, so anything I bring has to fit under the seat in front of me, which is why I always travel with a bag the size of a bike helmet. Anyway, they slap a "valet" tag on her bag and the guy who takes it tosses it into the Pit of Despair with all the other "valet" luggage.
Next we find our seats, which are the size of a small microwave and combine the pleasure of claustrophobia with the joy of sciatica.
By the way, you ever notice when you're getting ready for take-off, you hear and feel a bunch of thumping underneath? That's your luggage being thrown into the cargo area. Just thought you should know.
After a thankfully short flight to JFK, we boarded the 767 that would take us across the pond. The seats were even worse than the ones on our first leg - if that's possible - but fortunately it was a mostly empty plane, so I cleverly grabbed a middle seat in the center section, which had three seats across, as opposed to the right and left sections, which had only two. This would afford me the ability to lie down across them. Which I did, and let me tell you, it wasn't much more comfortable. But it did lessen the wear and tear on my hindquarters.
Dinner was the usual mixture of watefully packaged marginal foodstuffs. It came with free wine, which was absolutely horrific, but at least it was free. Of course, so is chlamydia.
Wednesday July 23. We landed at Charles de Gaulle airport and immediately got lost looking for our luggage. After a brief search, which took a little longer than Gone With the Wind (the book, not the movie), we were approached by a guy looking to get us into a taxi, whose company he obviously worked for. He initially wanted €70 (over $100) to get us to Paris, but we haggled him down to €50. It was a "private" taxi that didn't have a light on top, and I told Andi to have him show us some sort of ID. He handed her a business card that was probably printed at Kinko's. Still concerned that we were about to be kidnaped, we foolishly got into his moving jail cell and headed toward the city. At one point he drove into a mostly abandoned area, and I knew at that point that he was going to drive into a garage where we would be robbed, executed, and disposed of. So did Andi, as evidenced by the three fingers she broke while squeezing my hand.
It turns out that the driver was merely avoiding rush hour traffic, so we had unnecessarily started our vacation with mild coronaries.
It was too early to check into the Terrass Hôtel, so we left our bags there and walked around the area. The first thing we noticed was how dirty the streets were. Trash and the aroma of urine reminded me of New York City. We did, however, find a nice little park.
We got some dark chocolate, which was great. We also stopped at a café to drink a small cup of coffee, which was like chewing on a hop pellet. Andi's sister Dani, who lives nearby, joined us. Then we all walked around and checked out the shops. As we expected, prices were exorbitant. For example, sliced turkey (or some form of white meat -- the sign was in French) was $24 per pound. I will never again complain about paying $9 per pound for salmon.
We found that the city was not just dirty and smelly - it was loud too. The constant barrage of motorcycles, cars, buses and trucks was astounding when you consider that Europeans pay twice as much for gas as we do. It seems that they've never heard of catalytic converters because the exhaust fumes were positively ghastly - even worse than the tobacco smoke, which was almost as ubiquitous.
We went up to Dani's apartment ("flat"), located in a beautiful gated area with nice greenery. We had to walk up about a hundred steps to get to it, as she lives in the Montmartre district, which is the most hilly part of Paris. She went out for a while, leaving Andi and me to take a much-needed two-hour nap.
We awakened nice and refreshed, then went to the hotel and checked in. It was a nice place. I had saved an electrical adapter from my previous trip to Belgium five years earlier, but this square doohickey wouldn't fit in the round sockets. Fortunately the front desk had a correct adapter.
Having read that Paris is home to many pickpockets, I put my IDs and cash in a money belt underneath my shirt. I also stuck an empty wallet in my back pocket to see how long it would take to get stolen.
The streets are, as they have always been, made of cobblestone. The city is festooned with about a jillion shops selling everything from cheese to wine to fresh produce to clothing. There are also a zillion cafés, restaurants and bars, as well as a fair number of street vendors. It's a quaint city. Loud and smelly, but quaint. More people eat at tables on the sidewalk than inside because, well, that's what they do there. At many places all the chairs face the street. They seem to enjoy looking at passers-by, hearing traffic, and breathing in fumes. Also, it seems that the majority of Parisians smoke, as is the case throughout most of Europe, which makes me wonder how they are able to live as long as Americans do. I assume it's due to a more relaxed lifestyle and the fact that they walk more and eat less than we do.
We picked up several bottles of wine, different types of dark chocolate and some dinner food, and went to Dani's. I had picked out five cheap wines for about $4 each in order to test them against the higher priced wine that Andi picked out. I'd heard that all the wine in Paris is good, and that it isn't possible to buy a bad one. Well, let me tell you, there is plenty of bad wine in Paris. All the cheap wines were the most God-awful crap ever made, unless you count the wines I used to make. Good wine runs a minimum of $20 per bottle, and of course you can pay more than $100 if you want to.
The chocolates were a different story. All of them were great. Our favorite was Côte d'Or Truffé Noir, which had chocolate fudgy stuff in the middle. Dani's boyfriend Oleg and I also drank canned versions of Leffe Blonde and Hoegaarden White.
Thursday July 24. A fire alarm (probably someone was smoking in their room) woke us up at 6:30, which was serendipitous because we wanted to get to the Eiffel Tower early in order to beat the crowd. We picked up some snack food (fresh bread, cheese, etc) and rode the Métro (Paris's subway system) downtown. [Note: always carry coins in Paris because some of the Métro ticket machines do not accept bills, and the information windows often won't give change. Also, your credit card will not work because they use a chip and PIN system.] Not realizing the distance from our Métro stop to the Eiffel Tower, we walked about two miles, arriving a little while before it opened.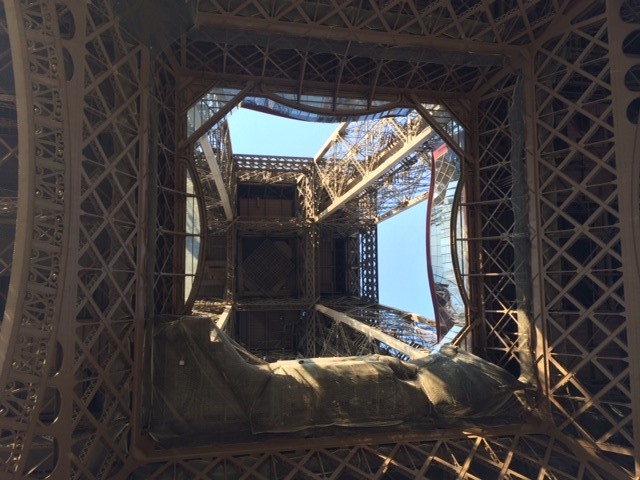 The view from underneath the Tower.
The line of people waiting to ride the elevator to the first and second levels was already long, but the line to walk the stairs was quite short. We got in the latter line and were able to buy our tickets and enter less than 15 minutes after the Tower opened. I'd read that one can climb the 700 steps to the second level in about 20 minutes. We made it in 10. Once you're on the second level you need a lift ticket to ride the elevator all the way to the top. We rode up and got some expansive views of the city. It was a beautiful, clear day and we could see for miles.
The second level also gave great views.
The first level has some glass sections of floor that you can stand on and see the ground below.
Afterward we walked around and met this guy.
Then we took a boat ride on the Seine River, which cuts through the center of Paris. We saw many people and activites along the banks, and many bridges, including some "lock bridges" (more on these later). We also learned that the 35,000 paintings on display at the Louvre constitute less than 8% of its total collection.
| | | |
| --- | --- | --- |
| | | |
| Lounging on recliners... | ...and on a makeshift beach. | Check out all those locks. |
After that we found a grassy area and had a picnic under a chestnut tree before riding a hot, crowded, smelly bus back to the hotel. Then Dani led us on a walk around Montmartre. We went by Moulin Rouge, Pigalle, a bar at Hotel de Clermont where French boxer Marcel Cerdan and his alcoholic wife used to drink in the 1930s, Place du Tertre (where artists were creating amazing sketches), and Sacré-Coeur.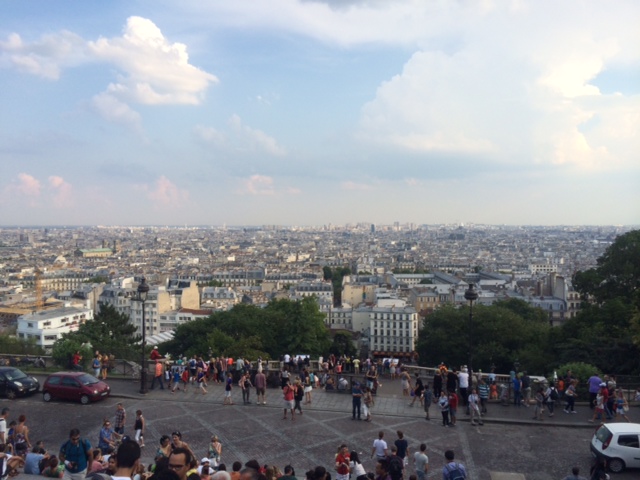 The view from Sacré-Coeur.

Afterward we had dinner at Dani and Oleg's consisting of amazing pizza from Il Brigante (which many believe is the best pizza in Paris), some good wine, and a few Belgian beers. Later as Andi and I walked back to our hotel room at 10:30 PM, many people were still having dinner at the local restaurants and cafés.

Friday July 25. We picked up fresh bread, croissants, champagne and other stuff. A lot of people were out and about. We took the Métro to the semi-famous Rue Cler, which is closed to motor traffic and lined with cafés and stores. The entire walk took all of 5 minutes. We ducked into a café for a drink, then headed toward a bar called Chez Georges, which I had read has a neat cave.

As we walked along a cozy, shop-lined, untrafficked street, we stumbled upon a brewpub called Brasserie O'Neil. The kettles in front are actually used (some places' visible kettles are only for show). Fermentation is done in a cold room downstairs, and beer lines run up to the taps. They had 5 draughts: Blonde (good and light), Blanche (a very good witbier), Fruits Rouges (a great fruity beer), Amber (malty and caramelly), and Brune (a light stout). We got to meet the brewer. The bartender was very nice, and he drank occasional beer samples in order to keep himself happy. He asked us which two beers we liked best. We told him the Blanche and the Fruits Rouges. He gave us a free glass of each. They played American and British music, some of it obscure (can you say Captain Sensible?). It seemed to be a rather non-touristy place. I was pleasantly surprised that some good beer was made in France.

Just up the street we arrived at Chez Georges (not to be confused with another Chez Georges that is a Zagat-rated restaurant). We went downstairs to see the cave. An old woman who didn't speak a word of English opened the jail cell-like iron gate that led to the bar area, which was set up with tables, chairs and lights. From our very limited understanding of French we gathered that we were in catacombs that were built under a church around 1650. Either that or our wombat was on fire.

Back up on street level the bar was just a dive serving swill, but we ordered one drink out of a sense of obligation.

That night we went with Dani to a restaurant called Bones, where Oleg is a chef. It's a highly rated place serving gourmet food. It was rather hot inside but quite popular and the food was great. Later on Andi and I had a drink near our hotel at Chez something-or-other.

Saturday July 26. Another beautiful day. We slept in late, got a couple of crepes (see video of one being made), and Métroed to the Arc de Triomphe, which is located in the middle of a huge traffic circle.

We walked down the Champs-Élysées, a famous boulevard lined with a bazillion shops and cafés. It seemed that the sidewalk we were on was wider than the one on the other side and contained most of the cafés. It was very commercial and touristy. We veered off the beaten path to explore the side streets, which had quieter and less touristy restaurants and bars. We ducked into Pub Élysées and had a couple of glasses of Leffe Ruby, a nice fruit beer from Belgium that neither of us had tasted before.

After making it down to the Seine, below the crowded and noisy street that runs alongside and above it, we had a nice walk. There were lots of people, refreshment stands and activities. We had some beer and wine and took a little siesta. There was a tether ball-like game in which paddles are used to hit a ball around a pole. The rope is on a swivel so it won't wrap. We played that for a while. We also played backgammon at an area where people played a number of board games including chess, Chinese checkers, and others. It was a beautiful day and we had a great time in between the frequent wafts of smoke and urine.

There are several bridges that contain thousands of padlocks. It has become a tradition for lovers to attach a lock to a bridge and drop the key in the water. A lot of couples write their names and the date they were there on their lock or the handrail. Most couples use a single lock, but Andi and I used two.

Up on the main drag we stopped at L'Ecluse Grands-Augustins, which is one of several L'Ecluse locations. It's a wine bar that specializes in Bordeaux. It's a nice cozy little place that was empty inside because we got there during the late afternoon lull. We sat outside and had four kinds of Bordeaux and a cheese plate that included sheep cheese. There was one wine that we particularly liked. They didn't have any bottles to sell, but our server said that there were some at another one of their locations, so we planned to pick some up a few days later. Eventually around 7 PM customers started to roll in.

We walked along past lots of cute little places where thousands of people sat outside eating and drinking. We stopped at La Gueuze, a touristy and expensive restaurant with about 120 beers, most of them Belgian. We got bottles of Hoegaarden Forbidden Fruit and Westmalle Triple, the latter of which has been one of my favorite beers of all time since I first had it in 2003. Our waiter was rude and cold, but he was the only person who hadn't been nice to us in the four days we'd been there, which for Paris isn't bad.

We continued on past many more cafés and homeless people, many of who had dogs (I'm referring to the homeless people, not the cafés), to the Métro and back to our hotel.

Sunday July 27. We got up a little later than we'd hoped, picked up some food and went to the Louvre. We arrived just as they opened at 9 AM, and we got right in with the tickets that our concierge had ordered for us. I'd heard that the lines for the Louvre can be very long, so we played our cards right by getting there early on a Sunday.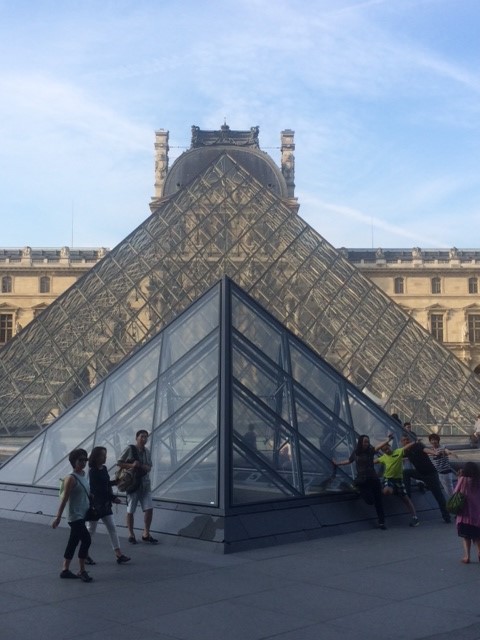 The Louvre Pyramid (back) and one of the three small pyramids (front).
As you might already know, the place is ginormous and contains thousands of works of art and artifacts: paintings, sculptures, stained glass, tools, bowls, furniture, tapestries. The Louvre itself is nice too, with elegant construction and ceiling murals.
The works of hundreds of artists are on display, not just the famous ones. In fact, I liked some of the unknown artists' works better than those of the famous artists. For example, the Mona Lisa did not impress me. Yeah, it's a nice painting, but there are many others that to my eye were much prettier. Likewise, the Venus de Milo was nice, but there were many other sculptures that I thought blew it away. Why I didn't take photos of some of those sculptures I don't know.
Dani met us around midday and the three of us had a picnic at Jardin des Tuileries, which is adjacent to the Louvre. Then we went back into the Louvre for a few more hours of art.
The place closed at 6 PM. We then walked past many cafés where everyone was drinking but not one person had any food in front of them. People eat later in Paris than we do. Dinner hours are typically 7-10 PM.
Back at the hotel Andi and I had a nice romantic time up on the roof. We ordered some wine; food; and a beer from the local brewery, La Goutte d'Or. There was a good view of the city.
Monday July 28. Yet another beautiful day. We went to the Marais section of the city, which among other things contains the Jewish Quarter. We purposely didn't eat anything beforehand so we'd have an appetite for the food. We walked by the apartment building where Jim Morrison died, then headed over to the Hôtel de Sully, which has a nice courtyard and garden.
| | |
| --- | --- |
| | |
| | I think it looks better with just Andi. |
We walked through to a sort of office building with nice walkways...
...to Place des Vosges, a square laid out by King Henri IV and lined with terraces of townhouses, one of which Victor Hugo once lived in. It's a pretty park and many people were enjoying it.
In the Jewish Quarter there were more falafel places than you could shake a Torah at. We got a veggie falafel at Pitzman's because there was a line so it had to be good. It was. We ate at Miznon, a small, busy, non-touristy place serving great food. They used no plates and no styrofoam - all the food was served in paper. Our fish pita and cauliflower head were delish. There were many kinds of food available in this section of town, including kosher pizza.
We walked by the Pompidou Centre, a complex building that houses a public library and an art museum. In the photo on the right, the figure next to me is an actual person.
After a rest at the hotel, we went to Dani and Oleg's place and had great Jerusalem cuisine prepared by Oleg. We dined in their beautiful garden. Then we went inside and spent the evening drinking wine and listening to 80s music.
Tuesday July 29. After a good night's sleep we awoke to the first cloudy day of our trip. The temperature was still nice though. We had brunch with Dani at her place, then the three of us went to the consignment shop where she works. The two ladies perused the stuff while I wandered the streets in order to avoid the excruciating agony of watching Andi shop.
Later we returned to the Jewish Quarter in hopes of having kosher pizza but the place had just closed for vacation (it is very common for businesses to close for "holiday" from late July to late August). So we went to Miznon for ratatouille and another cauliflower head. We asked for a knife to cut the cauliflower. They gave us a cleaver. One of the cooks made some lemonade and tasted it right from the ladle he was stirring it with (Europeans aren't as germ-phobic as we are). He gave us each a cup of it.
By the way, some of the Métro trains have drivers and some don't. For the latter, trains going in opposite directions arrive at the same station at about the same time, and leave at exactly the same time.
We headed to the L'Ecluse Boutique to buy some of the wine we'd liked at L'Ecluse Grands-Augustins a few days prior, plus a few other bottles.
After a nap at the hotel, we headed to La Fine Mousse to meet my friend Keith, who happened to be in Paris at that time and told us about this place. La Fine Mousse is actually two locations: a bar on one side of the street, where beer and limited food are served; and a restaurant on the other, which serves a full menu and a different permutation of beers. The bar has 20 taps and a bunch of bottles. After several selections and some charcuterie we went to the restaurant at around 11 PM for dinner but they'd stopped serving. We couldn't even buy beer there because it's served only with dinner. We went for a fast crêpe at a local take-out shop and then back to the bar for a few more beers.
Afterward we got on the Métro to return to the hotel. We arrived at our connecting station just before 1 AM, at which point the Métro closed for the night and everyone in the station got kicked out, so we took a taxi the rest of the way back. Lessons learned that evening: 1) arrive at restaurants by 10 PM if you want dinner, and 2) arrive at the Métro by midnight if you want it to bring you where you're going.
Wednesday July 30. We slept in fairly late, had lunch with Dani in her garden, and went downtown. Along the river, activities included foosball, bocce, dancing, and lying on a makeshift beach. We went under the Pont Neuf bridge where the river splits to buy cruise tickets for that evening.
| | | |
| --- | --- | --- |
| | | |
| Chickens in the garden. | The Seine splits here. | Andi with some old guy. |
We walked to Ô Chateau. They do organized wine tastings in the afternoon. We were too late for that but it worked out even better because we were the only customers inside and our sommelier gave us a private tasting of about eight wines. We also got some gourmet food. They keep the tasting wines in a glass case and dispense them from the bottles via tube contraptions that replace the wine with argon in order to prevent oxidation. They keep the whites and rosés at 44°F and the reds at 60°F. Andi loved one of the wines so we bought a bottle to go.
Afterward we went back under the Pont Neuf bridge, where hundreds of people picnicked on the grass. Almost everyone was drinking wine, as there are no open container laws in many places in Europe including Paris. Andi and I sat down, opened our bottle and enjoyed the approaching dusk. Then we took a nice evening cruise up and down the Seine. Along the banks thousands and thousands of people ate, drank, danced, waved to us, hooted and hollered. We saw all the famous attractions. The Eiffel Tower was lit up. We took the photo below, but if you want to see the Tower when the sky is darker, click here. They turn the lights on every night at 10 PM, and the Tower sparkles for 5 minutes every hour on the hour. We had some more of our wine during the cruise, and finished it off during our walk to the Métro.
Back at the hotel Dani came up to share wine with us. I drank a can of Belgian ale and went to sleep while the ladies hung out on the roof until the wee hours.
Thursday July 31. The dreaded last day. We packed. Dani and Oleg met us at the hotel to say good-bye. A taxi took us to the airport, where we went through a series of checkpoints that would put the CIA to shame.
The 8-hour flight to Boston was smooth and uneventful. Getting to our connecting flight was a bit more complicated as we had to go through immigration, retrieve our checked luggage, re-check it, take a shuttle to another terminal, and go through security. Hearing the Logan Airport employees' thick Boston accent reminded me of my youth and made me feel at home. The water from the "bubblah" (water fountain) was every bit as good as it was when I was growing up.
We boarded our flight to Reagan. We were told to turn off our cell phones. Why? Is there really a danger that someone could bring the plane down with an Android? I can see the news story now:
(Boston MA): USAir flight 2123 crashed shortly after takeoff, killing all 251 passengers and crew. A lengthy investigation revealed that the cause of the crash was one asshole posting to Facebook.
Anyway, we made it to Reagan. I can't say the same for our luggage, which never made it onto the plane. But the airline did deliver it to Andi's place early the next day, and I'm happy to say that all the wine, chocolate and cheese that we'd packed arrived safely.

What a great trip. The sights, food, beer, wine, long walks, culture and weather were all just dandy.

Oh, and my wallet never got stolen.