Belgium Comes to Cooperstown / Shufflin' Off to Buffalo
Beer Camp and More

My liver de-friended me. But I don't care, because the 2011 Belgium Comes to Cooperstown festival was more fun than hitting Justin Bieber with a lug wrench.
But I digress. I made the six-hour journey to Brewery Ommegang with my long-time friend Tony, who incidentally accompanied me on my 2009 Belgium tour. We met up with several other beer enthusiast friends: Jason, Lisa, Nestor, Kristie, Paul, prominent beer writer Chuck Cook, and Stillwater Artisanal Ales brewer Brian Strumke. The vast Ommegang grounds were mostly empty so I thought I'd snap a few photos before the masses arrived.
| | | |
| --- | --- | --- |
| | | |
| | The brewery. | The main festival tent. |
As Tony and I set up our tents I noticed a considerable ... uh ... size difference. Maybe you'll notice it too.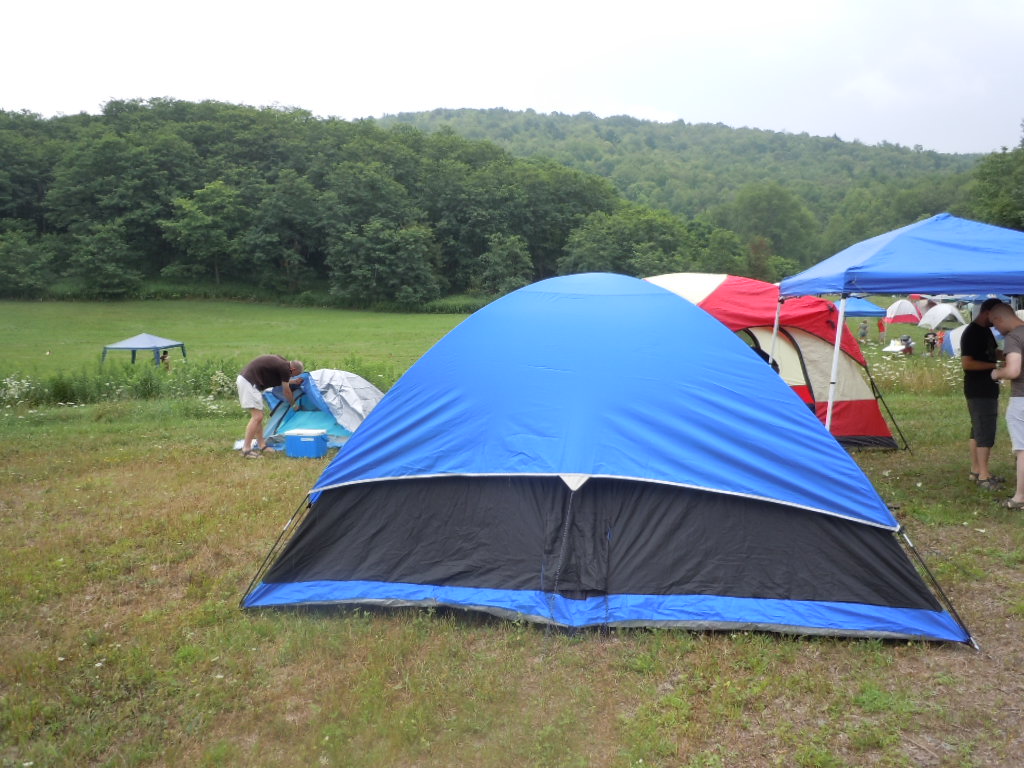 My blue tent. Tony and his tent are just to the left. Apparently I'm compensating for something.
We began consuming quaffables -- or is it quaffing consumables? -- including my homemade saison, Stillwater/Mikkeler collaboration ale Our Side, Bullfrog Brewing Edgar IPA, a sour ale made by several CRABS members, Paul's triple-hopped IPA, Widmer Brothers Pitch Black IPA, Bullfrog Brewing Oud Witte, my blueberry gueuze, someone's roggenbier, a cranberry wine/cider mix, Brooklyn Brewery Local 1, Stillwater Cellar Door, someone's peche, my strawberry/raspberry gueuze, and Jason's incredible cabernet lambic. We also sampled some other beers whose names escape me.
We met all sorts of beer enthusiasts, including members of the Fitchburg Order of Ale Makers, who had several beers on tap. They're from my home state of Massachusetts, and I had a wicked pissa time talking with them in our retahdid accents.
We got stormed by hundreds of caterpillars that rappelled in from the trees. I think word got around that there was good beer to be had.
I went over to the Heavy Seas tent, where Kurt, who camped with them even though he now works at Duclaw, was drinking Strohs and wearing a Strohs shirt. What a retahd. But he shared a bottle of 2011 Symposium Sour Brown from the 2011 Craft Brewers Conference.
Then it was time for the VIP dinner, which septic organisms such as I were not invited to because VIP tickets sold out in one minute. Apparently Gone in 60 Seconds refers to more than my love life. I watched enviously as hundreds of happy drunk people enjoyed themselves while we paupers were left in the cold.
Well, it didn't matter because as Jason, Lisa, Tony and I sat at our campsite, Kristie sneaked us some De Koninck Pale Ale. Then Jason had the courage to waltz into the dinner and grab a few bottles of Maredsous Blonde as Homeland Security chased him away. We shared some with our neighbors, who then shared some Southern Tier Pumpking and gave me an unopened bottle of Ommegang/Achouffe Gnomegang. Then Jason, who was a festival volunteer, put on his volunteer T-shirt and walked right past security to sneak us some Ommegang Hennepin and Ommegang Abbey Ale. We also had some Tröegs Java Head but I can't remember where it came from.
As darkness fell we were all able to just walk right in the side entrance and sit down with Nestor, Kristie and Chuck. Brian had left, as had many other people, because while the beer flowed freely, the food was very slow in arriving and people were drunk and hungry. Our table had many bottles including De Koninck Pale Ale, Maredsous Blonde, Ommegang Hennepin, Ommegang Abbey Ale, Chouffe Houblon, Ommegang Witte, and Duvel. I got some beef tenderloin and some cheese that tasted like vomit but I liked it. They served Liefman's Fruitesse with ice in it. Dessert included a chocolate guitar.
Outside the VIP tent I caught a big fat healthy toad, which went well with the Duvel. I'm kidding! I would never eat a raw toad.
The rest of the night was spent drinking great beer with great people, who shared all sorts of potent potables, including a raspberry jalapeño beer, The Bruery Three French Hens, Ballast Point Sculpin (which was great), Stillwater/Mikkeller Our Side, Unibroue Edition 2005, Alesmith 2008 Wee Heavy, a jalapeño IPA, 2007 Cantillon Iris (spectacular), Cantillon Gueuze, my gueuze, and Ithaca Flower Power (even better than Sculpin). One guy had a cooler that he kept pulling beers from, so naturally I hung out there for a while. The weather was perfect and it was a beautiful night with lots of stars in the sky. I got to bed after 3 AM.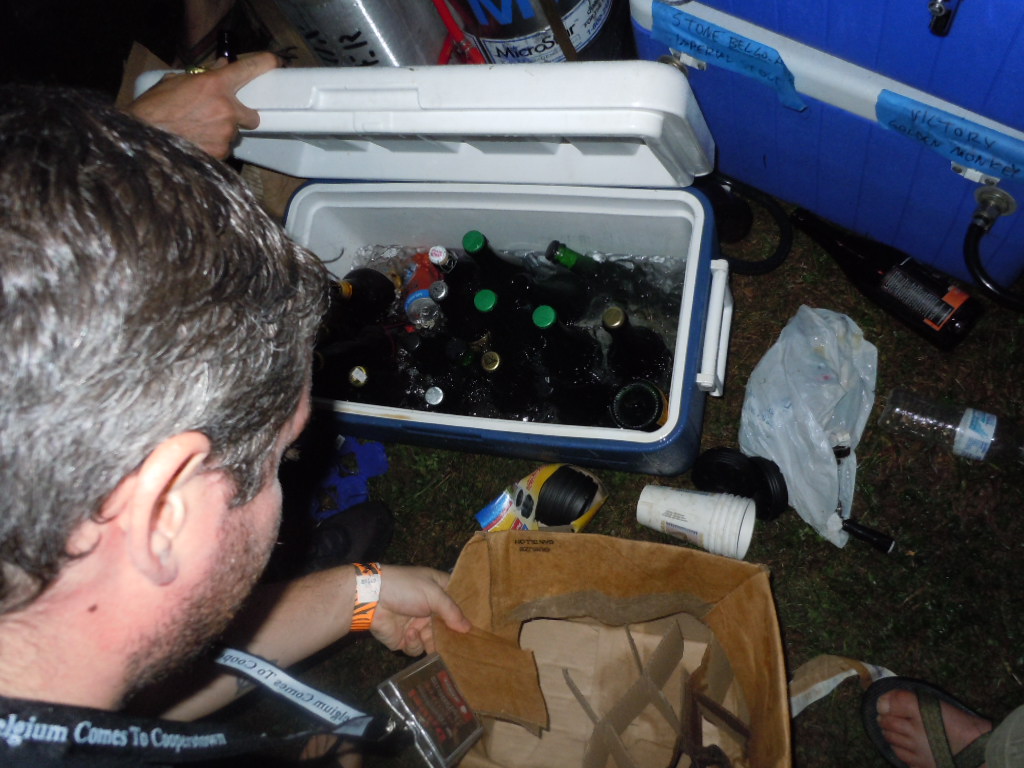 My new friend and his cooler.
Saturday July 30. A gorgeous day. Took a much-needed shower. Thousands of bottles were strewn about the many campsites. We had breakfast, then Tony and I walked all around the grounds. I talked to the Allagash folks and told them that I loved their Triple. One of them handed me a bottle of it.
We gathered Jason, Lisa, Nestor and Kristie to get a tour of the brewery. The name of the brewery, Ommegang, refers to a type of medieval pageant that was often celebrated in the Netherlands, Belgium and France. In the photo above right, the date 1549 refers to a particular Ommegang from that year that celebrated Emperor Charles V in Brussels. The other date, 1997, is the year that Brewery Ommegang was founded. The brewery is 100% owned by Duvel. In the 1800s the area produced 80% of America's hops, but eventually the soil could no longer support that industry. Brewing operations go on 24/7 and there are 10 brewers. The photo of the brewery at the very top center of this page shows a silo with a cow-like design. That's the one that holds the spent grain that farmers feed to their cows. (The spent grain ferments, producing alcohol that makes the cows tipsy. Maybe this is how cow-tipping got started.) All hops are in pellet form. They plan to double their brewing capacity in the next few years. All brewing water comes from a local aquifer. They filter most of their beers. Bottles are stored in a 174° cellar for conditioning. Their beers are sold in 43 states including Hawaii.
After the tour many more people arrived. Compare these photos with the ones I took when I first arrived:
We got our tasting glasses for the main beer tasting. They gave us a number of beer tickets, which were only a formality: the fest is all-you-can-drink, but according to New York law they had to hand out beer tickets. We then drank some pre-fest beers, including Hill Farmstead Brewery Flora, Lost Abbey Ten Commandments, Unibroue 11, Jason's saison, my Flanders red, Cigar City Brewing Guava Grove (a nice sour ale), and 8 beers from the side of someone's truck.
We ate lunch in order to lay a base, then headed over for the main beer tasting. There was no security so our wristbands were about as useful to us as Obama is to our economy. Roughly 70-80 breweries served about 150 beers. Tony and I hit almost every brewery (a few such as Allagash ran out of beer before we got to them) and sampled the following:
Sly Fox Incubus [a nice triple]
Terrapin Monk's Revenge
Three Heads Skunk Black IPA
Three Heads Ontario Coast
Tröegs Belgian Quad
Victory Helios
Dupont Foret
White Birch Hooksett Ale [enamel stripper!]
White Birch's (?) barleywine/triple mix aged in a 5-gallon cask since October 2009
Yards Brewing Saison
Liefman's Cuvee Brut
Ommegang Eleven By Volume
Liefmans Goudenband
McChouffe Skotch Ale
Maredsous Abbey Triple
Duvel Triple Hop
Ommegang/Achouffe Gnomegang
Ommegang Aphrodite
Ommegang Belgian Pale Ale
Ommegang Chocolate Indulgence [a nice stout]
Rooster Fish Brewing Triple Wit Ale
Het Anker Dentergems Witbier
Six Point Belgian IPA
Schmaltz Hebrew Hop Manna IPA
Smuttynose Star Island Single
Southampton Public House Saison
Southampton Public House Abbot 12
Southampton Public House IPA
Stillwater Artisan Ales Debutante
Stillwater Artisan Ales Chardonnay Barrel-Aged Saison
Stillwater Artisan Ales Cellar Door
Stone Cali-Belgique
Stone IPA
Stone Saison du Buff
Pretty Things Beer and Ale Project Babayaga
Pretty Things Beer and Ale Project Jack D'Or
Peekskill Hop Top (?)
Olde Burnside Penny Weiz
North Coast Pranqster
Rogue Oregasmic Ale
Lawson's Finest Liquids Session in the Rye
Rodenbach Original
Lagunitas 13
Lagunitas IPA
Keegan Ales Hurricane Kitty
Kelso of Brooklyn Flemish Ale
Ithaca Brut [some fecal notes, but good, which shows how drunk I was]
Ithaca Dark Humor
Horseheads Hefe
Harpoon Belgian Pale Ale
Harpoon Leviathan
Bavik Petrus Aged Pale Ale [great sour ale]
Rodenbach Monk's Café Flemish Sour Ale
Piraat Gulden Draak
Bavik Wittekerke Framboise
Flying Bison Belgian Bitter Cuvee
Fort Collins Rocky Mountain IPA
Empire White Aphro
Empire Purple Dragon
Huyghe Delirium Tremens
Val-Dieu Grand Cru
Val-Dieu Triple
Custom Brew Crafters Caged Alpha Monkey IPA
Heavy Seas Red Sky at Night
Captain Lawrence Saison
Bobcat Café Dennis Hop'rd
Butternuts Country Gold
Brooklyn Local 2
Brooklyn Sorachi Ace
Boulder Evil Mod (?)
Bells / De Proef Bangwee (?)
Malheur 10
Lefebvre Barbãr
St. Feuillen Saison
Bosteels Kwak
Stillwater had the longest line that I saw, and they eventually ran out of beer. Some people wore costumes: I saw monk outfits, and one group of guys dressed up like the members of Spinal Tap because this year's festival theme was Spinal Tap (many graphic fonts were the same as Spinal Tap's, and they showed This is Spinal Tap at midnight).
Immediately afterward Tony and I sat down to chat with some folks. Actually he chatted; I passed out. According to him, one was an artist/teacher/knitter named Dina, another was a graphic artist named Matt, there was a nurse named Maryanne, her husband Keith, and a guy named Steve. Eventually I woke up. I said I was thirsty so one person went to his campsite and brought a bottle of Hanssens Oude Kriek. It tasted good but I was still thirsty. We all went to their campsite, where they shared some Thirsty Brewing Cerberus Triple, Dupont Bons Voeux, and Brooklyn Sorachi Ace. They said they were gonna name their beer fridge after me.
| | |
| --- | --- |
| | |
| At least I was still able to hold a camera. | I don't know where she came from. |
| | |
| --- | --- |
| | |
| Still standing. | I swear I was not hitting on her. |
The temperature dropped precipitously (a word I couldn't even begin to pronounce at the time), so I returned to our campsite to put on some sweats. The Spinal Tap guys shared some 18% ABV beer from Kuhnhenn. We went to watch a band called Jimkata, whose musical style reminded me of the Police's Regatta de Blanc album. They rocked! You can click here for a few seconds of their performance, but my crappy camera doesn't do them any justice. Afterward there were fireworks.
At this point I lost track of everyone but I managed to visit some campsites and drink some Epic Sour Apple and Avery Maharaja. I got to bed around 2 AM.
| | |
| --- | --- |
| | |
| Campfires. | If you pulled this tap you got cream ale. |
Sunday July 31. The early fog cleared, giving us another beautiful day. Once again the place was festooned with many beer bottles. People packed up and there was a mass exodus. I watched as people packed their tents into tent bags. I have never been able to do that. I have owned about three tents, and once I took them out of their bags, I never got them back in. I truly believe that tents are packed at the factory by industrial grade hydraulic presses, not human hands.
As Tony and I drove away, the area reminded me of Belgium, except more hilly. It was beautiful and pastoral, and had many farms. Four hours later we were in the suburban Buffalo town of Cheektowaga, where Tony grew up. It is a quaint, quiet place reminiscent of the 1960s. We visited some of his family and friends, then went to his cousin Jason's, where we would be staying for the next three days. We then headed for the Blue Monk, which is located on the semi-famous Elmwood Strip in Buffalo. We were told about this place at the Ommegang fest. It had just opened 10 months earlier. Tony's cousin Jason met us there with his friend Greg. Several folks were tattooed, including our bartendress, who had also been to the Ommegang fest and had driven back that day. There were 32 taps and about 100 bottled selections, including several Trappists and sours. Flying Bison Rusty Chain was a drinkable amber. Duchesse de Bourgogne had a good sweet, slightly sour/vinegary flavor. Dupont Moinette was nice and estery. Wintercoat Double Hop IPA was rather smoky. De Proef Knock-Out was a pretty good estery beer. Urthel Hop-it had a nice hoppy, estery flavor. Goose Island Sofie was nice, light and estery. I got a great sandwich with roast beef braised in Ommegang Rare Vos. Tony got a duck reuben.
Afterward we walked around the area. The strip is quite long, and just a block or two off it are very beautiful, cozy neighborhoods with big trees and old-style houses with porches and balconies. I was told that the place is so popular that when houses go up for sale, they get snagged up before they can even be listed.
Afterward Tony and I went to Delaware Park to see As You Like It by Shakespeare in Delaware Park. It was a great show. Delaware Park is a beautiful place. Hundreds of people sat in lawn chairs or on blankets for the show, some eating and others sipping wine.
Monday August 1. The forecast was for a high temperature of 87°, which is high by Buffalo standards. Tony and I went to breakfast with his parents at a diner called the Olive Tree. The area is definitely slower paced than the Baltimore/DC area. The people seem to be happier and less stressed/uptight.
The two of us then went to Niagara Falls. We parked along the Niagara River and walked along it to the falls. As we got closer to the falls, the river became more rapid. Click here and here for some brief footage.
There are two main falls areas: the American Falls (which is subdivided into the American Falls and Bridal Veil Falls), and the Canadian Falls (also called the Horseshoe Falls because of its curved shape). Click here and here for some brief American Falls footage, and here for some brief Canadian Falls footage.
We took the Cave of the Winds tour, where you go to the bottom of the American Falls. They issue you a yellow poncho and sandals for obvious reasons. In this video you will notice a wooden scaffold that people climb. It has to be rebuilt every year because in the winter chunks of ice fall and ruin it.
| | |
| --- | --- |
| | |
| Auditioning for a Devo video. | Might as well put a "No ham" sign in a synagogue. |
After that we did the Maid of the Mist tour, where you ride a boat past the American Falls to the Canadian Falls. This time you get a blue poncho. Here is brief footage of the American Falls. I was unable to get a good video of the Canadian Falls because my camera isn't waterproof, but I found some distant footage here. In the video, notice the boat with all the passengers dressed in blue.
After that we went to a different location where we could see both the American (left) and part of the Canadian (right) Falls. Here is a brief video.
We left Niagara Falls and went to Williamsville. We stopped at a restaurant called Anderson's for a beef on weck and some lemon ice, both of which were great. We then went to Glen Falls Park, which is a pretty park with its own little waterfall. Then we relaxed at a coffee shop for a little while.
Next we met Tony's sister and a couple of his old high school friends at the Buffalo Brewpub, which has 34 taps. We had been told at Ommegang that the house brews are rather pedestrian, so we only tried one of the four: the amber, which was basic and caramelly. The 30 guest beers were a mixture of macros and micros. We got Southern Tier IPA, Morland Brewery Old Speckled Hen, Long Trail Double IPA (which was excellent), Otter Creek Black IPA, and Great Lakes Edmund Fitzgerald Porter. I ordered a big plate of wings because you just have to when you're in Buffalo. They were quite good.
| | |
| --- | --- |
| | |
| The brewery was locked so I snapped... | ...these photos from behind the glass. |
Tuesday August 2. We went to a locally famous place called Tim Horton's where Tony got donuts and I tried a bite of them. Yep, they were donuts all right. We then went to Chestnut Ridge Park where Tony showed me the tree under which he had proposed to his wife 24 years earlier.
We then hiked to a spot that has a waterfall known as Eternal Flame Falls because under the falls is an eternal flame fed by natural gas. Here is a brief video.
Afterward we met Tony's Uncle Joe for all-you-can-eat Indian food at a place called Taste of India. Uncle Joe is a somewhat eccentric fellow who is always cracking jokes, so he and I got along just fine. In fact we spent 3 hours there until the waitstaff started dropping subtle hints that we had overstayed our welcome ("Get the hell out!")
We then went to the University of Buffalo to see Tony's alma mater.
That evening, back at Jason's, I conducted a beer tasting for several of Tony's friends and family. Nine of us sampled eight of my homebrews and two commercial brews. The homebrews included witbier, pale ale, triple, saison, oak stout, chocolate stout, gueuze, and strawberry/raspberry gueuze. The commercial beers were the Ommegang/Achouffe Gnomegang and Allagash Triple that had been given to me in Cooperstown. After most of the other folks had left, Jason brought out some Great Lakes Amber and Stevens Point Nude Beach.
Wednesday August 3. Rain. Just as well, since all we'd be doing was driving home. We stopped at Tony's parents' house to say good-bye and to pick up some sponge candy, a delicious local treat which has a yellow center with the consistency of a meringue cookie covered in milk chocolate. On the way home we stopped at Abbey of the Genesee in Piffard NY for some of their popular bread. I bought sunflower bread, raisin bread, and maple cinnamon bread. I tried all three, and also had some sponge candy. Like I needed more calories.
In Williamsport PA we stopped at Bullfrog Brewery, a brewpub that had already been around for 15 years but that I had just heard about a few weeks earlier. Tony has driven by it about a hundred times on his way to/from Buffalo. Around one side of building is some nice artwork.
The pub shares space with the brewery. As you enter you go past the kettle and mash tun, and the fermenters reside behind the bar. We got samples of all the available beers:
Billtown Blonde [light and clean]
Edgar IPA [great hoppy beer]
Apricot Wheat [nice and apricot-y]
Captain Drinkable [clean, light pils with good hop balance]
Oud Witte [fairly good]
Peche Panache [some peach, a bit tart, not bad]
Rye Not [good rye flavor]
Somnus Viduata [saison aged on coffee; big coffee aroma and big coffee/smoke flavor]
Stark Weiss [very dark with slight roastiness]
Milky Joe [lactose brown ale with good semi-sweet flavor]
Mud Puppy [good semi-hoppy aroma and good hoppy, slightly roasty/caramelly flavor]
Black Pudd'n [slight roast/chocolate aroma and good sweet chocolate flavor]
Most of their beers are filtered. They used to make sour beers but not anymore. They don't bottle anymore either.
Less than an hour later we were in Selinsgrove PA so we stopped at Selin's Grove Brewing Company. This dark, woody establishment is located in the basement of a 200-year-old building that used to be a governor's mansion. The pub used to be the governor's kitchen, and the fireplace is original. The pub has been in business since 1996. We sampled all the available beers:
Wit [pretty good]
Scottish Style Ale [somewhat sweet]
Hard Cider (not made there) [good tart aroma and apple flavor]
River Rat Triple (different recipe from their usual) [very fruity]
Goldings Special Bitter (organic ale on handpump) [somewhat malty with hoppy aftertaste]
IPA [nice hoppy aroma and flavor with substantial malt]
Simon's Private Stock Porter [somewhat roasty]
Shade Mountain Oatmeal Stout [moderately sweet, somewhat roasty]
Kriek (non-lambic made with local tart cherries) [nice cherry pie aroma and flavor]
Sour Red [nice very musty, somewhat sour, malty, slightly vinegary flavor]
A few hours later we made it back to Maryland, thus completing a five-day, 160-plus-beer trip through Upstate New York. It was a very fun, relaxing vacation.
A few quotes from the trip:
"It's after dark - why is it so bright?" - Lisa
"I like Strohs." - Kurt
"Drink every beer as if it were your last - someday you'll be right." - Ben
"It tastes like shit and I like it." - Ben