MALT Bus Trip

Saturday February 26, 2011

We left the Bowie Hampton Inn by 9 AM and headed for Delaware. Dozens of fresh livers eagerly awaited abuse.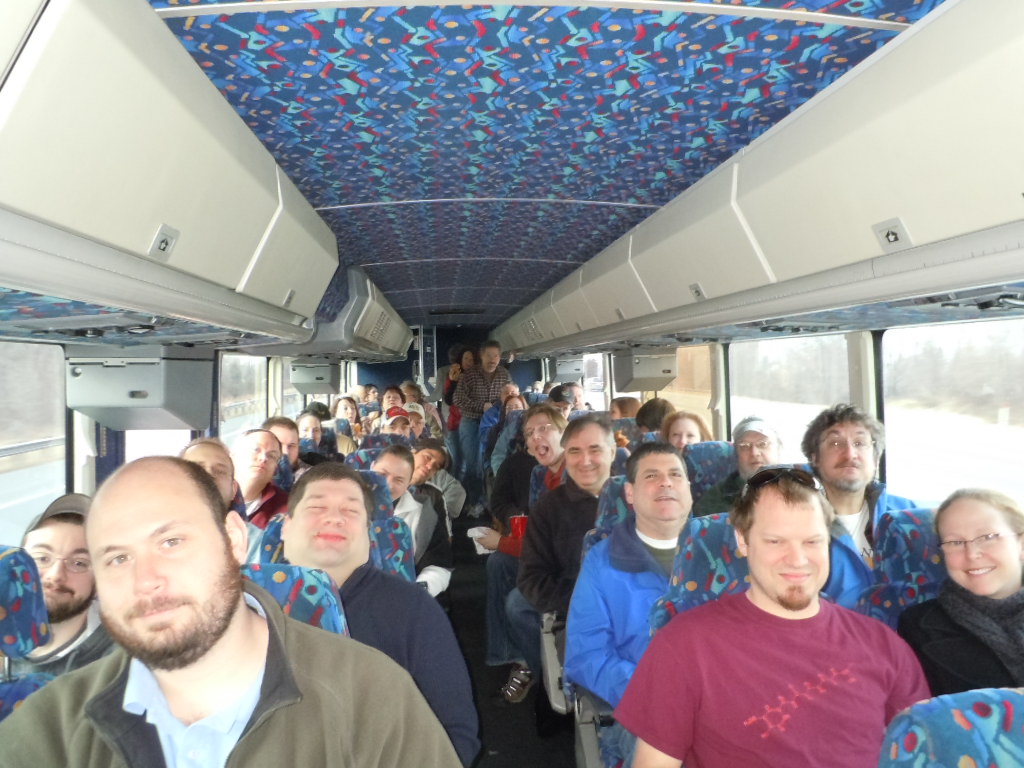 "Are we there yet?"
On the way we ate bagels, cream cheese, muffins and donuts, and also drank some beer (hey, it was afternoon somewhere). I was treated to Kevin's homebrewed brown IPA, Selins Grove Stout, Franklins Dubbel, Schneider & Sohn Hopfen Weisse, and Dogfish Head Squall IPA.
We arrived at Dogfish Head Brewery in Milton. Outside the brewery stands a metal treehouse.
The brewery got its name from a head of land in Maine called Dogfish Head. Owner Sam Calagione's family used to vacation there. His father suggested the name Dogfish Head. Sam, who is from western Massachusetts, wanted to open the first brewery in a state. His wife's family is from Delaware and she wanted to live near them, and since Delaware did not have a brewery in the mid 1990s, the choice was obvious.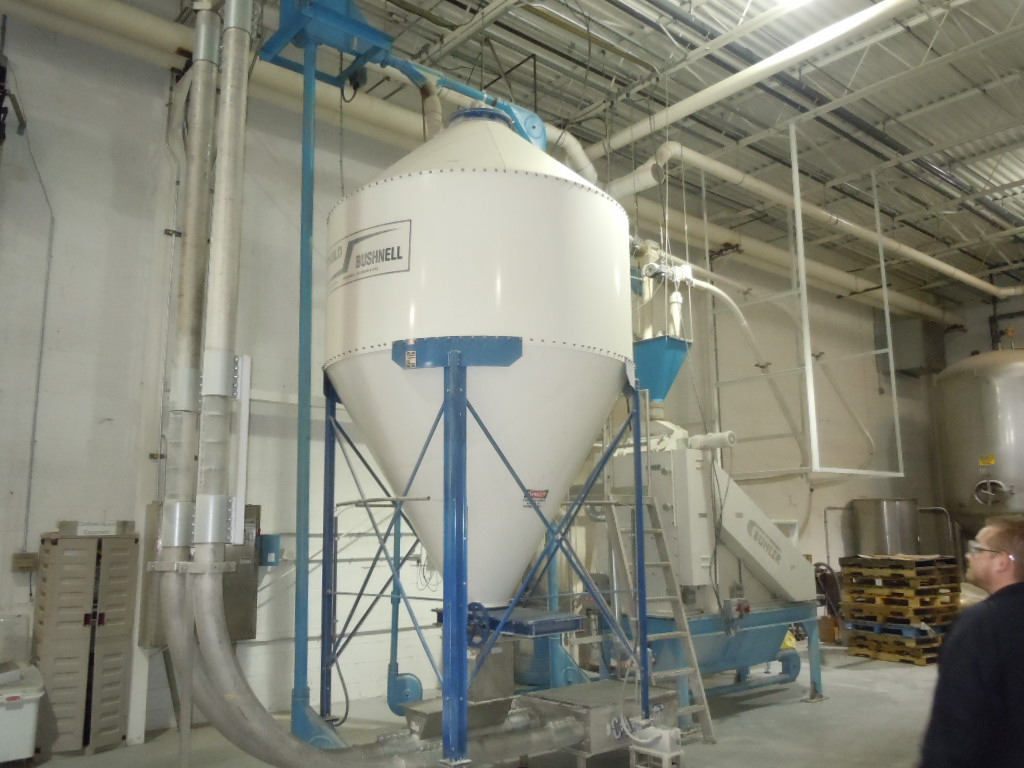 Scale for measuring grain.
They brew 7 beers a day, and brewers are there 24 hours a day, 6 days a week. They have a sensory panel of 40 people for quality control, and they will blend if they need to. They have a lot of large fermenters and an extensive network of pipes.
They also have a bunch of 53-gallon barrels.
They have three 10,000-gallon wooden vessels. One is made of Palo Santo and the other two are oak. They are the largest wooden aging vessels in U.S. since Prohibition, and they were built on site. Several beers are agen in the oak vessels, while only the Palo Santo beer is aged in the Palo Santo vessel. The Palo Santo wood is so dense that it sinks in water. It is so hard that they could not chop the trees with an axe. Somone shot a tree and the bullet could not penetrate. They went through 17 diamond blades during the vessel's construction.
After the tour we were treated to beer samples and several kinds of cheese. Namaste is a witbier with lemongrass, orange, coriander and pepper. My Antonia is an imperial pilsner that's hoppy, light and dry with a lingering bitterness. Red and White is a 10% ABV Belgian with pinot noir juice, orange and coriander that was fruity, sweet and alcoholic. Midas Touch was sweet and honey-like. Palo Santo had a good roasty, woody aroma and a good roasty, sweet, slightly fruity flavor. It was 12% ABV.
| | |
| --- | --- |
| | |
| The bar. | Cheese with blueberries. |
We boarded the bus for our next destination. On the bus someone treated me to some Rochefort 10. After a while we landed at Dogfish Head Pub in Rehoboth. The downstairs was packed.
There was a small room with some brewery equipment that might be used for pilot batches.
Upstairs it was somewhat quieter though certainly not empty.
Also, their distilling operation is up there.
We had some good grub and tried several beers. Poppa Skull, a 10.5% ABV Belgian golden strong collaboration with 3 Floyds Brewing, made with cardamom and aged 6 month in brandy barrels, had a sort of sweet aroma and a pretty good sweet/estery/funky flavor. Romantic Aromatic, a 10% ABV double IPA made with lemon slices, had a nice lemony aroma and a nice hoppy, citrusy, lemony flavor. 75 Minute IPA, cask-conditioned with maple syrup, had a somewhat hoppy aroma and a sweet, slightly hoppy flavor. Noble Rot, a "sort of saison" with botrytis-infected viognier and pinot gris grapes, had a nice winy/funky aroma and a nice winy/tart flavor. Indian Brown Ale had a nice very roasty aroma and a good roasty flavor. Pangea had a subdued aroma and a kind of sweet flavor. Their gin, distilled with juniper berries, cucumbers, hops and coriander seed, had a very alcoholic, somewhat herbal aroma and flavor.
After lunch folks dispersed for a few hours to do their own thing. I walked with several others to the beach. In February. Did I mention we had been drinking? Anyway, in case you're wondering what the beach is like in winter, here it is:
No, that's not depressing at all. You might as well look at a picture of Walter Mondale.
We made haste to the Rehoboth Ale House, which used to be a Rams's Head. It had a sparse draught selection but many bottles. The one good draught was Evolution ESB, which was somewhat hoppy and malty. Caldera IPA, a canned selection from Oregon, had a nice hoppy aroma and a good hoppy flavor. Evo Lucky 7 had a good, somewhat roasty/smoky aroma and flavor. River Horse Tripel Horse had a light spicy aroma and a good sweet, semi-spicy flavor. RJ Rockers Son of a Peach had a nice very peachy aroma and a good peachy flavor.
We then hoofed it to Henlopen City Oyster House. We didn't stay long but I did manage to get a sip of someone's Petrus Winter Ale, which had a malty, sweet aroma and a sweet flavor.
Our last stop in Rehoboth was Fins Fish House.
21st Amendment Hop Crisis IPA had a good hoppy aroma and a good hoppy, slightly sweet flavor. Southers Tier Choklat had a great chocolate aroma and a nice chocolate flavor. Evolution Local Harvest had a slightly hoppy aroma and a good hoppy, slightly malty, clean flavor. Troegs Nugget Nectar had a nice hoppy aroma and a good hoppy/malty flavor. Jolly Pumpkin Noel de Calabaza had a good sour, fruity aroma and a nice sour, funky, kind of fruity, slightly alcoholic flavor. We also tried a vodka that was infused with red peppers and other veggies. It had a peppery aroma and a peppery, very alcoholic flavor.
We boarded the bus and I had some Schlagel Doppelbock on the way to Evolution Craft Brewing.
The place has been open for less than 2 years. Most of their beers are 4-6% ABV. They are distributed in Maryland, Delaware, Virginia and DC.
We got samples of 5 of their beers. Primal Pale was kind of hoppy and light. Exile ESB had a subdued aroma and a pretty good balanced flavor. Rice Rice Baby had a nice toffee aroma and a good nutty, toffee, slightly roasty flavor. Lucky 7 Porter had a kind of roasty aroma and a roasty, smoky flavor. Rise Up Stout, cold-steeped with coffee, had a good, strong coffee aroma and a good coffee flavor.
We got a tour of the brewing operation. They have a 10-barrel system. They age some of their beers in rum and chardonnay barrels. They will also have a sour beer program, and plan to do a Flanders Red.
Afterward we were herded back onto the bus for the trip back to Maryland. One the way we drank more beer, if you can believe that. Dogfish Head Burton Baton had a nice sweet, roasty aroma and a good sweet, kind of roasty, slightly alcoholic flavor. Someone's homebrewed altbier was roasty and light.
They woke me up when we arrived back in Bowie. Some of us opted to be dropped off at Duclaw while everyone else went back to the Hampton Inn. We ordered food but very little beer. After dinner, tired but sobered up I walked back to my car, along with Kevin who thankfully was able to navigate our way.
So concludes another successful MALT bus trip. Let's do this again next year. Maybe by then our livers will have forgiven us.