Jailbreak Brewing Grand Opening

Jailbreak Brewing Company in Laurel MD opened on Saturday April 26, 2014. It was a beautiful spring day as dozens of folks appeared right at the official opening at noon. The tasting room is a nice big open space with a big square bar, lots of tables, and some big cushy chairs and sofas in front of a large screen television. I immediately got the last available seat at the bar and ordered my first sampler paddle. Note the metal, key-shaped paddle below (in line with the Jailbreak theme). The end of the key is shaped like the state of Maryland.
There were nine beers on tap. I was especially impressed with their stouts. The imperial and jalapeño IPAs were quite good too.
Tours were given every hour on the hour. I took the first one. The brewery is big and clean. The operations are quite typical as far as mashing, boiling, chilling, fermenting and filtering go. The proprietors are young men and women with a passion for the craft.
| | |
| --- | --- |
| | |
| Grain mill. | Inside of the mash tun. |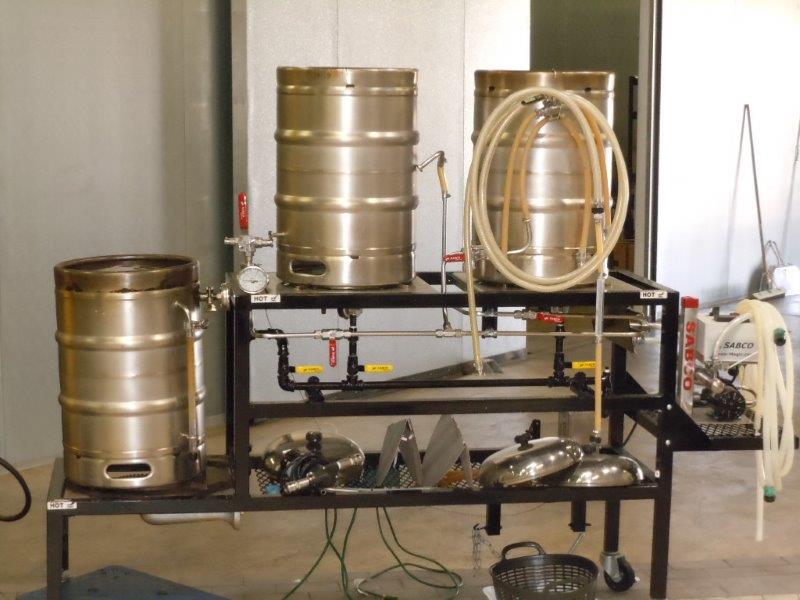 Pilot system.
The keg lines are neatly configured, with a valve system that reduces foaming. See red objects with glass tubes above them filled with beer.
Being a brewery, they don't serve food. There was a food truck outside, and there will be one there whenever the brewery is open.
The tasting room was hopping as more and more people floated in during the day. It was a nice opening day and we now have a new, innovative brewery in Maryland.