Cruisin' the Med 2016

Less than six months after our Caribbean cruise we went on another one in the Mediterranean. My friends Scott and Athena were celebrating their 30th wedding anniversary, and they invited many of their friends to join them. Little did they know that more than 40 of us would accept!
Sunday September 11. Yessir, there's no better way to start a vacation than by flying on September 11. We checked two bags the size of Yugos, because Andi knows that when you go away for two weeks, you must pack 931 articles of clothing, plus various hair and skin products, a curling iron, a blow dryer, and a steam iron. I, on the other hand, would have been fine with three shirts, one pair of pants, and a toothbrush, because I am a light traveler, and by light traveler I mean disgusting.
I did not sleep a wink on our 14-hour trip. I have never been able to sleep on a plane. I need to be lying down, not propped up in a seat so small that even Danny DeVito would be uncomfortable.
Monday September 12. We landed in Athens at 9:15 in the morning, took a taxi to the AVA Hotel, dropped off our bags (our room wasn't ready yet), and walked to the Acropolis of Athens. The word acropolis means citadel or fortified part of an ancient city, typically built on a hill. There were lots of tourists, including many tour groups. Via eavesdropping we learned that more than 5 million people live in Athens, and there are no skyscrapers because it is important not to block the view of the Acropolis. In addition to the ruins, there were some nice views of Athens.
After that we walked around Plaka, which is the old historical neighborhood of Athens. It has lots of narrow streets and plenty of shopping, which kept you-know-who happy.
We saw the changing of the guard at the Parliament Building. Afterward people lined up to have their photos taken with the guards. It was rather comical.
We stumbled upon the National Garden. It had lots of nice greenery, and also some animals and birds.
We then walked through Syntagma Square, an area that many people consider the heart of Athens. It had a lot going on, including some nice fountains. Here is a video of one:
Here are photos of a church we passed. I don't know which one it is, since there are about five trillion churches in Europe.
By the way, there are a lot of feral cats in Greece. They are generally docile, I suppose because so many people leave food and water for them.
We had dinner at one of the many outdoor cafés. The beer I ordered was a nice hefeweizen made in Greece. Our waiter did a shot of liquor with us at the end of our meal.
Afterward we returned to the hotel, where several of the folks in our group were staying. We attended a small party that Scott and Athena threw in their room.
| | |
| --- | --- |
| | |
| The streets are pretty at night. | On Scott and Athena's balcony. |
Tuesday September 13. We spent a few hours walking around Plaka. We found a place called Brettos that makes its own liqueurs. We tasted two of them and bought one to take on the ship. It was made with honey and cinnamon and tasted similar to Fireball.
We checked out of our hotel and took a taxi to the Port of Piraeus to board the Carnival Vista, a new ship whose maiden voyage was earlier in the year. Almost 4000 passengers boarded with us. The first thing I did after dropping my bag in our room was hit the buffet. Hey, it's a cruise - it'd be a shame not to maximize my food intake. Afterward we explored the ship. Like most other cruise ships it has many bars, restaurants, pools, a casino, and a gym. The spa has two saunas, two steam rooms, a whirlpool, and heated recliners. What makes this ship unique (at least for now) is that it has a brewery on board (more on this later). It also has a self-serve beer station at the buffet: you insert your sail & sign card, pull the tap, and 14 ounces of beer gets dispensed.
Click here for Carnival's website with photos and a virtual tour of the ship.
Our group signed up to eat a late (8:15) dinner together each night at Reflections, one of the free sit-down restaurants where waitstaff serve patrons instead of them getting their own food at a buffet. However, it's still all-you-can-eat; you just have to wait for someone to bring you your nine helpings of steak. (There are also several pay-as-you-go restaurants, but I can't see any logic in paying for a meal when there is free food available elsewhere.)
After dinner Andi and I went dancing at three clubs, then got some soft-serve ice cream. We ran into Athena, who was hungry so she got some pizza. There was a line of about 20 people for pizza at 1 a.m. because the buffet was closed and the only 24-hour foods on the ship were pizza and ice cream. Eventually Scott joined us, and we hung out in the nice Mediterranean air until almost 3 a.m.
Wednesday September 14. It was warm out when we got up around 9. We had brunch at a sit-down restaurant called Horizons. There weren't many people there, as most folks have breakfast at the buffet. The clientele looked a litle classier than the cattle who line up at the trough. I had only two plates of food which, in case you don't know me, is merely a snack.
This was our first of two sea days, which are days when the ship does not stop at a port. The original ship itinerary included Izmir Turkey on this day. Due to rising terrorism in that country, Carnival rescheduled it to nearby Kusadasi Turkey, and then eventually decided not to stop in Turkey at all. This was bad for two reasons. First, Athena had arranged shore excursions for most of our ports, including a nice one in Izmir, so we couldn't do that one. Second, there is something called the European Union value added tax, known as the VAT, wherein European Union (EU) countries collect anywhere from 17% to 27% tax on purchases. If even one of our stops was in a non-EU country, the tax would be waived on the ship. Turkey is a non-EU country. All of the other countries we stopped in are EU countries, so since we were not stopping in Turkey, a 24% VAT was applied to everything we bought on the ship. This increased our $400 alcohol tab to $500.
By 10:45 the main pool was crowded. Almost all of the hundreds of recliners were taken. That's the way it is on sea days, since no one leaves the ship. Many of the recliners only had towels on them; people plop their towels down to save a seat, then go off somewhere. I considered making off with a towel or two but didn't want to risk spending the rest of the cruise in ship jail.
| | |
| --- | --- |
| | |
| | The deep blue Mediterranean Sea. |
It was a nice warm sunny day. From the ship we saw nothing but sea and sky. I took several rides on the two water slides: the Twister, which propels your body rapidly through a twisty tube; and the Kaleid-O-Slide, which you ride on an inner tube. I took a video of one of my Kaleid-O-Slide rides:
Click here to see someone else's video of a Twister ride.
At midday I went to the spa to get a free analysis where they put electricity through my body to read my muscle, fat, and water levels. My body was 17.2% fat, which is 4 times what it was in my youth, and probably half of what it would be at the end of the cruise.
We worked out in the gym, then sat in the infrared sauna. (I won't bore you with details on how infrared saunas work. If you're interested you can read about them here.) We then went up to the Serenity Deck (no kids allowed) for a made-to-order salad and a Samuel Adams Rebel IPA. After that, Andi went to the spa to get her nails done while I went to the RedFrog Pub, which houses the brewery.
The Red Frog has self-pour stations, foosball, and shuffleboard. Four house beers are served, yet only one of them (the ThirstyFrog Red) was available on other parts of the ship. I talked to the assistant brewer, Ronald, who is from Pennsylvania. He told me that the brewery makes the three beers that are served only in the pub; the Red is contract brewed. He didn't know who the brewer was, but a little Internet research revealed the contract brewer to be ... are you ready? ... Anheuser-Busch. The Red is served on all Carnival ships (big surprise there - not). He said that Carnival plans to put breweries on all its future ships, with each making its own beers, kegging them, and swapping them, so that each ship can serve beers from different ships. At this time the beers that were made on the ship were served from serving tanks many feet away through glycol-chilled lines that traveled under the floor.
At first I thought that the copper brewing kettles at the front of the pub were just for show because their chimneys weren't connected to the ceiling (which would cause steam to escape into the room). Well, they are used; just above each chimney is a vent that sucks in the steam.
I retrieved Andi and we sampled all 4 beers. The Red was, as expected, rather inert. ThirstyFrog Caribbean Wheat and FriskyFrog Java Stout (made with coffee) were good. ThirstyFrog Port Hoppin' IPA was quite good so we got a full glass from one of the self-serve stations. The three ship-made beers were somewhat warmer than the Red, which was almost certainly served from a keg under the bar. We met a nice couple from the UK. The bartender snapped our photo and instantly uploaded it to the screen behind the bar.
| | |
| --- | --- |
| | |
| | Our photo on the behind-the-bar screen. |
Tonight was "elegant night" where people were encouraged to dress up for dinner. The food was elegant too. I had three lobster tails. After dinner we went to the Limelight Lounge to see a fairly funny comedian.
Thursday September 15. We landed in Rhodes, a large Greek island that is just off the coast of Turkey. Had an early buffet, then met our group for a sit-down breakfast at Horizons. The lot of us disembarked and got on two buses for our first shore excursion. We stopped at a few places, walked around, and took photos. The architecture was old and the streets were made of smooth, oblong stones.
We stopped at a pottery store, a husband-and-wife business where he makes the pottery and she does the painting. (I wonder how much they pay the tour company to run tourists through there). Andi bought a bowl. Or a plate. Whatever.
Andi with the potter.
We were brought to Lindos, a small hilly town with narrow streets and lots of vendors.
We climbed to the Acropolis of Lindos, getting some nice views along the way.
The Acropolis of Lindos is similar to, but smaller than, the Acropolis of Athens. It has ancient ruins and lots of tourists. And, like our visit to the Acropolis of Athens, we stood in the hot sun and took photos of stuff that we could have found better photos of on the Internet. There were some nice views up there.
We descended and walked through Lindos again...
...back to our buses, which returned us to the ship. After boarding, we grabbed a quick snack and disembarked again in order to walk around the Rhodes Jewish quarter (known as La Juderia), which was right near the ship. We entered this walled city via a "secret" entrance that our tour guide had pointed out. The city was much quieter behind its high walls than in the trafficky area outside. There was very little traffic but there were still a lot of vendors, as well as a few feral cats.
We stopped at a bar/restaurant called Laganis and asked if they had any beer that was made on the island. They did. It's called Zythos VAP. It's a light lager but well made for its style and quite refreshing on a very warm day. We drank a few while taking advantage of the free wi-fi. The walls had nice murals bordered by coral.
We walked around some more, then returned to the ship for a shower and a nap. Then we walked on one of the upper decks to enjoy the sunset.
In the evening there was a beautiful full moon. We ate at the buffet, then joined our group for dinner at Reflections. Afterward a bunch of us danced to a latin musical group at the Havana Bar. Of note were Athena's shoes. Later Andi and I danced at a club called Liquid. We got to bed arouund 2 a.m.
Friday September 16. Our final sea day. It was gorgeous out. I did the SkyRide. Being a sea day I knew there would be a line, so I got there 10 minutes before it opened and I was only third in line. When it opened at 9 a.m. there were 20 people there. Anyway, the SkyRide is a suspended vehicle that you pedal around the ship. You're high in the air so it can be a bit scary. You're not allowed to take videos but I found someone's video on YouTube:
The Serenity Deck has nice soft lounges, many of them built for two, so I went up at 9:15 to grab one for us. All of them were already taken! There were some recliners available at the main pool, so I saved two for us. The cruise staff were putting notes on the recliners that had towels/books/sunglasses on them but no people, saying that if no one returned by a certain time, their stuff would be moved. It's about time they started doing that. I gave myself skin cancer while Andi worked out. She joined me later. We ate shrimp burritos and Reuben sandwiches. It was a great pool day.
In the evening we walked around the ship. Movies were shown every night on a big screen above the main pool, and fresh popcorn was available. You know how movie popcorn can be horribly salty? The popcorn they made had no salt! It was wonderful, and one of my fondest memories of the trip. Hey, it's the little things, right? (Salt was available for those who wanted it.) Later we saw a great Cuban singing/dancing show.
Then we went to the casino and lots a few bucks in a slot machine. I hate those things because I don't even know what's going on. Remember the old days when you'd simply pull a lever and wheels would spin and you'd look for images of fruit to come up aligned in a row? Nowadays you have digital machines that display bells, diamonds, hearts, dollar signs, sevens, crowns, masks, frogs, princesses, dragons, seashells, toucans, and Nick Nolte. And most of them have several rows, not just one. Each machine has its own rules of how to win. On one machine you might need a bell on row 1, dollar signs on rows 3 and 5, a seashell on row 2, and three princesses on row 4. On another machine you might need two dragons on row 4, a mask on row 1, a frog in column 2, three toucans in any combination of row 1 and column 4, and at least one Nick Nolte (except on odd-numbered Tuesdays, when Gary Busey will do). I push buttons and watch flashing lights and sit there totally confused, and all the while money is being drained from my account. I'm going broke and not even having any fun. It's like being married again.
After dinner a bunch of us went dancing at a bar called Ocean Plaza. Not many folks other than us danced, probably because there weren't a lot of young cruisers on the ship. Being September, kids were back in school, so most of the clientele were eligible for Social Security. If I were a reverse mortgage salesman I could have made a fortune.
Saturday September 17. We landed in Valletta, the capital of the island country of Malta, which is located just south of Italy.
After breakfast many of the folks in our group disembarked for our second shore excursion. We boarded a large bus that took us to a ferry that we rode to Gozo, a Maltese island just northwest of Malta that has a population of about 37,000. It was a cloudy day, which is unusual for Malta. The tour leader told us that Malta had had only 10 days of rain in the previous year and a half. From the ferry we got on a shuttle bus that took us to Dwejra Bay on the other end of Gozo. Hundreds of tourists milled around, took boat rides, snapped photos, or scuba dived. The ground, which is solid rock, is very jagged and uneven, with natural salt pans (on other areas of Gozo and Malta, tons of sea salt are harvested from these pans). The Azure Window was nice. It's a natural arch that has been featured in the TV series Game of Thrones.
Next we rode to Victoria, the capital of Gozo. It was a busy town with tourists, lots of traffic (Malta is a British protectorate so they drive on the left side of the road), old buildings, and narrow streets. We walked to the Cittadella, a fortress located at the highest point in Victoria. We got some nice views.
Then we walked through the town...
...back to our bus and rode to another ferry that took us to Comino, a small island that lies between Gozo and Malta. We explored for a while. The landscape is very rocky with unusual plant life and no animals. It was like being on Mars. There were lots of tourists walking around near the shore or swimming in the "Blue Lagoon". It got even cloudier and actually rained - the eleventh day of rain in a year and a half - which was unfortunate because on a sunny day the area is beautiful. Click here for some nice photos. My photos aren't as nice.
By the way, the population of Comino is 4. It has no infrastructure, just a constant stream of tourists coming and going on boats. Before we left I swam in the Blue Lagoon. The water was fairly warm and salty. Then we rode a speed boat back to Rhodes, stopping at a few interesting spots along the way.
Once we landed on Rhodes our bus took us back to the ship, where it was sunny. Go figure. Andi and I got some sandwiches, ate them in our room with champagne, napped, and went to dinner. After that we saw the worst comedian ever. We walked out in the middle of the show, lost a few bucks at the casino, and hit the hay around 2.
Sunday September 18. We landed in Messina, a town in the northeast corner of Sicily, which is the largest island in the Mediterranean Sea. Sicily is part of Italy - it is not its own country. It was a beautiful sunny day.
We disembarked and walked to the Piazza del Duomo (Cathedral Square). It contains the Messina Cathedral and the adjacent bell/clock tower. We climbed to the top of the tower and got some nice views.
I captured a few seconds of video of a bell being rung:
We went to a nearby museum (Museo del Tesoro del Duomo) that has lots of jewelry, including La Manta della Madonna della Lettera, a golden mantle that was made as a covering, in the Byzantine tradition, for the sacred image of the Madonna of the Letter on the high altar of the Cathedral. I couldn't photograph it because photography wasn't allowed in there, but I snapped a photo of a poster of it in the lobby.
Every day at noon the figurines on the clock tower move and noises are made (similar to Munich's Glockenspiel). We watched it. Here's a full video that I found on YouTube:
After that we hopped on a tour bus to ride around town. It was essentially useless because we could hardly understand what was being said on the loudspeaker. We just looked at the traffic, old buildings, and crowds. We hopped off and walked to the shopping area (guess whose idea that was). All the stores were closed because it was Sunday, so we walked back to the ship.
Near the ship we found some open restaurants and bars. At one place we drank a beer and bought some wine and champagne to bring on board.
Back on the ship we went to the pool, took a sauna, and got cleaned up for dinner. I played a little mini golf while Andi took her usual 17 hours to get ready. We had dinner, then saw a comedian who was just as horrible as the one from the night before, so we walked out on him as well. We then went to the casino, where within an hour we won $500 at the roulette table. It was unbelievable. Our hot streak ended when they changed dealers. Mathematically it shouldn't matter who rolls the ball in the roulette wheel, but it did. So we left and got sushi at Bonsai Sushi, one of the pay restaurants.
Monday September 19. Naples Italy. It rained overnight, and it was cool and cloudy. Andi had some friends who just happened to be in the area for a wedding. We got off the ship in the morning to run recon for a place to meet them later. The town is dirty, busy, crowded, smelly, loud, and ugly. The shittiest town on our entire trip. I didn't take any photos because I didn't want to soil this website. After scouting out a place we couldn't get back on the ship fast enough. Once there we got a much-needed workout. Only a few people were in the gym. Andi got a massage while I took a whirlpool and sauna. I was completely alone and loved every minute of it. Then I went to the pool, where there were maybe 5 people. No one was in line for food. I love being on the ship on port days! Later Andi joined me for a while, and then we disembarked again in order to meet her friends Alice, Silver, Rose, and Louie at a café at Piazza Giovanni Bovia. I had a couple of beers, one called Tennent's Super which tasted pretty good and was 9% ABV.
Back on the ship there was a long line at the buffet at 7:30 (it pays to get there early). I had a little food there, then went with Andi to dinner. We planned to take a train to Rome the next day, and so did a young woman named Anastasiya in our group, so after dinner the three of us spent an hour navigating the troublesome ticketing website but we eventually got our train tickets. We were tired so we turned in by midnight.
Tuesday September 20. We landed in Civitavecchia. After the three of us had breakfast with Anastasiya's husband Ryan, we disembarked while he stayed behind to work. (Yes, some people bring work with them on vacation. If you ever catch me doing that, please shoot me.)
The pier in Civitavecchia is extremely long, so Carnival provided shuttle buses into town. When we exited the bus we were assaulted with a gauntlet of vendors trying to sell us tours, taxi rides, and I don't know what else because I didn't listen and I went past them as fast I could.
The weather was beautiful and sunny. We walked about a mile to the train station. The town was similar to other port towns: crowded, trafficky, dirty, and loud.
We got off the train in Rome near St. Peter's Square. Andi's friend Paola, who lives in Rome, met us, and we all went inside St. Peter's Square. It had large columns, a fountain, and the St. Peter's Basilica (which is one of the largest churches in the world). There were lots of tourists of course.
St. Peter's Basilica.

Panoramic shot.
We walked into Vatican City a little bit but were stopped by young members of the Swiss Guard dressed in purple outfits that made me feel like I was at a Renaissance festival. They were backed up by police (which might have been the Corps of Gendarmerie).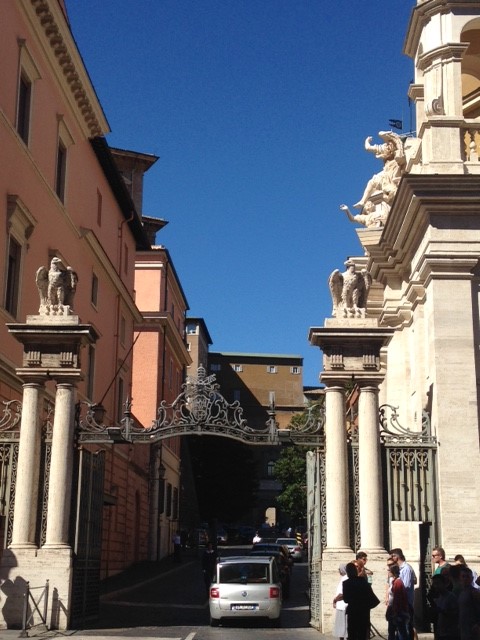 Vatican City entrance.
Rome is busy and crowded but many of the streets are nice and wide. It was fairly pleasant to walk around - certainly better than some of the other cities we visited. We hopped on a bus and rode several blocks, but other than that we walked everywhere.
| | |
| --- | --- |
| | |
| Ministry of Justice. | Castel Sant'Angelo. |
| | |
| --- | --- |
| | |
| Tiber River (next to Castel Sant'Angelo). | |
We had lunch at Paola's favorite place, La Montecarlo. It was crowded because we got there at 1:30, which is prime lunch time over there. We got thin crispy pizza (that's the traditional style in Rome) and fried veggies (including zucchini flowers, which are popular in Rome). The pizza was good but not spectacular. I quite enjoyed the fried zucchini flowers.
Next we walked to the Pantheon (not to be confused with the Parthenon!). The Pantheon used to be a Roman temple and is now a Catholic church.

360-degree panoramic shot of the round interior.
We walked onward. As I trailed the ladies, watching all the men gawk at them, it occured to me that here I was touring Rome with three beautiful blondes. That is an occurrence that I had never even imagined. Sometimes life surprises us like that.
Gelato is extremely popular in Italy, so we all got some. Andi and I got two flavors: fig and peach. Both were good. After that Paola had to leave us to go to work. We walked to the Spanish Steps, which had a zillion tourists in front of it. I believe that normally people are allowed to walk up the steps, but for some reason they were blocked off. We then walked over to Trevi Fountain (with Andi and Anastasiya stopping to buy leather handbags along the way). The fountain is so named because it is located at the junction of three roads (tre vie). As expected, there were hoards of tourists here.
| | |
| --- | --- |
| | |
| Spanish Steps. | Trevi Fountain. |
Our last stop was Roma Termini, which is Rome's main railway station. It's huge, and many different train lines run through it. We took a fast train back to Civitavecchia. We didn't feel like walking back to the shuttle bus, so we asked a taxi driver how much a ride would be. He said 20 euro. For a one-mile ride. We tried to negotiate him down to 10 euro, but he wouldn't budge. So we hopped on a nearby bus for 2 euro apiece.
After another nice dinner, we lined up for a group photo. We'd all ordered blue T-shirts that had a map of Greece and lettering that said, "I have Greece on my shirt." The two people in the middle with white shirts are Andi and I. We'd forgotten our blue shirts.
Then several of us went up to the pool deck and danced to live 80s music. Again, we were the main protagonists. By 11:00 there were only about 12 people dancing, and 9 of them were us. Later on, Andi and I went to the casino to give the ship a few dollars before calling a night.
Wednesday September 21. A cool, cloudy morning. We landed in Livorno Italy. I refused to leave the ship. I was tired of dirty, loud, congested port towns with vendors trying to take our money and tourists blocking the few things worth looking at. I'd seen enough churches and fountains and old buildings. I had no interest in seeing any ruins, which are just old rocks, really. I just wanted to relax. The ship was quiet and clean and peaceful, it had swimming pools and more food than I could possibly eat, and I'd paid good money for all that. Andi had planned on going into town to do some shopping, but she changed her mind. Apparently she was also fed up with port towns. So, after breakfast we availed ourselves of the gym, steam room, sauna, whirlpool, and heated recliners. Then we laid by the pool, where there were maybe 10 people. We ate food, drank three Rebel IPAs, rode both water slides, did the SkyRide, and also did the SkyCourse (a ropes course suspended about as high as the SkyRide). It was a fun, relaxing day.
We dressed up for another "elegant night" and had a great dinner. Then we made one final mildly unsuccessful visit to the casino.
By the way, towel folding is a big thing on cruise ships. The staff fold towels into animals and leave them on the bed when they make up a room. Here are a couple that our room steward made for us during our stay.
| | |
| --- | --- |
| | |
| A pig wearing a sombrero? | A tick? |
Thursday September 22. The morning was cool but sunny and beautiful. The crew took towel folding to the extreme as they had made hundreds of towel animals during the night and left them all over the main pool deck.
We landed in Marseille France. Carnival provided a shuttle into town (and had the audacity to charge us $17 apiece round trip). We were dropped off at Vieux Port (Old Port of Marseille). It was crowded and touristy, but better than the Italian port towns. There was a nice wide promenade around the harbor.
There is lots of shopping here, which made Andi happy. We walked through an indoor mall and then spent hours walking the streets and ducking into shops. Actually she ducked into shops; I stood outside looking around in a failed attempt to find anything that interested me. At least the weather was gorgeous, although it didn't really matter because I was stuck on a shopping trip. It seemed that all the food places were down by the water, and all the clothing/shoes/handbag stores were a few blocks away. The local folks were dressed up; the only people in shorts were tourists. As in other European towns, a lot of people smoked. I didn't see a lot of obesity over there.
We bought some wine, cheese, and a baguette and went in search of a nice park to have a picnic. Unfortunately the nearest park was too far away because we were on a time budget, so we went to a café where Andi ordered a capuccino so we could use one of their sidewalk tables. We ate sandwiches that we'd brought from the ship while traffic went loudly by. How romantic. On the way back to the shuttle we stopped for a glass of Leffe Ruby, which we'd had in Paris two years earlier. We picked up a cold bottle of champagne to drink on the ship and then headed to our shuttle. As we passed the roughly 13,248 vendors on the promenade, it looked like smooth sailing until Andi got sucked in by someone selling headbands. More impatient waiting for me. After what seemed like six months of sifting through and trying on headbands, she picked out three that she liked. I thought 50 euro was outrageous, but I was so relieved that the ordeal was over that it was worth it.
| | |
| --- | --- |
| | |
| We walked under a mirrored ceiling... | ...and took photos. |
In our room we drank champagne and I tried out the Splat Ball that I'd bought on the street several days earlier. Here is a video of how it's supposed to work:
I was impressed when I saw the vendor demonstrating one. Well, the one I got was defective. It didn't "splat" at all. It just bounced a little. After several attempts I threw it down very hard, and it exploded water all over our cabin. It wasn't a Splat Ball - it was a Terrorist Tomato.
A bunch of us met at the piano bar to share whatever alcohol we had in our possession, eat the cheese and bread that Andi and I had bought in Marseille, and make plans for the next day when we would be leaving the ship for the last time and going on an excursion. After that, Andi did some on-ship shopping while I impatiently waited. Again.
At dinner several of us wore a bunch of the bling that Athena had been handing out at dinner each night: sunglasses, hats, pins, rings, and I forget what else. Afterward we went to the Limelight Lounge to see a just-okay comedian. We went to bed early because we'd be getting up early the next morning.
Friday September 23. We landed in Barcelona at 6 a.m. It was warm out. We got an early breakfast and then met our group so we could disembark together. We had the option of leaving our luggage in the hall the night before with tags on it. The crew would take it off the ship and we could retrieve it later. We opted to take our luggage ourselves. Each has its drawbacks. If you leave your luggage out, there's the possibility that someone could make off with one of your bags while it's sitting outside the ship. If you take your luggage yourself, then unless you travel lightly you will have to wait for an elevator to take you down, and since most people are using the elevators, many of them with bags in tow, it takes quite a while to find an elevator with room for you and your stuff.
After we disembarked and everyone got their luggage, we boarded a tour bus. 40+ people times two weeks' worth of luggage equals not enough room in the luggage compartment, so some of it was put on empty seats. It is illegal in Barcelona for buses to travel with luggage in the passenger compartment, so the driver had to stop at the H10 Universitat hotel (where many of us would be staying that night) to drop off some of the luggage before heading out for our excursion.
Our first stop: Park Güell, a public park that was originally intended in the early 1900s to be a neighborhood for wealthy families. That project failed. The park was designed by the famous Spanish architect Antoni Gaudí, who designed many buildings in Barcelona.
Next we rode/walked to another of Gaudí's works, the Sagrada Família, which is a large Roman Catholic church. Some construction was being done on it, and we were told that it will take another 10 years to complete.

There were a lot of tour groups walking around. The city is chock full of both vehicles and pedestrians, but it's not too dirty. As we went by a bar there was an interesting beer bottle that I photographed.

We walked back to our bus and rode an hour to Montserrat, a multi-peaked rocky range with a little village. We walked around, got some great views, and did a liqueur tasting.
| | | |
| --- | --- | --- |
| | | |
| Funicular railway. | | A poster in the gift shop. |
We rode back to Barcelona, checked into the H10 Universitat, unpacked and got ready to go out. The hotel gave us a welcome glass of cava, which is sparkling Spanish wine. Then we went out in search of paella, which we were told we should get while in Barcelona. The hotel recommended a few places. We walked to one of them, which was located down at the very busy and touristy port. Suspicious that the hotel was just sending us dumb tourists to a touristy place, we did a quick Internet search to see the reviews. They were marginal. Also, no one was eating there. The other restaurants were doing business, but not this place. So we backtracked and found a neat neighborhood with narrow streets and a jillion little restaurants, each one advertising "tapas". We couldn't find paella but I went into one place and asked where we could find some. The guy recommended a restaurant called Cheriff. Fifteen minutes later we found it, thanks to Google Maps on Andi's phone.

We got there just as it started to rain. It was a nice cozy place. We ordered a bottle of cava called Lacrima Baccus Primerísimo Gran Cru; a prawn appetizer; and paella with prawns, crayfish, clams, and calamari. Everything was quite good. Around 9:15 it started getting crowded (they eat dinner late in Europe). They gave us a shot of herb liquor at the end of our meal.

We walked back toward the H10, keeping a lookout for interesting places. One place called Gilda had Belgian beer signs, so naturally I insisted that we go in. We met the owner, Michel, who is from Belgium. We got bottles of Lindemans Kriek, Lindemans Gueuze, and Duvel.

We set off for the H10, navigating via Andi's phone. At one point we walked along La Rambla, a very popular pedestrian mall with all sorts of vendors. Across the street from our hotel was a bar called Non Solo Brasas, which had live music, so we went in and got a mango daiquiri or something like that.

The rest of the night is hazy. I assume that Andi got me back to the H10 okay.

Saturday September 24. We packed our bags, then went out to breakfast at a sidewalk café and got Spanish omelettes, which were basically potato quiche. Then we checked out of the H10, took a taxi to the airport, and returned home.

What a trip! We enjoyed the ship, saw a lot of sights, had great food and drink, and did not get sick, injured, or robbed. All travel plans went smoothly. There were some times when we felt rushed because we were on guided tours and/or had to get back to the ship by a certain time, but such is the nature of most cruises. There are a few cruises that stay at some ports overnight, but for the most part, if you want to spend a good amount of time at a particular place, you need to travel there on your own.

Thank you for reading this. I hope you found it enjoyable and that it helps you prepare for a Mediterranean cruise of your own.