20 Shades of Grey

In March 2016 Andi turned 50. More than 20 of her family and friends joined us on a Caribbean cruise to celebrate. The majority of us were over 50, hence this story's title.
Months of planning included her packing our luggage bags to the gills because, as we all know, you can't spend a week away from home without 387 pounds of clothing, lotions and shoes. Actually much of what she packed was gifts for the people who were accompanying us, and the airline has a weight limit of 50 pounds per bag. Our bags weighed just under 50 pounds each on her scale. The scale a the airport disagreed, so we had to transfer some stuff to our carry-ons. But the way Reagan National handles luggage is after your bag is weighed and tagged, you walk it to another area to drop it off. That is, they trust you not to add more stuff to it on the way. Hahahahaha! So naturally we transferred back into our luggage the stuff we had just taken out, plus a few other items from our carry-ons.
Then it was off to the security area, where we went through the dignified routine of removing our shoes and belts. It was just like prison, except in prison you actually have to commit a crime before they humiliate you. There was one bright spot though: after I stepped through the body scanner, a TSA agent checked my shoulders. Apparently they were so big that it looked like I might have contraband stuffed in my shirt. I felt great until I remembered that I had broken both collar bones in the past, causing each of them to have permanent calcium lumps the size of hand grenades.
We got dressed, found our gate, and sat in the boarding area. Being modern people we immediately got on our iPhones. Andi has an unlimited data plan but I don't. The airport had free wi-fi but I couldn't get anywhere on it. Whaddup wit dat?
American Airlines boards by group number. We were in group 1, which to a normal person would indicate that we would be in the first group. Nope. Before group 1 can board, various other groups get priority. First Class goes first, which is only right because those passengers had to sell kidneys for their seats. Then there's the "special needs" group, which enables old folks and people with small children to board easily. Then there were various Rewards Clubs, consisting of Gold, Platinum, Executive Platinum, Boron, Magnesium, and Protactinium. Well, that's half the plane right there. Then they called our group. But not only our group. "Groups 1 and 2 may now board." What?? Where's the glory in being part of group 1 if group 2 gets to board at the same time? Why even have two groups? That's like saying that there are politicians and lying criminals.
We boarded the plane. It was a full flight, as lots of Washingtonians were fleeing the cold weather. People squeezed their too-big-to-be-carry-on carry-ons into the overhead bins. This is why there's never enough room. As far as I'm concerned, if your bag doesn't fit under the seat, it should be checked. In fact, if I ever run for office, this will be my main platform. Think about it. Other issues such as abortion and terrorism only affect a small percentage of people. Carry-on luggage affects everyone who flies. Well, wouldn't you know, one of the bins broke. The flight attendants then had to remove all its contents and cram them into other bins. Which makes perfect sense. "Hey, this bin couldn't handle the weight, so I see no problem overloading all the other bins." Since this was considered an "incident", they had to fill out an incident report. They would not let us take off until the paperwork was done. For a frickin' luggage bin. This took 45 minutes.
After 3 hours in the veal pens they call "seats", which gave me both a headache and a backache, we landed at Miami International, which is even more crowded and a lot less English-speaking than Reagan. We collected our luggage, met some of Andi's girlfriends, and took a shuttle to a local hotel. They stayed up late having drinks at the bar.

Monday March 21. After a continental breakfast at the hotel, 8 of us shuttled to Port of Miami. Hundreds of people stood in the check-in line. There were more than a dozen agent stations, three of which were in use, making the line at the MVA seem fast. They did eventually open another line, which they directed everyone behind us to go in, and that line had more agents so it moved faster. I would have complained but I didn't want to risk getting thrown out for trying to promote logic and fairness.
We finally checked in and followed the signs pointing us toward the ship. We lost some of our group but also gained some. We got a pre-boarding photo taken in front of a blank backdrop that Norwegian Cruise Line would later fill with an image of our ship. Then we were herded into a waiting room. Apparently the "ship" signs were a ruse to trick us into one area, much like fishermen do when they trap schools of fish with nets. We waited here even longer than we had waited in the check-in line. Also, with the air conditioning blasting on us, it was the temperature of a wine cellar, without the benefit of wine.

We boarded the Norwegian Sky. I don't know where everyone else went but I went right to the buffet, or, as I call it, the food trough. Andi accompanied me. She tried so hard to contain her disgust at my table manners, but, well, if you've ever eaten with me...
We joined the others by the pool. It was cool, cloudy, and windy, but that didn't stop hundreds of spring breakers from wearing nothing but bathing suits. Oh, did I mention? This had been advertised as a spring break cruise, so about half the guests, most of them from West Virginia University, were college kids. Unlimited alcohol was included in the price. Youth + all-you-can-drink = very long lines at the bar. Fortunately the bartenders were in the habit of serving us old folks before the spring breakers, so we didn't have to wait in line.
We all had a grand old time as more and more of our birthday party (23 in all) arrived. There was music and dancing as the ship left port.
Eventually people went off in different directions, some to their rooms, some to restaurants, some to the casino. I had my first dinner at some point, then had a few more drinks and met some of our party in the casino. Later I had my second dinner with a few folks, then met several of our group at the dance club called Dazzles, where my dancing showed everyone how white and nerdy I am. Afterward Andi and I got a late night snack and headed back to our room. On the way we found out that youth + all-you-can-drink = more than just long bar lines. It also equals, shall we say, "messes". Some were on the carpeted floor, some were on deck, and apparently one was in one of the pools because it had been drained and was being hosed down. It didn't help that the ship was rocking in the choppy water. Fortunately the corridors were fairly narrow, which helped keep us upright.
Tuesday March 22. Andi's 50th birthday. We got some breakfast and went to the front of the ship to watch the sunrise. It was cool, windy, and cloudy - just like you'd expect in the tropics. We went indoors to one of the lounges, where Andi's sisters met us. Andi went to the spa for a massage while the rest of us went for some unnecessary food. Others from our party eventually met us. At 8:30 there were upwards of 20 kids in line for booze. I showed restraint and didn't have my first drink until 9:30.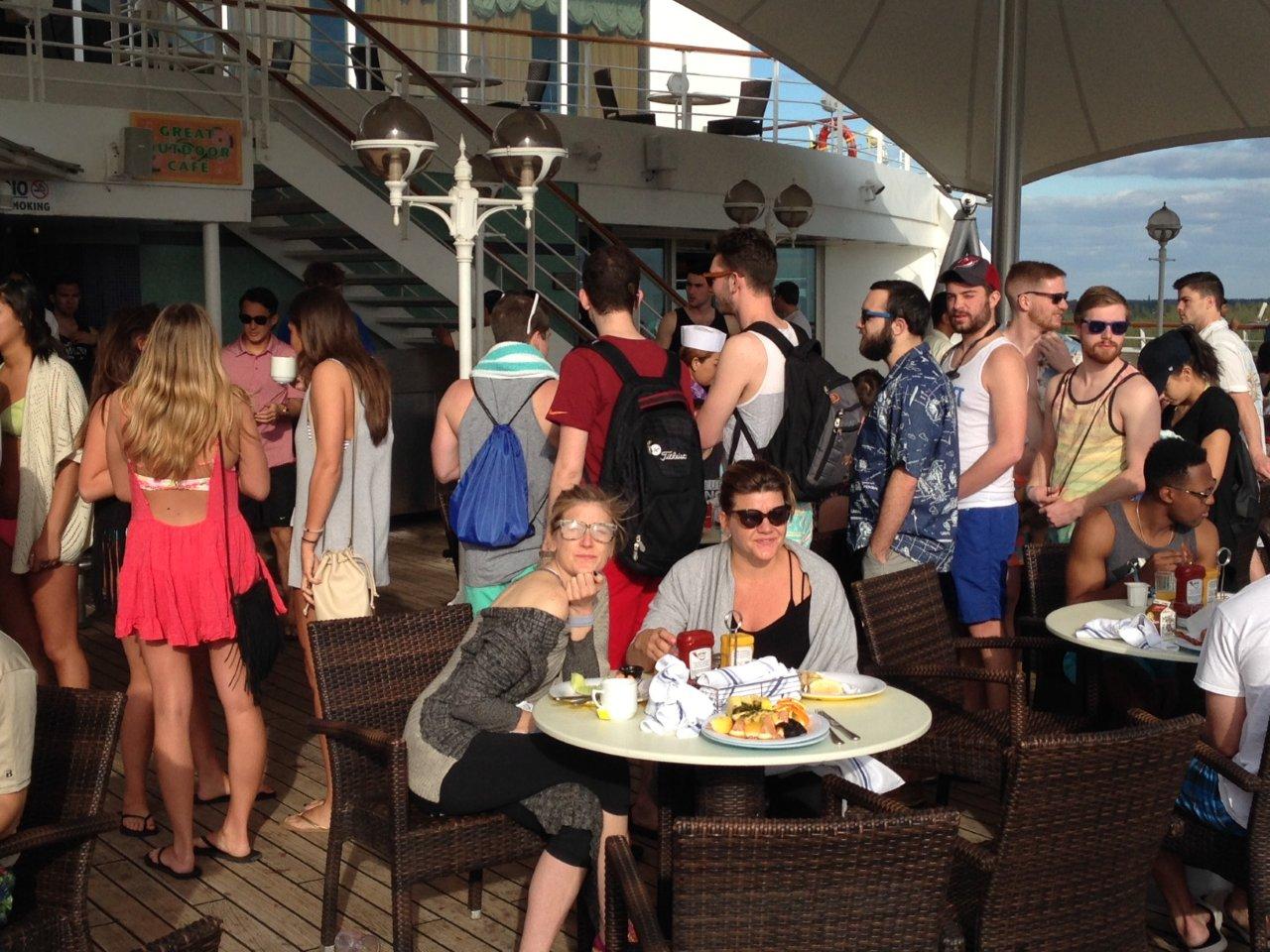 Dani and Jessie. Note the booze line behind them.

The temperature rose slowly but steadily. By 10:30 the pool area was packed with swimsuited spring breakers sitting in hottubs, sunning themselves, or waiting for booze. No one used the pools because it wasn't warm enough out. After a margarita I found Andi and her sisters and we all disembarked onto Freeport, Grand Bahama.
As expected, Freeport was a tourist trap. We went to a bar called Señor Frog's because Tom and Jackie's 18-year-old daughter Sydney was going there to take advantage of Freeport's drinking age of 18. It was quite a wild place, with all the things you'd expect on spring break: fruity drinks in colorful cups, loud music, lots of college kids, young women dancing on the bar, and a twerking contest. Andi got up there and danced with the young girls, and afterward some of them partied with us, a few of them commenting on how beautiful Andi is.

Back on the ship many of our posse got the party started by the pool as we danced to the music and lots of spring breakers joined in. It was a wonderful cross-generational dance party. There was a "battle of the sexes" contest, which the emcee, with his accent, called "bottle of sexes". Guys competed against girls in various contests, which the girls won. We partied the afternoon away amid a flurry of dancing, food, and drinks.

As evening fell, a few of us went to Alice and Silver's luxurious Captain's Quarters, then everyone met at the Plantation lounge for cocktails, where Andi told us how much she appreciates us. Then we all had an elegant dinner at Cagney's, where several folk gave Andi gifts, the best one being a book that Alice had had professionally made with photos and notes from various friends and family. Afterward a bunch of us went dancing at Dazzles, where some of our ladies had young guys hitting on them. Afterward Andi and I got a late night bite and hit the hay.

Wednesday March 23. Two days of lots of food and drink, plus late nights, started to take a toll on our constitutions, so this day Andi and I took it easy: we didn't start drinking until afternoon, and I only ate one breakfast. We landed in Nassau, where the weather was a lot balmier than the previous morning. Around midday we got some sun by the pool. There was almost no one there. Then we had lunch at the trough, where many of our clan happened to show up.
Andi and I disembarked. Other ships were docked there too, including Royal Caribbean's Enchantment of the Seas, which I had been on 8 years earlier. We took a cab into town and walked through the Atlantis, which is a huge, expensive resort. We then went to the public beach, where locals tried to scam us into overcharging us to rent jet skis and beach chairs. We lay on some beach chairs, which no one came over to charge us for, for about an hour. It was a nice beach with aqua blue water, bright sand, and blue skies.
We returned to the pool for dinner #1 and drinks/dancing by the pool. It was jam packed because everyone was back on the ship. The hot tubs were full while very few people used the regular pools. Later on several of us met at Captain Cook's bar for cocktails, then ate dinner at Palace.
After that it was the White Hot Party, where people dressed in white and danced poolside to club music under white decorations. Andi and a few other ladies wore togas that they had made from their bedsheets.
After that, some of us went to Dazzles (funny how we keep ending up there) for more dancing, but by this time we were tired so we stopped at the casino where several of our group were. Rumor has it that Sydney won enough playing 3-card poker to buy everyone another cruise.
Thursday March 24. We landed at Great Stirrup Cay, a small island owned by Norwegian Cruise Line. It was quite warm, even early in the morning. A bunch of us had breakfast, and eventually went to the island on small boats called tenders. Andi had rented a cabana for the day. This gave us not only a shaded place to hang out, but also floating mats, some food, and our own cabana boy to serve us our unlimited drinks. It was a beautiful setting with bright sand, blue water, and palm trees. We swam and floated in the water, ate, and drank. It was a great afternoon.
Late in the day we tendered back to the ship and then several of us had dinner at Le Bistro while others saw a Motown music show. Then we went to the Plantation lounge and heard some of the worst Karaoke ever. Afterward some of us ended the evening at - where else? - Dazzles.
| | |
| --- | --- |
| | |
| | Our room steward always made great towel animals. |
Friday March 25. We pulled into Miami before sunrise. We packed, had one more round of unnecessary food, and returned to civilization, where we are still working off the weight we gained.