Cruise 2.0

We're baaaaa-ack. Well, most of us anyway. Plus one kid. Our second foray into the world of cruising took place during Thanksgiving week 2009. Planning started during the first week of July, when I was heavily sedated in the hospital. Come to think of it, that's how my wedding plans started too.
Traci, Bianca and I left the frigid Maryland weather for southern Florida. The ladies had been very meticulous about packing everything they needed, forgetting only their passports. Not to worry, though. Traci called her mom, who was only too happy to spend her Saturday morning retrieving the passports and delivering them to the airport. They say that when you have kids, you never stop being a parent. Or drinking.
Florida
Marge retrieved us when we landed in West Palm Beach, and we all went to visit Traci's grandmother. Yes, her grandmother. Longevity is very common in Traci's family. Nothing affects them. Smoking, saturated fat, ultraviolet rays and alcohol are no match for their genes, whereas if you were to follow my lineage, I should have died two years ago. We all went for lunch at Toojay's, which is a "New York-style" delicatessen, which means that Jewish customers outnumber the goyim by at least three to one.
We then went to Debbie's and, after giving our bellies a good fifteen minutes to rest, we went out to dinner. The restaurant, Gary Woo's, is the place where we held Debbie's surprise 70th birthday party a year and a half earlier. The employees have not forgotten us since the naked Twister incident.
We spent the following day at Debbie's community pool, which is usually pretty empty, but since it was almost Thanksgiving week and residents' children and grandchildren were starting to visit, there must have been upwards of twelve people there. We basked in the sun amidst a cacophony of loud New York accents, interrupted only by the occasional trip to Debbie's house for food and alcohol.
Since we were going on a cruise the following day, where you can eat literally around the clock, we went out for a big dinner, because when you visit Debbie you cannot let your digestive system rest for more than three hours. Sometimes I wake up in the middle of the night to find her spooning noodle kugel into my mouth. Anyway, the food at Bonefish was great, and the servings plentiful, so I finished everyone's entrées because, hey, people are starving in India. Remember that line that our parents would use in order to get us to eat? Yessir, there's no better way to combat world hunger than by eating more over here.
To the Ship
The next day we were driven to the Port of Miami by the same company that had driven us on our first cruise. We had a lively conversation with our driver John, who had driven us the previous time. His New York accent is thicker than Tammy Faye Bakker's mascara. Debbie brought cookies along in case the ship ran out of food.
Upon arrival, a baggage monkey brought our bags from the back of the van to the sidewalk - a total distance of about seven feet - and managed to scrape them along the road. (Of course. The wheels are only for decoration.) Then he proclaimed, "Y'all wanna accommodate me fo' yo' bags?" I replied, "No, I want to smack you for damaging our bags and then demanding money from us." Okay, I didn't say that. What actually happened was that we paid him a few dollars because that's what Jews do - we give in without making trouble. This has always worked well for us, especially in Germany during the late 1930s.
We and thousands of other passengers checked in and boarded the ship. Upon embarkation we were offered a choice between champagne and orange juice. But not both. You see, in an effort to reduce costs, they are cutting back on beverages. Forget the fact that you can drink all the juice you want at every meal, and the fact that a typical cruise ship burns a gallon of fuel for every six inches it travels; they are helping their bottom line by holding back four ounces of orange juice.
Everyone went directly to the buffet, like cattle except without quite as much class. Debbie brought out her cookies because you just never know when the buffet will run dry. The food was average. So average, in fact, that I only ate five or six plates of it.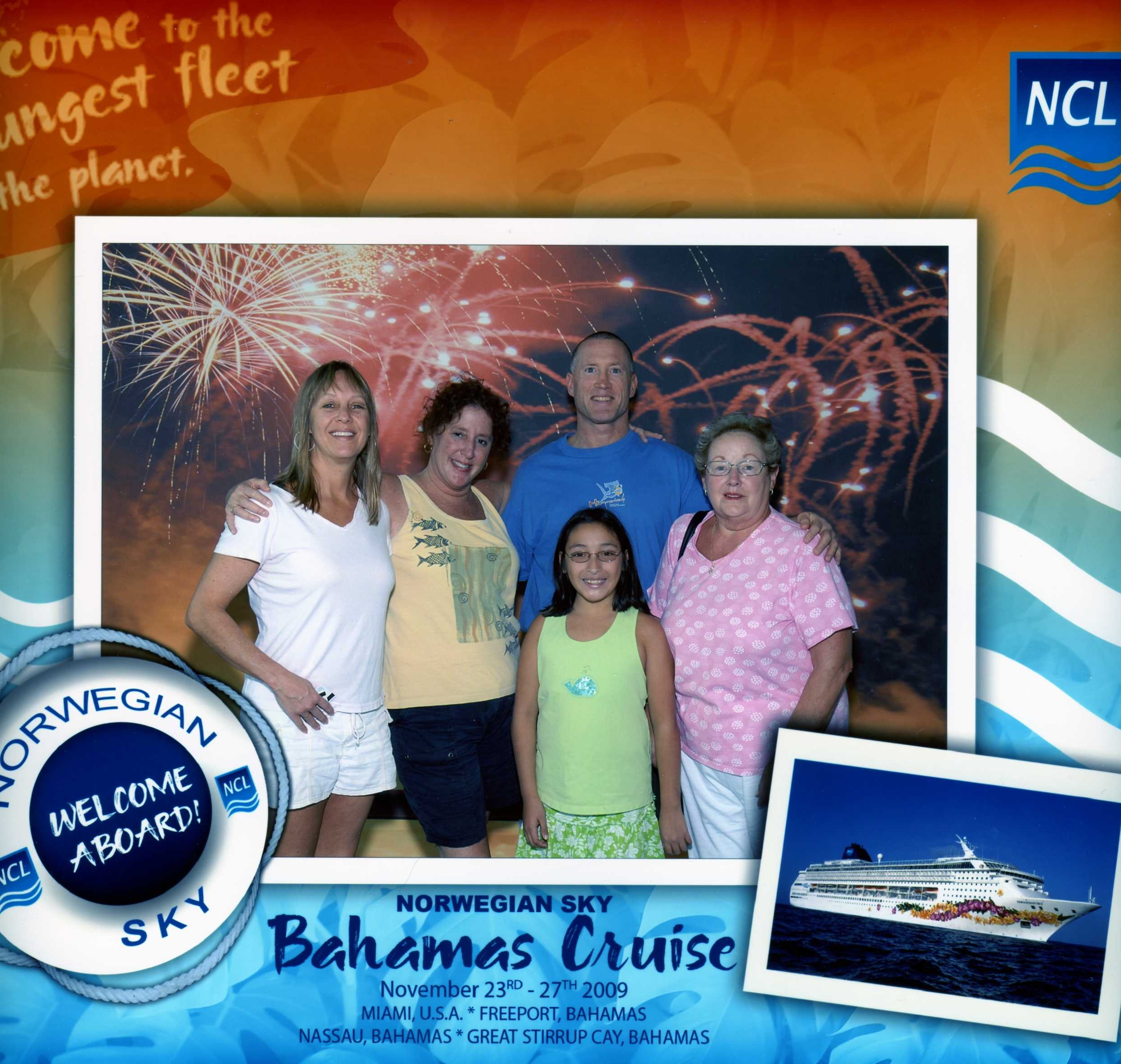 The gang.

After a late afternoon party with dancing by the pool, we all went for family Wii. Luckily we were the only family there, so Traci and I got to play, as well as Bianca of course. There was Wii bowling, Wii surfing and other Wii games. I asked if they had Wii drinking but no such luck. Fortunately there was a free alcohol tasting afterward, which Traci and I did while Debbie and Marge went to a singles mixer at one of the ship's many bars. We tasted several types of spirits and liqueurs before stuffing ourselves at dinner. Afterward we watched a live show with dancing and music from the past five decades, and then went to a 70s dance party featuring crew members dressed as the Village People and Austin Powers.
Breakfast, like the other meals, offered a choice between a sit-down restaurant or a buffet, so of course I did both. And like the other meals, the former was considerably better than the latter. The only thing on the breakfast buffet that looked appetizing was the lox, which I ate about two pounds of. Okay, that's not entirely true - it was three pounds.
Freeport
The ship was docked at Freeport, on Grand Bahama Island. We disembarked with all the other sheep to find a town much like all the other tropical tourist towns: polluted, festooned with shops, and crowded with both tourists and cab drivers willing to transport them. Traci, Bianca and I went to a beach while Debbie and Marge shopped. They drive on the left side of the road in Freeport, and it seems that catalytic converters are illegal there because every vehicle emits gray, foul-smelling exhaust. It's like visiting Newark.
The other passengers in our cab were women whose average age was approximately 132. They had New York Jew written all over them. They complained about the heat until the cab, which did not have air conditioning, got up to speed with the windows open, at which point they complained about the wind. I struck up a conversation with the one next to me and asked if she was Jewish. She replied, "How could you tell?" She and her friends are originally from New York and they all live in Florida now. Big surprise there. They were all very nice except when I referred to Florida as God's waiting room.
The beach was beautiful. Traci and I sunned while Bianca played in the sand and befriended a few other girls. She also found a nice conch, which she didn't keep because it had a live snail in it.

We returned to the ship for a 3:00 "lupper" at the buffet and then lay by the pool. Then we got some 2-for-1 mojitos before having a lobster dinner. Now, the "lobster dinner" was a half a tail, one scallop, one shrimp, and one dollop of grouper, but no matter since it was all you could eat. I ate six plates. I could have eaten more but I didn't want to make a pig of myself.

Later we were entertained by a funny comedian/magician and something akin to the Newlywed Game featuring three couples from the audience. We also drank some of the vodka we had sneaked on board. Oh sure, they have alcoholic drinks on the ship, but you have to sell a kidney to buy one.
Nassau
The following morning we had a nice big breakfast and got off the ship in Nassau, the capital of the Bahamas. We had a choice of a water taxi or a regular taxi to our destination, the Atlantis resort and water park. We chose the former, which turned out to be a poor choice. The boat dropped us off about 359 miles from the Atlantis, which wouldn't have been a problem if Debbie hadn't been 71 years old and Traci didn't have muscle pains and weakness from Bartonella and Lyme disease.
The Atlantis
Upon entering the Atlantis hotel, which is one of the most expensive hotels in the world, we found that we had to walk another 46 miles to the aquarium. We passed fountains and a casino and expensive sculptures. There was also King Neptune's throne, which Bianca just had to sit on.
| | | |
| --- | --- | --- |
| | | |
| This sculpture cost a million dollars. | This sculpture is in the casino. | Queen Bianca. |

Marge, Bianca and I walked the invalids to the public beach, then went back to visit the aquarium. It was nice but no better than other aquariums, and offered less than I expected from a world-famous place, especially for the $35 admission price. Afterward we went back to the beach, where Traci and Debbie and all the other tourists were being gouged for chair rentals and crappy non-alcoholic drinks (both were $10 each). Debbie reported that she had almost drowned in the undertow and was saved by a couple of large men, so Bianca and I immediately went out there and fought Mother Nature. There were some substantial waves and we body surfed and fought the undertow and got sand in our bathing suits and hair. It was the most fun part of the day. Yeah, the Atlantis was big and gaudy and expensive, but big deal. There are big, gaudy, expensive hotels all over the world, and they are just material shells with no soul. That doesn't impress me. The only real fun I had in Nassau was almost drowning in the ocean.
A regular taxi took us directly from the beach to the ship, and as you'd expect we went straight to the buffet for a late afternoon snack. Then we got some 2-for-1 martinis and went to dinner.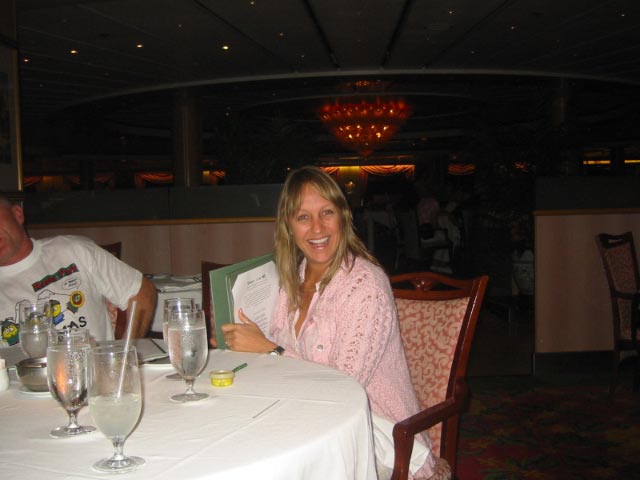 The reason I have forsaken all other women.

Afterward we were entertained by the ship's rendition of Liar's Club, where three people gave definitions of obscure words and we had to figure out who was telling the truth. We learned new words such as blenophobia and clinchpoop. The latter sounds like something you'd do while running to the toilet. (It actually means "idiot".) Later that night we listened to an Asian singer who sounded exactly like Frank Sinatra, and out by the pool there was a dance party with "snow" created by a soap machine.
Oh, and our cabin crew made animals with towels.
Great Stirrup Cay
The next morning we landed at Great Stirrup Cay, a private island owned by our cruise line, Norwegian. Yes, a private island paradise that we shared with two thousand strangers. It was a beautiful place with clear blue water and fish that weren't afraid of us. Bianca and I "snorkeled" with swim goggles and got to see lots of fish. I also caught a glimpse of an albino manatee, but it turned out to be a tourist. We all ate and drank and sunned ourselves. It was a nice restful time, and my favorite of all the places we visited.

Back on the ship Traci, Bianca and I watched the comedian/magician hock some of his wares, and then all of us had Thanksgiving dinner. I think it was my first Thanksgiving ever where I didn't have turkey. I opted for the salmon. I ate a modest meal of 4 appetizers, 3 entrées and 2 desserts.
Afterward there was a funny variety show, and then we dropped Bianca off at Kids Club before going for some adult entertainment. First, audience members were invited to get on stage and tell their favorite dirty jokes. I told a few Jewish jokes, which Captain Goldfarb didn't take too kindly to. Then there was an adult scavenger hunt, where the audience divided into teams and presented the emcee with items and activities such as G-strings, two men dirty dancing, two women kissing, two men kissing, etc. Marge and Traci did the two-women-kissing thing. Now, I had seen Traci kiss other women before, but somehow it just wasn't hot when she did it with my sister. We could not get two of the men on our team to kiss, so we forfeited the points on that round, but at least we came away with our dignity. Well, all of us except Traci and Marge, that is. The pièce de résistance was the final round, when a man had to strip to his underwear and wear a bra, lipstick and a handbag, as well as panties on his head. My sister donated her bra, my mother donated her handbag, and Traci donated her panties. Guess who wore them.
| | |
| --- | --- |
| | |
| My mother was so proud. | Apparently the other teams forgot about the panties. |

Then the emcee took off his shirt to reveal that he was wearing a bra, and he led all the trannies around the bar in a sort of gay pride parade.
Back to the Mainland
The next morning we had one last breakfast, got off the ship and retrieved our luggage. John's girlfriend (I forget her name) picked us up. Her accent is even thicker than his (picture Marisa Tomei in My Cousin Vinnie). She brought us back to Debbie's. Traci, Bianca and I had weighed ourselves before the cruise, and we gained 7 pounds between us, although 4 of it was mine so they did okay. We all spent the entire afternoon at the community pool. I worked out for an hour in a futile attempt to get back to my normal weight, and of course it was for naught because that evening we all went out for a big dinner with Debbie's gentleman friend, Mike.

The next day we said a bittersweet good-bye to Debbie, Marge, and beautiful weather as we boarded the plane for Baltimore with a screaming kid in the row behind us.