Pedal Power 2017

On October 22, for the second day in a row, Baltimore Beer Week co-founder Dominic Cantalupo led a pub crawl through some Baltimore neighborhoods, this time on bicycles.
I rode up with Dominic and our friend Shawn to Canton Waterfront Park on a gorgeous fall day. As folks steadily trickled in, we heard what sounded like a gunshot. Turns out that Shawn's front tire exploded. His bike was just sitting there, and BOOM! Luckily some folks had spare tubes and some bicycle know-how, and the problem was fixed in minutes.
We took off, 16 of us, on all sorts of bikes, from sleek racers to mega fat-tired beasts to my women's beach cruiser with a tractor seat. In a little over a mile we stopped at Patterson Park, by the pagoda on Hampstead Hill, which overlooks the rest of the park. In the distance we could see the old National Bohemian brewery.
We then rode about 5 miles through East Baltimore, up the Jones Falls Trail, past the Baltimore Streetcar Museum, and into the Clipper Mill neighborhood, where we stopped at Waverly Brewing. It's a small brewery with a cozy, dark taproom. I got a snifter of Jerkwater, their 8.8% ABV double IPA. This place opened in November 2015.
| | |
| --- | --- |
| | |
| Dominic (left) and brewer Greg | |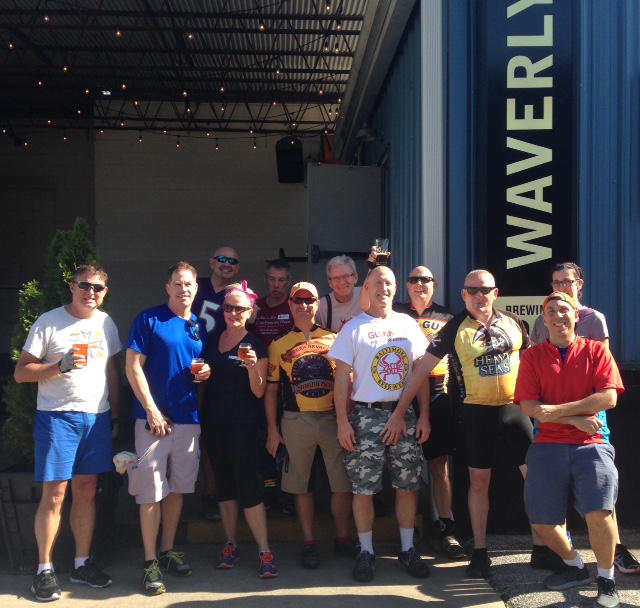 Nice, Dominic.
Then it was a grueling 30-second ride to Union Craft Brewing, located one-tenth of a mile away. I got half-pours of their Dust Rings (a dry-hopped sour ale) and Chessie (a barleywine).
| | | |
| --- | --- | --- |
| | | |
| | The little-known elk rabbit | |
Next we rode about 2.7 miles to The Brewer's Art, which is located in Baltimore's Mount Vernon neighborhood. Many folks ordered food and single beers. I chose to get the sampler, which had 6 beers: Beazly (formerly Ozzy), Resurrection, Bird House (a Belgian-style pale ale), Sligo Creek, Keller Pils, and Barrel-Aged Du Jour (a saison aged in a gin barrel). The Beazly and the Du Jour were my favorites.
The group was not able to stay together on the next leg due to traffic. There were a few minor mishaps as Joe fell without injury and my bike chain fell off (as it has done numerous times), causing me to smash into some stairs and scrape my leg on the pedal as I slid off the seat.
Eventually we all made the 3.6-mile journey to Mark Supik & Company, which makes tap handles for breweries such as Duclaw, Raven, Oliver, Brewer's Art, Monument City, Key, and Fin City, as well as Charm City Meadworks. The Cross Street Irregulars homebrew club was holding their annual event, Made in Baltimore: Tap Handles & Brews. They served several homebrews, including my favorite beer of the day, a raspberry Berliner weiss, which took just 10 days from grain to glass. Monument City (which is located next door), Raven, and Charm City Meadworks all served libations as well.
Our last stop, a little over a mile and a half away, was Mahaffey's Pub. I didn't order any beer since I'd been here the previous day during Walking With Beer History and I'd already had my fill.
Afterward everyone went their separate ways. Dominic, Shawn, and I rode a short distance back to Canton Waterfront Park and headed home. It had been another fun, successful day.