Baltimore Beer Week 2011: Sunday October 9
It was a banner day in Fells Point and Canton. So many beers, so little time.
First was the 10 a.m. sale of limited edition Stillwater Artisanal Ales beers at Max's. People lined up well beforehand to get in on these treats.
After purchasing our booty we went to the bar to sample a plethora of Stillwater ales on draught. The ones I tried were:
Cellar Door
Debutante
Jaded
Rule of Thirds
Debauched (funk provided by Brettanomyces)
G13 Harvest Saison (nice)
Stateside Saison (cask)
Stillwater-Mikkeller Rauchstar (a great malty, smoky ale)
Stillwater-Mikkeller Our Side (good but not as hoppy as in the past)
Autumnal 2011
Stillwater-Struise Outblack
Oak aged Autumnal (nice and oaky)
Channel Crossing
Stillwater-Oliver-Brewers Art BWW Porter
Oak aged Our Side
25 to 1
Cellar Door (casked and dry hopped with Citra hops; nice and refreshing)
Stateside Saison on French oak
| | |
| --- | --- |
| | |
| | |
| | Brewer Brian "Stillwater" Strumke 2nd from left |
Next it was on to Mahaffey's for "Pints and Pancakes". A nice lineup of ales was served with pancakes. There was a fixins bar where you could top your cakes with Smuckers blueberry or strawberry syrup, chocolate syrup, chocolate morsels, blueberries, strawberries, bananas, and whipped cream. We washed it all down with the following libations:
2007 Thomas Hardy Ale
"Half and Half" (Flying Dog Coffee Stout and Flying Dog The Fear)
Rulles La Grande 10
A "beermosa" (Flying Dog Woody Creek Wit and orange juice)
Fisherman's Cape Ann Pumpkin Stout
We then headed for Elliott's Pour House, the starting place for a pub crawl through Canton run by local beer enthusiast Dominic Cantalupo, who actually grew up in the area. Due to the previous events I was already buzzed and the pub crawl hadn't even started yet. When we got to Elliott's there were three customers. Once the pub crawlers arrived there were about 100 of us, many of us spilling out onto the sidewalk. It was a warm sunny day, and the bar got quite warm with all of us patrons.
Dom then led us through the neighborhood, regaling us with stories of his childhood when he and various relatives lived here and he would sometimes walk into the local bars for nonalcoholic beverages. Eventually we arrived at the Knotty Pine where we enjoyed New Belgium Fat Tire and other quaffables both inside and outside.
Next we walked to the National Bohemian building. Actually we didn't just go to it - we went to the top of it. Up there we got a great view of the surrounding area while Dominic told us interesting tidbits along with SPBW founder Joe Gold, former Baltimore Sun writer Rob Kasper, and liquor board chairman Steve Fogleman. National Bohemian was the first beer to be put into 6-packs (this was in the 1940s). National Bohemian is no longer brewed in Baltimore; it is now brewed by Miller in Eden NC, and distributed by Pabst.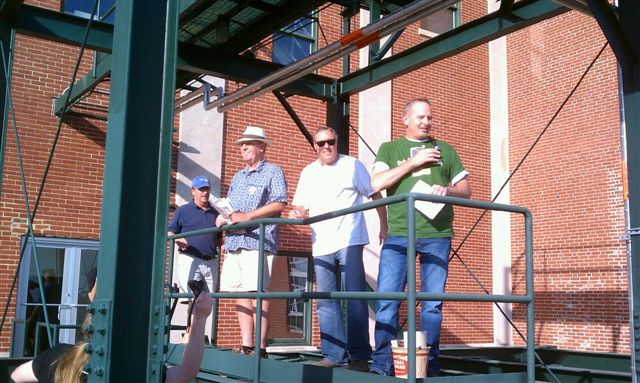 Steve, Rob, Joe and Dominic
On our way to our next destination Dominic educated us some more. Several politicians grew up in the area. There were many breweries in the area way back when (which is how Brewer's Hill got its name). A significant number of immigrants would brew beer at home and sell it out of their basement windows.
We stoppped in an alley for an unexpected treat: hot dogs and beer.
We walked onward to the Baltimore Tap House. It used to be called Growlers Pub but another place of the same name sued them so they changed it. I tried some Franziskaner Weissbier, Victory Prima Pils, and Firestone Walker Nectar IPA (which was great).
Next stop: Mahaffey's, where some of us had consumed pancakes for brunch. Owner Wayne Mahaffey gave a talk upstairs but I couldn't hear what he was saying.
Wayne is in the center
Final stop: Hudson Street Stackhouse. They had more than 35 beers from Dogfish Head, Heavy Seas, and Tröegs. We packed the place. I got to try two Tröegs beers: Flying Mouflan (a barleywine) and Java Head Stout.
After the pub crawl several of us went to Canton's O'Donnell Square, which was hoppin'. We stopped at JD's Smokehouse, which had a great two-man band, nice atmosphere, and tasty food. I got an excellent pulled pork sandwich. They have many beers on tap. We tried Shmaltz Brewing's Coney Island Sword Swallower and New Belgium Ranger IPA.
Whew! What a full, fun and memorable day.