Asheville / Richmond 2017

(John and Ben's Excellent Adventure)

In the summer of 2017 my long-time friend John and I embarked on a whirlwind tour of breweries in Asheville North Carolina and several towns in Virginia. Additionally, we hiked some trails in the beautiful Blue Ridge Mountains. To make the trip even better, we also met up with some other old friends of mine.
Saturday July 15. We left Severna Park in the early morning and drove to Charlottesville VA to meet my old friend Sue, who I hadn't seen in two decades. We'd been following each other's travel adventures on Facebook for years. She and her friend Tom met us for lunch, and it was a great reunion.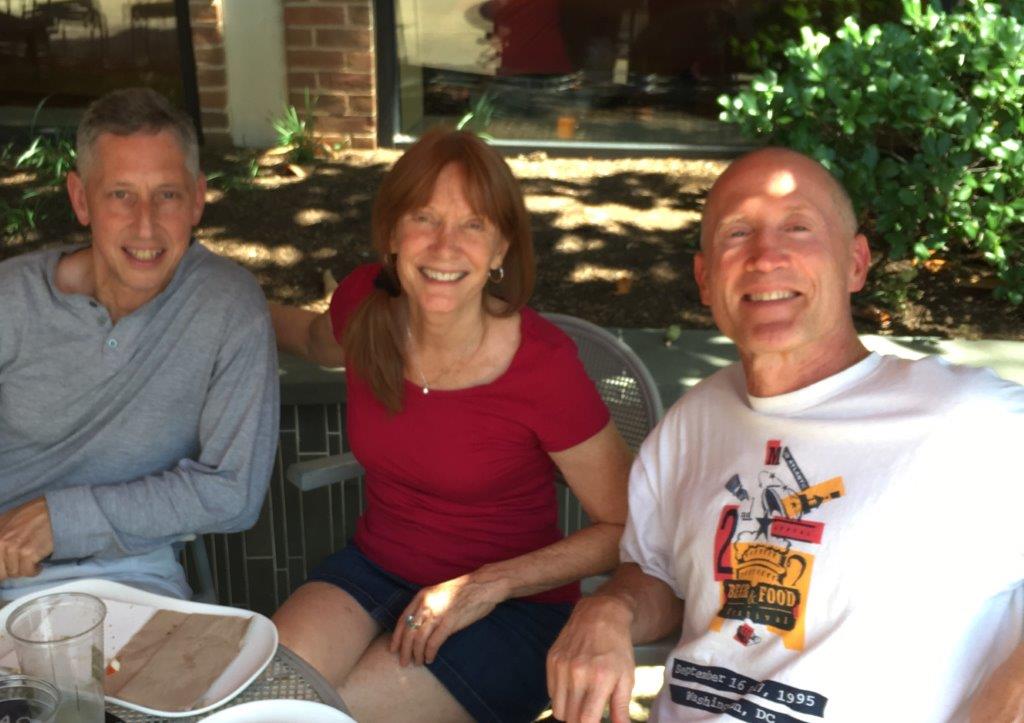 John, Sue, and me.
We'd have liked to linger, but beer was beckoning us, so we said good-bye and went to the first of two Devil's Backbone locations: Basecamp Brewpub & Meadows, located in Roseland VA. It's a big place with several buildings, an outdoor biergarten, and a stage for bands. It is surrounded by beautiful mountains. There were a lot of people there considering how remote the place is. This would be a common theme among all the remotely located places we would visit during our trip.
The first building we went into is called The Shanty. In addition to beer it sells whiskey and cigars. It is their only building where smoking is allowed. We talked to someone who had been to Asheville and he gave us some tips on places to visit.
We went inside to the bar/restaurant. They had set flights (i.e., they pick the beers). Our flight had:
Call Me Pilsmael (pilsner)
Grill Marks (smoked kolsch)
Evergreen Rye (spruce lager)
Tres Cray IPA (our favorite)
Survivors' Double IPA
Then we went out to the biergarten, where again the flights were set, and got another flight consisting of:
Tides de Mars
Crystall Brett (collaboration with Three Notch'd Brewing) (not very Bretty)
Grill Marks (was supposed to be Fight the Frost but they ran out so they substituted)
Survivors' Double IPA (our favorite)
Peppercorn Grand Cru
Tectonic Barleywine (good English barleywine)
One of the employees told us that there are a lot of breweries, cideries, wineries, and distilleries in the area. One reason is the great water. A lot of travelers visit these places. At this particular location, Appalachian Trail hikers will hitchhike here, eat, drink, camp out on the grounds, and the next day return to the trail (sometimes getting a ride from an employee). Small batches of seasonal beers are brewed here, with larger batches of their staple beers being brewed at their other location, which is...
Outpost Brewery & Tap Room. It took a little under an hour to get here from Basecamp. It's a mid-sized brewery and tap room.
We got a brewery tour. It was extremely hot in there because it was hot outside and the equipment was running. It opened in 2011 and has two brewing systems: a 30-bbl and a 120-bbl. (Basecamp is their original location: it opened in 2008 and has an 8-bbl system.) A new canning/bottling/kegging building was being built. They let AB InBev (who owns Budweiser) buy them so they'd have capital for expansion. They had considered other buyers but AB InBev was the only one who would let them remain autonomous. Under AB InBev, all employees get drug tested. They prepare water for brewing by stripping its minerals and then adding calcium chloride (CaCl2) and calcium sulfate (CaSO4, aka gypsum) to match the water in Nelson County VA (where Basecamp is). 75% of what they brew is their Vienna Lager, and 90% of what they brew is lagers. They brew 24 hours a day, 7 days a week. They employ 220 people, including marketing folks. All the hops they use are in pellet form. They brewed 75,000 barrels in 2016 and were hoping to brew 125,000 barrels in 2017. They reuse yeast 8 times before starting with a fresh slurry. At the time they had 5 employees named Josh. Although generally known as Devil's Backbone Brewing Company, that is just a trademark. The actual business name is Mountain View Brewery. Click here to see all of its trademarks.
After the tour we got a flight. Unlike at Basecamp, we were allowed to select which beers to taste. We got:
Glitter Bomb (Berlinerweisse collaboration with 10-Barrel Brewing)
Yakima Hop Flight (DIPA)
8-Point IPA
16-Point IPA (imperial IPA)
All three of the hoppy beers were good.


The beer gods smiled upon us because less than an hour south of there, on the way to Asheville, is Ballast Point's Daleville VA location, which had just opened a month earlier. They make the popular Sculpin and other nice hoppy ales. It's a big place, and it was pretty crowded. They served food and had a growler fill station. They were not brewing here at the time but planned to in the future.

We sampled 6 beers, and all of them were great:
Sculpin
Big Eye IPA
Grapefruit Sculpin
Fathom IPL
Dorado (DIPA)
Manta Ray (DIPA)
After that we went outside to enjoy the fresh summer air, the mountain view, and the sunset.
By the way, this was the first of four western breweries we would visit on our trip. Several western breweries have opened East Coast locations in order to keep up with demand. In addition to the ones we visited, Green Flash opened a location in Virginia Beach in late 2016; and as of this writing, Deschutes plans to open a tasting room in Roanoke in late August 2017, with a brewery on the outskirts of town in 2019.
We checked into a Motel 6 which, for $50, was one of the better flea bags I've stayed in.

Sunday July 16. It was a beautiful 4-hour ride along the mountains to the Asheville area. We couldn't believe how many mountains there were. If you're looking for a mountain vacation, the Appalachians might be the place for you.
Before going to Asheville we visited Sierra Nevada Brewing, another western brewery, at their Fletcher NC location. There are solar panels over many of the parking spots, which not only capture energy but also protect your car from the sun's heat.
| | |
| --- | --- |
| | |
| Solar panels. | Middle-aged beer snob. |

We went inside and signed up for a free tour. While waiting, we went upstairs where a long hallway had showcases with old beer-related equipment and paraphernalia such as microscopes, thermometers, pumps, wrenches, comic book covers, flasks, and mash paddles. We could also see the brewing and packaging areas, the latter of which is, to quote a certain president, yuuuge.

Flasks with wort at different fermentation stages, newest toward the left. Rightmost two are filtered.
Our guided tour started with a glass of their flagship Pale Ale (which constitutes 50% of what they brew). Their malt is delivered from Saskatchewan by rail. All the hops they use are whole (no pellets), and from the Pacific Northwest. They are the largest user of whole hops in the world. They get their water from three wells in the area. The business was founded by Ken Grossman around 1980 in Chico CA. The brewery is named after the Sierra Nevada mountains, which are near Chico. At first, 90% of people hated their beer (people were used to macrobrew in 1980) but they stuck to their passion. They now have two breweries in Chico. Both of them have solar panels on top, and the company is one of the largest solar panel owners in the U.S. They opened the North Carolina location in 2012, producing the first beer in February 2014. They collect 2 million gallons of rainwater every year, which they use to flush the toilets and irrigate the grounds. Their water:beer ratio is 3:1, meaning that they use 3 gallons of water for each gallon of beer produced (most breweries have a 7:1 ratio). The United States Green Building Council rates Sierra Nevada at their highest level, LEED Platinum (click here to learn about LEED). They brew all but their highest alcohol beers (such as Bigfoot) here. Like Devil's Backbone, they prepare water for brewing at all their locations by stripping its minerals and adding calcium chloride (CaCl2) and calcium sulfate (CaSO4). They have an entire room dedicated to water treatment. They also have a yeast propagation room. The grain is wet milled, which reduces dust and keeps the husks malleable so they don't get pulverized (for you non-brewers, husks make a nice natural filter for rinsing the grains after mashing). 70% of their beer goes into bottles, with 15% in cans and 15% in kegs. Their bottling line at this location does 900 per minute.
| | | |
| --- | --- | --- |
| | | |
| Grain mill. | Hops. | More hops. |
| | |
| --- | --- |
| | |
| Just some of the many, many pipes. | Those blue lights are valve indicators. |

Our tour concluded with a beer tasting at a bar that's only for beer tours. We sampled:
Kellerweis (open fermented)
Summerfest
Otra Vez (gose with prickly pear cactus and grapefruit rinds)
Ovila White Ale
Sidecar (orange pale ale)
Torpedo
Tropical Torpedo (fruitiness comes from Amarillo, El Dorado, Comet, Citra, and Mosaic hops)
Hoptimum
| | |
| --- | --- |
| | |
| | Kellerweis fermenting. |
After the tour we went over to the restaurant/bar, which has an upstairs and a downstairs. First we went upstairs, where there is a bar and a deck where we could overlook the grounds, which has a patio, lawn, garden, and stage where a live band was playing. They don't serve flights upstairs but they let us taste:
East Meets West IPA
Audition IPA
West Coast-Style DIPA
Know Good IPA

Panoramic view.
By the way, a word on East Coast vs. West Coast IPAs: The West Coast style entails dry hopping after fermentation is complete (this is the classic way to dry hop). The East Coast style involves dry hopping before fermentation has finished; the yeast metabolize the hop oils and produce juicy flavors and aromas that are not possible via classic dry hopping. This is more commonly referred to as New England style because it (supposedly) started with a New England brewery called The Alchemist, who makes the ever-popular Heady Topper, a juicy, tasty, and very cloudy beer.
We then went downstairs, where there is a big bar, a full kitchen, and lots of seating. The place was packed. We ordered a flight consisting of:
NC Saison
Hop Hunter IPA
Hoppy Belgian-Style Golden Ale (collaboration with Duvel)
Dry-Hopped Barleywine (collaboration with Avery)
We then went outside, where there were kids, dogs, and adults of all ages. Folks played bocce and cornhole. The garden had sunflowers, tomatoes, rainbow Swiss chard, fennel, basil, rhubarb, graffiti (purple) cauliflower, vitaverde (green) cauliflower, kale, bunching onions (scallions), and various flowers.
This was the most cost-effective brewery stop of the entire trip: the place was fun, beautiful, and interesting; we sampled 17 beers; and all we paid between the two of us was $7 for our beer flight.
Next we headed into Asheville. On a tip from the guy we talked to at Basecamp's Shanty, we went to Biltmore Village to visit not the famous estate but a brewery and a beer store. First we hit Hi-Wire Big Top. This is their main production brewery. They also have a downtown location (Hi-Wire South Slope) that brews their specialty/sour beers. Big Top opened in 2015 and South Slope opened in 2013. We tried:
Hi-Pitch Mosaic IPA
Lo-Pitch Juicy
White Grape Grisette (funky, musty, hoppy, and good)
Uprisin Hefeweizen
Except for Grisette, the beers were unimpressive, and also pricey: we paid $14 including tip for 4 samples (twice what we paid at Sierra Nevada for much more beer and fun).

Across the parking lot is Appalachian Vintner, a beer store with lots of bottles and cans for sale as well as 20 beers on tap. We weren't yet knowledgeable about Asheville-area beers so we didn't know what to buy, but we did get a flight of:

The beers were nothing to write home about (although I just wrote about them, didn't I?), and just as pricey as the ones at Hi-Wire. Well, not every tip turns out to be a good one.

We drove downtown and checked into the Downtown Inn, a low-rated but not too shabby and relatively inexpensive hotel that's walking distance to most of the Asheville breweries. We changed rooms twice: first because they'd given us a room with one bed (I'd requested two); and second because they'd put us on the street side, which was very loud due to a seemingly endless barrage of motorcycles. After dropping our stuff in our two-bed, pool-side room, we hung out at the pool for a bit, then went out.

The downtown area reminded me of Europe because it was kind of smelly and had a number of derelicts. It also reminded me of Portland Oregon because there were a lot of young people, beards, and tattoos.

Our first downtown brewery stop: One World Brewing, which is located in a windowless basement. It has a nice dim, funky ambience. All the brewing equipment is in plain sight. There are many smallish fermenters, some of them plastic. They've been in business since 2014 and plan to open another location. Some folks were playing sjoelbak (Dutch shuffleboard). We sat at the bar and sampled:
The DANK (DIPA)
Baltic Porter
Hybrid #2 (made with Zinfandel and Cabernet Sauvignon grape must)
Hempen Ain't Easy (made with Canadian hemp seeds)
All Along the Hop Sour
Czech Yourself Before You Brett Yourself
Next we walked to Lexington Avenue Brewery, a somewhat sterile cookie cutter place with many beers on tap. Unfortunately they did not serve flights except for one that was set by them. It seemed to be first and foremost a restaurant, with a brewery thrown in but lacking the passion that would attract a true beer geek. We opted to leave and head over to another place. As we crossed under route 240 we found some graffiti.
Just north of the busy downtown area is Habitat Brewing, a small artsy place that opened in November 2016. It was mostly empty due to being off the beaten path. Or maybe the locals don't like it very much. Anyway, we sampled all their beers, which were of about average quality:
Oatmeal Pale Ale
IPA
English IPA
Stout
Afterward John went for another swim and I checked out the Thirsty Monk, which as of this writing has three or four locations in and around Asheville. This one, located just a few blocks from our hotel, opened in 2008. Their beer is now brewed at one of their other locations. It has three levels. The basement ("downstairs") is their Belgian bar, with 16 taps of mostly beer from Belgium but also their own Belgian-style brews. There is also a good Belgian bottle selection.
The street level ("upstairs") has 20 taps, which are split about evenly between their and other breweries' beers.
The topmost level is called Top of the Monk. It serves hard liquor. They explained to me that the Top of the Monk is not a bar because in North Carolina there is no such thing. There are three kinds of adult drinking establishments:
a tap room / wine bar, which can't serve hard liquor
a restaurant, where at least 30% of sales are from food
a private club, where hard liquor is served and less than 30% of sales are from food
Click here for more information on this. Anyway, Top of the Monk is a private club, so I had to join to be in there. For $1 I got a membership card. They had 120 different whiskies but I didn't get any since that's not my thing. They also had something called the Lock (pictured below right) where you'd get a free bite of food when you ordered something.

Afterward I stopped briefly at Jack of the Wood, an Irish bar where Green Man Brewing (who we would visit later in the week) was originally located. The place had a nice ambience and live Irish music.


Monday July 17. We ate a hearty breakfast consisting of stuff we'd brought plus stuff that the hotel supplied, then drove to Black Mountain NC to hike about 10 miles at the Graybeard Trail. It wasn't hot out but it was humid. There were some fairly steep uphill parts. We saw small waterfalls and bubbling brooks, and at Walker's Knob some nice mountain views. When we reached the summit I was sweating like a pig. The view was nice but not as expansive as it was at Walker's Knob. There were lots of annoying flies and bees at the summit that sounded like small aircraft. The only wildlife we saw all day was one bird and one rabbit, although we heard lots of birds. We walked back down whence we came, which was tiring for our knees and feet but not as strenuous as going up. Afterward we were mighty sore.
| | |
| --- | --- |
| | |
| View from Walker's Knob. | Walker's Knob camping shelter. |

Panoramic view from Walker's Knob.

Afterward we picked up some food at Trader Joe's. One of the things John and I have in common is that we'd rather eat on the run than waste time and money at restaurants. We did not go out for a meal the entire time we were in Asheville (and later Richmond). We always had plenty of bread, wraps, nuts, sushi, chips, guacamole, and vegetables with us in the car and hotel rooms to keep us sated and provide a base for beer.
We returned to the hotel, showered, ate, and hit the town. The downtown area is not pretty. Like any other city, it has traffic, noise, pollution, and some disgusting people. But it has a lot of breweries, and some of them are located on relatively quiet streets.
We happened upon a place called Ben's Tune-Up. It is a brewery/bar that makes primarily saké, plus a little beer and some soda. The biergarten is quite nice and unique. We tried 3 of their sakés:
Strawberry Cucumber
American Heavy
Natural Nigori
They were all bad. Maybe we don't understand saké, but we couldn't fathom how anyone could enjoy this stuff. I think John's comment summed it up: "I'm amazed at how bad this is."


Next we walked over to Wicked Weed Pub. (Wicked Weed has two locations, the other one being the Funkatorium, which we would hit later in the week.) Earlier in the year they, like Devil's Backbone and several other craft breweries, had been bought by AB InBev. There has been some backlash from the beer community for "selling out". In fact, so many breweries pulled out of Wicked Weed's annual beer festival, which had been scheduled to take place a week before we arrived, that they canceled it. Well, if you ask me (and you didn't), good beer is good beer, no matter who owns it. Hell, Donald Drumpf could own it and I'd drink it. Bigly. As long as Wicked Weed keeps making the same good beer, I'm not going to deprive myself of it. We all buy products that are sold by big companies: gasoline, housing, cars, groceries, insurance, airline tickets, computers, televisions, and smart phones. A quality product is a quality product, no matter who sells it. I certainly won't buy Budweiser beer, but only because it sucks, not because it's sold by a big company.

Okay, now that I've stepped down from my soapbox, I'll tell you about the Pub. It has an upstairs and a downstairs. Upstairs was crowded with people of all ages eating dinner and drinking beer. Downstairs has more of a bar atmosphere and is much more cool for beer geeks because you can see much of the brewing equipment as well as 25 taps coming out of what look to be large barrel heads. They played 80s music. It was almost as crowded down there as it was upstairs, and it was only Monday. They must get slammed on weekends. Glasses of beer ranged from $4.50 to $7, and flights were 6 samples for $9.75 (which works out to 4 for $6.50). That is very reasonable considering what some other places charge and the fact that Wicked Weed makes some of the best beer in Asheville. Their philosophy is that you should be able to get a beer and a burger, and tip well, for no more than $20. We got 2 flights consisting of 10 different beers (2 were repeats because we liked Pernicious and Khatta Masala so much):
Silencio (bourbon barrel black sour)
Khatta Masala (sour ale with mango and spices)
Bretticent (Brett farmhouse ale)
Pernicious IPA
Aye Aye Stout (made with wildflower honey)
Freak of Nature (DIPA)
Bombadile (Brett farmhouse ale with strawberries)
BA Gin + Juice (aged in gin barrels with oranges and pineapple)
Bonaparte's Defeat (pale ale)
Empress Tripel (Belgian tripel with honeydew melons)
Afterward I went to their bottle shop and bought some Khatta Masala and Bombadile.

Next we walked to Twin Leaf Brewery. It had lots of barrels, plus games such as jenga, ping pong, and foosball. The beers in our flight were fairly good:
Leafer (IPA)
Scientific Method (white IPA)
Luminosity (tripel)
Fleurs du Soleil (saison with honey and Chinese tea)
Magic Hour (gose)

John was beered out so he went back to the hotel. I wandered over to Wicked Weed's Funkatorium because even though we had a tour reservation for Thursday, I just had to go in. It wasn't very crowded, probably because their food menu is limited (their Pub serves more food and was crowded). There were 20 funky ales on tap with different permutations of sour, aging vessel, and fruit. Aging vessels included barrel, puncheon, and foeder; and barrel flavors included red wine, bourbon, and neutral. They seem to favor aging their farmhouse ales in foeders and their sour ales in barrels and puncheons. I'm a little hazy on the different vessel types, but I've read that barrels have rounded sides and vary in capacity (e.g., bourbon barrels hold 53 gallons and wine barrels hold 59 gallons), puncheons are short and squat and have straight sides and hold 132 gallons, and foeders also have straight sides but are longer than puncheons and are often very large but can be any size. I have not found a website that clearly defines all of these. There are many other types of aging vessel, such as English tun, gorda, port pipe, sherry butt, barrique, hogshead, kilderkin, firkin, and pin.
I tried a flight of four beers which, at $8.50, was a good deal for sour/funky ales, even though it was more per ounce than they charged at the Pub. Plus many of the beers at the Funkatorium are more expensive to produce than the ones served at the Pub. I chose:
La Bonté (Brett farmhouse ale with plums)
Prevalence (sour ale with elderberries and juniper berries)
Rubus Viola (sour ale with boysenberries and violet)
Black Angel (black sour ale with tart cherries)
| | | |
| --- | --- | --- |
| | | |
| | | Flight holder made from a barrel stave. |
Afterward I bought a few bottles from their bottle shop and headed back to the hotel.

Tuesday July 18. We had breakfast and drove to the Pisgah National Forest to hike up to Catawba Falls.
It was a beautiful day. Along the way we saw some small falls and rushing streams such as these:
There are two main falls. The Lower Falls, which is easily accessed, is composed of several small falls.
The Upper Falls cannot be seen from the Lower Falls (expect maybe in winter when the trees are bare). From the Lower Falls one may ascend to the Upper Falls via a very steep trail that involves as much climbing as hiking. It is very strenuous due to the fight against gravity, but there are lots of rocks and exposed roots, as well as a few ropes, to grab for assistance.
The climb is very doable as long as you're in good health. Hell, I made it, and I'm a 55-year-old beer drinker. I must have sweated out a liter by the time I reached the Upper Falls. It was beautiful and quiet, as I was the only one there. The falls fed a pool at the bottom. I saw a snake swim across it but couldn't get a photo. I also forgot to snap a photo of the falls but I took a brief video:
The descent was less strenuous because I wasn't fighting gravity, but it required at least as much dexterity to avoid falling. After meeting John at the Lower Falls we returned to the hotel, got cleaned up, ate, and walked to New Belgium Brewing.
This was the third East Coast facility of a western brewery that we visited. Its main facility is in Fort Collins Colorado, and it makes the popular Fat Tire beer. We got a tour. New Belgium is the third largest craft brewery in the U.S., behind Sierra Nevada (#2) and Boston Beer Company (maker of Samuel Adams) (#1). You might have heard that Yuengling is the largest craft brewery, but to call them "craft" is a bit sketchy.
The Colorado facility produces a million barrels (31 million gallons) per year. It has the biggest sour beer program in the U.S. and the second largest in the world (I'm not sure who has the largest but I assume it's Rodenbach). The Asheville facility produces 500,000 barrels (15½ million gallons) annually. No sour beers are produced here. It opened in May of 2016, while the Colorado location opened in 1991. Thanks to the addition of the newer facility, their beers are now available in all 50 states. There are two big buildings here: the brewery and the tasting room. Peter Bouckaert has been the head brewer for over 20 years as of this writing, but he plans to leave soon in order to open Purpose Brewing and Cellars. He was head brewer at Rodenbach in the 80s and 90s.
After one year of employment, each employee gets a free bicycle. Here are some of them:
After five years of employment, each employee gets a free brewery-hopping trip, with pay, to Belgium. In fact, I met a group of them, led by Peter Bouckaert himself, on my 2009 trip to Belgium. Additionally, each employee gets a free 12-pack every week and a glass of beer at the end of every shift.
Our first stop was the main brewing room, which houses the mash, lauter, and boiling kettles. We also drank a beer. I forget which one it was but I assume it was Fat Tire.
After that we went down a level. There were three ways to descend: elevator, stairs, and slide. Guess which one we chose.
When they went to build the brewery, the soil was so polluted that they had to remove it (8-foot depth over 18.2 acres), send it to a treatment plant, and bring it back. During the excavation they found a number of artifacts such as this one:
We then got a choice of three beers: Trippel, 1554 Black Lager, and La Folie. I chose La Folie, which is the very first sour beer they ever made (in 1999). It was quite good. This beer is aged in barrels for 3 years. It's a blend from 13 barrels. New Belgium started the U.S. sour beer movement. Co-founder Jeff Lebesch's inspiration to make Belgian-style beer came from a long discussion about beer with the owners of a bar in Bruges called t'Brugs Beertje during a bicycle tour through Belgium. New Belgium does quality control via a tasting panel that consists of dozens of its employees, and a lab that uses gas chromatography and other methods to detect undesirable compounds such as diacetyl and isovaleric acid.
| | |
| --- | --- |
| | |
| Just some of the many pipes. | Lab. |
We got to try a new beer that hadn't been released yet: Fat Tire Belgian White. It was fairly good. We also got to sample their Voodoo Ranger 8-Hop Pale Ale and Voodoo Ranger Imperial IPA, both of which were good. We learned that their bottling line fills 480 bottles per minute, their bottles are made of 100% recycled glass, and they don't do any canning here.
We exited the building, where our tour guide told us a few more tidbits, such as that New Belgium is the only brewery in the world that is 100% employee-owned. There were a few interesting items outside such as this one:
We then went to the tap room, which has a solar-paneled roof that's concave in order to collect rainwater that's used to irrigate the grounds. Like Sierra Nevada, New Belgium is LEED Platinum certified. Unlike Sierra Nevada, New Belgium uses only pellet hops. We got a flight of the following, all of which were good:
Transatlantique Kriek
Le Terroir (dry-hopped sour)
French Saison
Voodoo Ranger Passionfruit Imperial IPA

We walked back over the French Broad River to Wedge Brewing, which is located in the River Arts District on the lower level of an approximately 100-year-old three-story building that contains more than 20 artist studios. The 10-bbl brewery, which opened in 2008, makes efficient use of its tight space. It was hot in there because it was a hot day and there was no air conditioning. There were 11 beers on tap. We sampled the following, all of which were pretty good:
Iron Rail IPA
Golem Belgian-Style Trippel
Belgian-Style Witbier
Apricot Pale Ale

Next we walked to Dirty Jack's, which is Green Man Brewery's original tasting room and where Green Man's specialty beers are brewed. It started in 1997 and is Asheville's second oldest brewery (the oldest is Highland Brewing, which started in 1994). The decor has lots of little cards and stickers, many of which are funny. We got a flight containing:
Wayfarer IPA
Trickster IPA
Easy-G IPA
Hopfenweizen
Flagship IPA (not in our flight but the bartender let us try some)

I bought a six-pack of Wayfarer IPA, then we walked down the street to their production brewery.

Next door is their Greenmansion, a combination packaging hall, tasting room, and "brewtique" that had just opened four months earlier on St. Patrick's Day. This was the first place since New Belgium that had air conditioning. Several of the beers on tap were high octane. In fact, all the beers we sampled were 9% ABV or greater:
Gambler (amber ale with mint leaves, aged in Buffalo Trace barrels for 5 weeks)
Holly King (barrel-aged barleywine)
Trickster III (a great 11.1% ABV hoppy ale)
Demon Dweller 2014 (imperial stout aged 3 months in barrels, then cellared for 3 years)

We headed down to Burial Beer Company, which has a number of barrels and foeders. Their beers were okay. We sampled:
Episodes of a Hermit Life (key lime pie gose)
Hawkbill (IPA)
Surfwax (IPA)
Blade and Sheath (American farmhouse ale)
Machete (puncheon-aged sour ale)

Wednesday July 19. After breakfast we drove up the Blue Ridge Parkway to Craggy Dome View and hiked the Craggy Pinnacle Trail. There were some nice views, including a 360-degree view at the top. Except for the road and a few other Man-made things, we saw nothing but nature. It must be what people saw a long time ago before Man existed.

Panoramic view from the peak.

We then drove to the Craven Gap Trail and hiked about 5 miles. The trail connected to the Mountains-to-Sea trail. It was a nice trail but didn't have any great views so I didn't take any photos. Afterward, on a tip we got from someone at Burial the night before, we drove to the Omni Grove Park Inn, a posh resort. John went in to take some photos while I sweated in the car.
As we drove back to town it occurred to me that all the places we saw outside the downtown area are nice. Downtown might be crowded, noisy, and polluted, but you can get away from it in a matter of minutes. We stopped at Trader Joe's for more food and returned to the hotel. John swam while I cleaned up and rested.
Our first brewery of the evening was Asheville Brewing, aka Asheville Pizza & Brewing. It has three locations. The original is the North Asheville location, which opened in 1998 and is Asheville's third oldest brewery. The South Asheville location is a delivery and carry-out place. We went to the Downtown location, which opened in 2006. It's not as beer-geeky as most of the breweries in Asheville, but the ambience isn't too sterile. We sampled:
Perfect Day IPA
Shiva IPA
Viva La Shiva (Shiva with grapefruit juice)
Ashevillain Black IPA (American farmhouse ale)
Ninja Latte (milk porter with cold-brewed coffee and lactose)
The Ninja Latte, which was not part of our flight but our server gave us a taste of, was very good. The other beers were good.


Next was Bhramari Brewhouse, which opened in January 2016 and has a small canning line. All the beers we tried were light in body and fairly good:
Lorelai IPA
Good Fight (dry-hopped sour)
Natural Born Farmer (tart farmhouse ale with South Carolina peaches and pink peppercorns)
Molly's Lips (black gose with orange blossom)

Then we hit Catawba Brewing, which has four locations in North Carolina, two of which are in Asheville. The original, in Morganton, opened in 1999. Its 30-bbl system makes the flagship beers. The one we visited, located in the South Slope area, opened in April 2014 and has a 7-bbl system with lots of barrels for the barrel aging program. They can some of their beers but I'm not sure where the canning line is located. We sampled:
HOPness Monster IPA
CLT IPA
New England IPA (very fruity beer with Mosaic and Citra)
Red Rhum Red IPA (aged in Nicaraguan rum barrels)
White Zombie White Ale (witbier)
Friki Tiki (pineapple IPA)
Apricot Brett Farmhouse Ale (6 months in oak barrels, 2 months on apricots)
All the beers except the White Zombie were quite good, making Catawba my second favorite brewery in downtown Asheville (Wicked Weed is my favorite).


After that we walked to Tasty Beverage, a bottle shop that also sells beer for on-premises consumption. They don't serve flights but they let me taste several beers:
Newgrass Fiddler's Dream (hazy IPA)
Bell's Quinannan Falls (India pale lager)
Bell's Wedding Ale (wheat)
I didn't like any of them so I got a bottle of Trappistes Rochefort 10 (an 11.3% ABV quadrupel). Prices were reasonable. Draughts were $3 to $5 for 10 ounces, and bottles of Rochefort and Orval were $7. I bought a bunch of bottles and cans and we returned to the hotel.


Thursday July 20. We walked north into the Montford area, which is a lot prettier than downtown. It was quieter, cleaner, mostly suburban, and green. There were lots of nice old houses and gardens. We went through Montford Park down to the Asheville Botanical Gardens (that link has better photos than the ones I took). It's mostly shaded by trees so not many flowers grow there.

Next door is the University of North Carolina at Asheville (UNCA). We walked over to look at the campus because one of John's daughters is considering attending it. There was some construction going on because they were building new dorms.

Panoramic view of the quad.

We then walked back toward downtown. I noticed that several women in Montford had short hair. We stopped in a liquor store and learned that in North Carolina, a retailer may sell wine and beer, or liquor, but not both. We then went to the Asheville Wine Market, which had a pretty good beer selection but was mostly a wine store (hence its name, duh). We bought some beer, which John carried back to the hotel while I went to Weinhaus, which is Asheville's oldest beer and wine store. The selection was a bit better than Asheville Wine Market's, and the prices were a little better on some items. By the way, no beer and wine store in Asheville sells craft beer by the case; it's all 6-packs, 4-packs, singles, and the occasional 12-pack. Food markets sell some cases, but only of macrobrew.
Later in the afternoon we went to the Funkatorium. We were scheduled for a tour but ordered a flight beforehand:
Old Fashioned (non-sour ale aged in bourbon barrels with cherries)
Medora (sour ale with blackberries and raspberries)
Prevalence (sour ale with elderberries and juniper berries)
Brettaberry (Brett farmhouse ale with blackberries, blueberries, strawberries, and honey)
Then we took the tour. The Pub opened in December 2012, and the Funkatorium opened in October 2014. We learned that there are not two but four Wicked Weed locations! In addition to the two places we visited, there is a 50-bbl production brewery located 9 miles west of Asheville in Candler NC that opened in 2015, and their Funk House in south Asheville that opened in 2016 (their website doesn't mention it). Their non-funky beers are brewed at the Pub and the Candler brewery, and sour beers are made at the Funkatorium and the Funk House. They call their sour beers American sours because they are not allowed to use the word lambic due to the fact that it's protected by the Belgian government.
The Funkatorium does not produce wort; it takes wort from its Candler brewery and "funkifies" it in wooden foeders that contain Brettanomyces. This is how they make their farmhouse ales. (Our tour guide said that one difference between a foeder and a barrel is that a foeder has much thicker walls and hence has a longer useful life.) To make sour ale, they put the "Brettified" wort in large stainless blending tanks, then into barrels containing Lactobacillus, Pediococcus, and other bugs. They have rum, whiskey, and wine barrels. At the time they had about 800 barrels, but there was a time when they had 1300. They often blend the sour beer from different barrels in order to make one product. In order to taste the wort, they bang nails into the barrel heads, pull them out to get samples, and bang them back in. This is a better method than sticking a thief in the bunghole, which would break the pellicle and increase the chance of oxidation and contamination.
Our tour guide claimed that their sour and funky ales don't oxidize because Brettanomyces eats oxidation products.
They have a special stainless tank for adding fruit. It has a wide valve on the bottom for draining the pulp, which solves the clogging issues they used to have with other tanks. They use local fruit when they can (North and South Carolina).
| | |
| --- | --- |
| | |
| Blending tanks. | Fruiting tank. |
All their sour beers get their bugs from the "mother beer", which is wort that was originally inoculated with dregs from various bottles of Belgian sour ales. A certain precentage of mother beer is added to farmhouse wort in order to sour it. The mother beer is then topped up with fresh wort.
They sell their sour/funky beers in half-liter bottles in order to keeps prices down (a 750-ml bottle would cost more). An artist named Howell Golson creates their bottle labels. He also works for Adult Swim.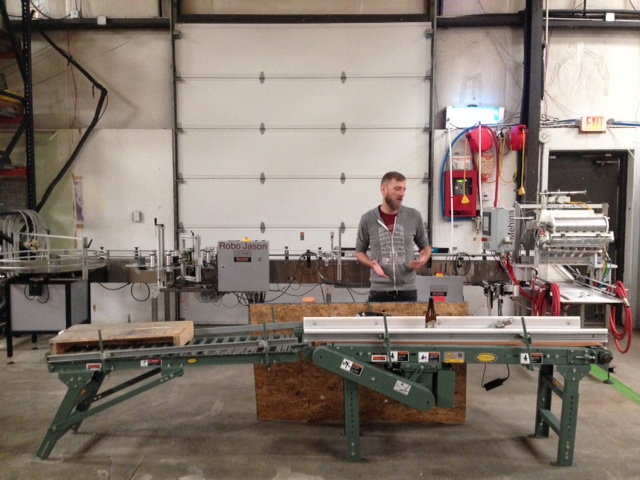 Bottling line.
Our tour guide assured us that being purchased by AB InBev has had no effect on their products, at least the sour/funky ones.
At the end of the tour we got samples of:
Fille de Ferme (farmhouse ale with honeysuckle and orange peel)
Le Bonté (sour ale with plums)
Oblivion (sour red ale with dates and blackberries)
Black Angel (black sour ale with cherries, aged in a bourbon barrel)
After the tour we went back to the bar and had a glass of their latest release, Cerise Mort (sour ale fermented with cherries). It had a great cherry/musty aroma and a nice cherry, medium sour flavor.

After that we revisited the Pub because, hey, we could. We got:
Pernicious IPA (because we liked it so much the first two times)
Lieutenant Dank (dank IPA)
Saison d'Rustico I
Saison d'Rustico II
BA Smoked Rye Porter
Bretticent (farmhouse ale)
After that I bought a case of Pernicious IPA and we returned to the hotel.

Friday July 21. We drove 5½ hours to Richmond VA. First stop: Triple Crossing Brewing. They have two locations. We were at their Fulton location. They happened to be having a can release of an IPA called Clever Girl, and people were lined up to buy cases. They had a lot of IPAs and DIPAs on tap, so naturally we got a flight. All the beers looked similar: yellow and cloudy. All but one were great. No one had ever mentioned this brewery to me before (I found them on the Internet), so this was a great find. The beers were:
Nectar + Knife (DIPA with Mosaic and Simcoe)
Quiet Storm RMX (remix of a 2014 collaboration with Final Gravity Brewing)
Falcon Smash (flagship IPA with Falconer's Flight, Centennial, and Columbus)
Falcon Smash Citra Dry-Hopped
Clever Girl (IPA with Mosaic and Citra)
Double Dry-Hopped Clever Girl (excellent version of Clever Girl, with twice as much Mosaic and Citra)
The flight was pricey ($21 including tip), but worth it. It was quite possibly the best collection of IPAs and DIPAs I'd ever had from a single brewery. I bought a case of Clever Girl, which was $88 for 16-ounce cans.


We then went to Stone Brewing, the final East Coast location of a western brewery we visited. It opened in late 2016. We drove right by the place a few times because there were no signs indicating that the brewery was inside the building. We finally drove around back and asked some workers if this was the brewery. They said it was, and pointed to a parking lot a few hundred yards away where we could park and walk. By now it was 95 degrees and humid, but hey, no one said life was easy.

Inside there isn't much to see other than the bar and merchandise for sale. The brewery is well hidden; the only way to see it is to get a tour (we just missed the 1:00 tour). We got samples of:
Bourbon Barrel Aged Arrogant Bastard
RuinTen (triple IPA double dry-hopped with Centennial and Citra)
Ruination Double IPA 2.0 (great)
Ghost Hammer IPA
| | | |
| --- | --- | --- |
| | | |
| The only brewery shot I could get. | | |

By now it was 97 degrees out. We drove to Triple Crossing Brewing's downtown location. It's a small place with a small brewery where they brew their pilot batches (the production brewery is at the Fulton location). This place opened in 2014; Fulton opened in December 2016. It took a while to get beer because our bartender was kind of a dick. I think his man bun was pulled too tight. Anyway, we tried a couple of fairly good beers:
All Neon Like (IPA)
Waxing Poetic (blueberry/raspberry Berlinerweisse)

We then checked into the SPECO Hotel, a flea bag I found online. It was almost 100 degrees out, and there was no air conditioning in the lobby or the hallways. Our room was even hotter than it was outside. It had to be at least 110 degrees in there, maybe 120, because God forbid they should run the air conditioning unit before guests arrive so that maybe their arrival won't be completely unpleasant and the hotel could get some repeat business. We had planned on hanging out for a while before going out, but we didn't feel like taking a sauna, so we dropped our stuff, turned on the air conditioner, and went out. (We left our beer in the room because, although it was hot in there, the air conditioning would eventually cool it down, whereas my car's trunk would remain hot.)
Next stop: Hardywood Park Craft Brewery. By the time we got there the car thermometer read 104. Hardywood is just a brewery with a small tap area, as well as a room in front for sitting and beer-to-go sales. And no air conditioning. We sampled:
Singel + Hoppy
Passionfruit Mosaic Berlinerweisse
Pineapple Mango Berlinerweisse
Naked Berliner
The beers were just okay, and a bit pricey ($13 plus tip for the flight).


On the way to our next destination, John spotted a brewery that wasn't on our agenda: Castleburg Brewery and Taproom. We had to go in. They opened on Memorial Day 2016. They had a dozen beers on tap, and more important, they had air conditioning. We sampled three beers, all of which were good:
White Knight IPA
Black Knight IPA
Murder Hole Mango DIPA
| | | |
| --- | --- | --- |
| | | |
| The 2.5-bbl system. | The brewer, Karl Homburg. | |

Next it was on to Isley Brewing. We brought food in to eat while we sampled:
Blueberry Sour
Need for Greed (double black IPA)
Ruby Red Slippers (grapefruit pale ale)
Overboard (IPA with Ekuanot hops)
Simon Says (blackberry wild ale)
Root of All Evil (ginger golden ale)
The beers were reasonably priced ($8 for 6 samples), but nothing special.


I'd heard good things about The Veil, so we went. They don't serve flights but they let us taste:
Henry (double hopped IPA)
Snozz Wired (chocolate milk stout with espresso beans)
Uncle Cousin (11% ABV Mosaic triple IPA)
The only one I liked was Uncle Cousin so we got a glass of it.

My old friend Jackie, who lives in Richmond and whom I hadn't seen in three years, met us. We went to the bar and tried:
Dreamless (witbier)
Nevergonnagetit (mixed berry gose)
She liked Nevergonnagetit (she's a sour ale fan) so I got her one. A while later we all drove to...

Ardent Craft Ales. It's a basic place with indoor and outdoor seating. All the beers we sampled were pretty good:
IPA 14
Tart Berlinerweisse
Belgian IPA
Anniversary Tripel

Our final beer destination of the evening was The Answer, a brewery and pub with 56 taps serving its own beer plus many great guest beers. It opened in September 2014. The name is a play on the first name of the owner, An Bui (note how in the photo below, the "An" portion of "Answer" is a different color). Next door is a Vietnamese restaurant called Mekong that An opened in 1995. The two are not connected, however; you enter Mekong in the front, but to enter The Answer you have to go around back.
All the samples we ordered were house beers, and they ranged from good to amazing:
Piece of the Action (triple dry-hopped Mosaic IPA)
Larceny (triple dry-hopped Citra IPA)
3 Scoops (pink guava / mango / passionfruit gose)
Double Apricot Popsicle (blood orange / apricot gose)
Kromer Juice (mango / passionfruit Berlinerweisse)
The Joose is Loose (gose with morello cherries, blood orange, raspberries, Meyer lemon, and pink Himalayan sea salt)
Phantom Limb Pain (amazing imperial stout with Swiss almond chocolate coffee and toasted coconut)
King Kahuna (nice imperial stout with Mostra Kenya Rungeto karimikui coffee beans, hazelnut, macadamia, and toasted coconut)
Before leaving I got three crowlers of Larceny for a friend. Then John and I said farewell to Jackie until the following night, when we would see her again.

Saturday July 22. We checked out of the Richmond Roach Motel and Sauna. There were no luggage carts because people use them and then just leave them in their room. Of course. Why would a place like this attract people who care? So we carried 250 pounds of beer, food, water, and clothing to the car by hand. We drove to Once Upon a Vine, a beer and wine store with a nice beer selection. We got there 15 minutes before it opened, but the cashier was nice enough to let us in early. We bought some beer and then drove to...
Lickinghole Creek Craft Brewery. It's a farm brewery set on 290 acres. It grows hops, barley, herbs, and spices that go into some of its beers. The gravel road leading to it has sunflower fields alongside it, and customers are welcome to pick them. The brewery is in the middle of nowhere. From the brewery all you can see is grass and trees in all directions. Yet there were quite a few people there. There was a release of two rum barrel-aged beers, so some employees were dressed as pirates. There was also a live band. Unfortunately all their events are held outdoors, and it was another hot day. They don't sell flights but they let us taste all 8 beers before buying some:
Maiden's Blonde Ale
Bad Donkey Black Lager
Three Chopt Tripel
Pony Pasture Pilsner
Secretariat Red IPA
Bachelor's Delight (12% ABV rum barrel quad)
Coconut Delight (12% ABV Bachelor's Delight with coconut)
Magnificent Pagan Beast (17.5% ABV!)
Beers were $7 each, which got you a pint of anything except Magnificent Pagan Beast, which was 5 ounces but you got to keep the small glass. I wanted the Bachelor's Delight but it was hot out and we'd be drinking at a party that night so I didn't want a thick 12% beer. Instead we got Three Chopt Tripel and Secretariat Red IPA. They said that they typically get hundreds of visitors on Saturdays, when there are often beer releases and/or live bands. For a big event they might get thousands. (Where do all these people come from?) Their new head brewer used to brew for Lagunitas. They brew with well water, and their wastewater is purified on site and returned to the Lickinghole Creek watershed. They plan to build a 50,000-square-foot production brewery with a 4000-square-foot tasting room on the grounds. Their current brewery produces 3000 bbl/year, and the new one will produce 80,000. They also plan to have a mobile tasting room that they can drive around. Additionally, they plan to open another small brewery in Richmond and a sour brewery in Lynchburg.

I bought a bottle each of their release beers (Bachelor's Delight and Coconut Delight), then we drove to The Plains, where my old friend Karin, who is Jackie's sister and I hadn't seen in three years, was having a birthday party. It was a great time catching up, and we shared some of the beers we'd bought on our brewery adventure. We left at 1:30 in the morning and got home after 3:00.

So that's our story. 29 breweries. 185 different beers. Hiking. Good friends. What more could anyone ask for?

Asheville was the last place on my bucket list. I can die happy now.